Waterville Valley Ski Area Bike Ride
Road Cycling DATE: 06/12/2016 - 06/12/2016
Trip/Event Location: Waterville Valley, NH
US
Trip Leader(s): Gandalf
Max # People: 15
Trip Guiding / Event Fee: No, I will not be asking participants for money
Difficulty Level: Easy to Moderate
Leisurely ride along picturesque Rt. 49 to the base lodge of Waterville Valley Ski Area with lunch in town!
This will be a quiet ride alongside the Mad River...a perfect ride to escape the city!
...
Driving directions to the location and spot to meet at:
Take I-93 and use Exit 28. At the end of the ramp take a right onto Rte 49 East for about 1 mile and turn right into the Northway Bank parking lot. I'll be driving a blue Toyota FJ Cruiser.
If you are renting, get to the bike rental shop a half hour early, 10:30 am, so you'll be ready to leave with us for 11:00am. The bike rental shop is on the right shortly after Northway Bank and you can park your car in their parking lot. Take your bike and ride to the Northway Bank parking lot to meet us.
Trip Report/Photos
Five of us met in Campton at the Northway Bank parking lot on a chilly and breezy day. This was to be a road bike trip on a paved road but nonetheless, we had a variety of bikes: road, hybrids and mountain. Temperature was around 50 degrees under mostly cloudy skies.
We followed Route 49 east on a wide breakdown lane to get to Waterville Valley. We started out passing by beautiful Campton Pond with views of Welsh & Dickey. Beautiful Mad River was alongside the road and we could hear rushing water in the background. It was certainly breezy as we faced a headwind forcing us to work harder.
Our first break was at the Smarts Brook trailhead. We then continued as the road began to wind following the Mad River. We were climbing up but it was hardly noticeable.
We took our second break at roadside picnic area. Only three more miles to get into town! However that did not include our planned ascent up the ski area.
In this next section we experienced a brief shower and a couple of moderate hills. Thankfully by the time we got near Waterville Valley the weather was clearing and we had blue skies. As we rode into town we had fun seeing how fast we were going on the display used to capture the speed of cars.
The next section was an uphill climb to the ski area. Everyone was in great spirits and ready for the challenge! We rode at different speeds and decided to all meet up at the top.
We could see Mt Osceola and East Peak as we climbed up. We took a well-deserved break at the top on a bench. I went to check out the ski area base lodge and it is so quiet this time of year. The chairlifts were quiet. Green grass replaced winter's white snow. There were still a couple patches of snow! There was a great view of the Tripyramids from the ski area.
We then took a fast and exhilarating ride back down the mountain into down. Big smiles all around! We rode into town planning for lunch at Wild Coyote Grill only to discover they would not open until 4pm. So we got back on our bikes and rode into Town Square and had lunch at Legends. They have a nice deck outside along a babbling brook but it was too chilly to sit outside. The food and atmosphere was OK for our group but I think next time I'll plan for a later start so could have an early dinner at Wild Coyote Grill.
The ride back would be downhill on the return which was perfect since we just had lunch. It felt like the wind picked up and along with the wind chill of riding downhill, it was quite cold! In fact, it was such a windy day, we noticed fallen trees on the breakdown lane on the other side of the road that we had been on about 90 minutes earlier! On top of that, we encountered another brief shower.
That said, it was another beautiful ride following the river and we only needed one break for the return. Wonderful ride. Thanks guys for joining me. Loved the expansive views, river sounds, peacefulness, downhill runs and lunch! You guys ROCK!
There are 47 photos in Album (Note: Move mouse pointer over larger pic and click on NEXT for better viewing)
Members That Participated
sustaining member
Gandalf
Outdoor Fitness Level: Very Strenuous
Thornton, NH
United States
Online Status: OFFLINE
Last Login: 09/25/2023 02:37 PM
Member Since: 08/20/2001
guest member
Tailwinds
Outdoor Fitness Level: Moderate to Strenuous
Arlington, MA
United States
Online Status: OFFLINE
Last Login: 09/16/2023 08:00 AM
Member Since: 10/20/2011
guest member
HikerBiker
Outdoor Fitness Level: Moderate to Strenuous
Londonderry, NH
United States
Online Status: OFFLINE
Last Login: 09/17/2023 02:04 PM
Member Since: 02/23/2003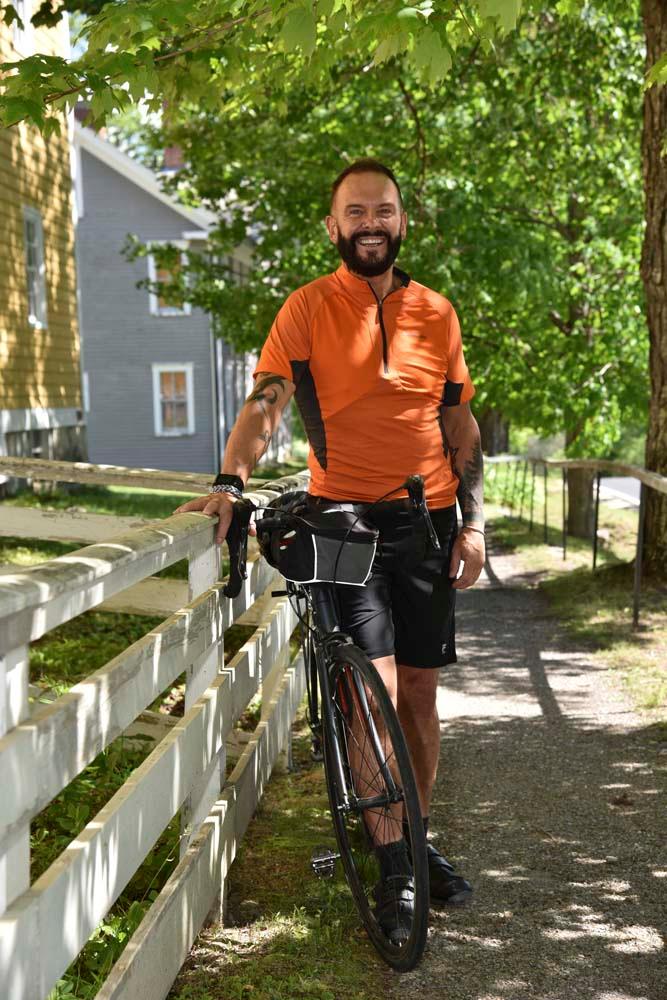 sustaining member
homephil
Outdoor Fitness Level: Moderate
loudon, NH
United States
Online Status: OFFLINE
Last Login: 09/03/2023 03:52 PM
Member Since: 12/22/2015
<