Mt. Moosilauke HIke
Hiking/Walk DATE: 01/09/2016 - 01/09/2016
Trip/Event Location: Warren, NH
US
Trip Leader(s): Gandalf , JDNnh
Max # People: 15
Trip Guiding / Event Fee: No, I will not be asking participants for money
Difficulty Level: Moderate to Strenuous
This southwestern outpost of the high peaks is unmatched for the variety of its views! You'll see range after range of the White Mountains leading out to Mt. Washington!
ROUTE: We will
...
Driving directions to the location and spot to meet at:
In Warren, turn off NH 25 onto NH118 and drive 5.9 miles to Ravine Road, the access road to the lodge. Plowed parking is available off NH 118 at the road entrace. We'll be driving a blue Toyota FJ Cruiser.
Trip Report/Photos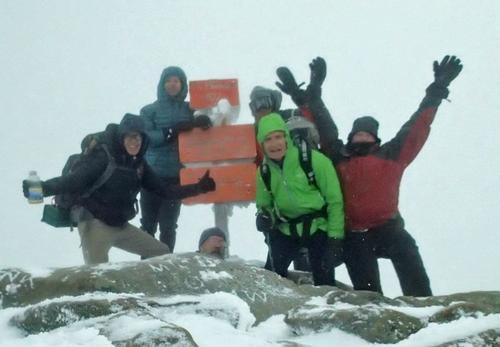 The week began with very cold temperatures. Weather reports indicated it would be warmer with a high of around 30 degrees, with a chance of snow and breezy. Thanks to good gear, a good crew and teamwork it turned out to be a great hike!
Mount Moosilauke stands at 4,802 feet and is the westernmost of NH's 48 4000 footers. Its summit is a completely bald dome that provides what I think are some the best views in the whites. The mountain also offers a wide diversity of routes, with varying difficulty, and is very accessible from I-93. I am not alone in saying that Mount Moosilauke is one of the best in the Whites.
Our plan for this hike was to climb the mountain via the Gorge Brook Trail and then hike down the Carriage Road Trail to the Snapper Trail. Scott had to cancel due to the unexpected death of his brother and our condolences go out to him. Rick had to work late Friday so unfortunately was also unable to join us.
We arrived at the Moosilauke Ravine Lodge trailhead at about 9 am. In the summer this trailhead is near the actual Moosilauke Ravine Lodge. In the winter that trailhead is really just a small plowed section at the beginning of Ravine Lodge Road which adds 1.5 miles to each direction of the hike. We noticed temps around 30, the summits clouded in and there was not much wind to speak of.
We donned MicroSpikes and began the 1.5 mile trek on the unplowed Ravine Lodge Road to the Gorge Brook trailhead. This was an interesting road to hike on because there were tire tracks that packed down the road so the smooth surface helped us speed along. A few breaks in the tress reminded us that the summit was socked in with clouds.
After 1.5 miles we arrived at the Moosilauke Ravine Lodge. This is an impressive structure, maintained by Dartmouth College that sleeps up to 80 when it is open in the summer. It is also the hub for many trails including the Gorge Brook that we planned to climb that day. We began our ascent with gentle but sustained climbing up the Gorge Brook Trail. The trail was well packed which allowed for fast climbing. Our MicroSpikes provided all the traction we needed and the trees coated with snow as we climbed higher provided a spectacular "Currier and Ives" winter landscape!
I am always amazed at how much heat is generated while climbing. The temperature was hovering around 30 degrees at this point but I was down to just my base layer with a light/synthetic jacket, a light headband and gloves. As we approached tree line we noticed a significant temperature drop along with sustained winds that brought colder temperatures. I think with wind chill it got down to 15 degrees. We quickly stopped and began our pre tree line habit of "gearing up" with insulation layers, hat, hand warmers in our gloves, neck gaiter, and wind shells; goggles were at the top of the pack in case we needed them. Luciano hands felt completely frozen seconds after he stopped moving which we didn't realize until our lunch break after reaching the summit.
Visibility was poor with fog and periods of blowing snow. It was also very breezy but not bad enough to knock us down. We made sure to keep all group members in sight. At the summit we stopped for pictures but it was too cold and windy to stop for lunch. We traversed a long stretch of exposed ridge to reach the protection of the Carriage Road trail for the descent. We proceeded in a cautious single file along the ridge.
At the junction of the Glencliff Trail we stopped for lunch while Rob and Mike summited Moosilauke's south peak. Luciano said he was very cold and wanted to get moving. We discovered it was his hands that were very cold and Jim generously gave him some hand warmers. Jon had plenty of extra hand warmers so he gave Jim a pair that Jim appreciated because his hands were getting cold. Jon shared some hot apple cider as well. When Rob and Mike returned from summiting Moosilauke's south peak we asked if they could keep moving because Luciano was very cold. They were in favor of getting down the Carriage Road Trail, and out of the wind, as soon as possible. It is amazing how much of a difference that a few trees and a few feet of elevation can make. Almost as soon as we began descending the Carriage Road, which is flanked by trees, the wind stopped and it felt infinitely warmer. We enjoyed an uneventful descent down the Carriage Road Trail to the Snapper Trail which took us back to the Moosilauke Ravine Lodge.
We marched down the Ravine Lodge Road to the winter trailhead. We got back to the cars at about 3:30 pm. Thirty minutes later we were comfortably back at our house around the fireplace and enjoyed a delicious ham dinner cooked up by Jon! Thank you everyone for the great company!
Trip Report By Mike
Pictures Taken By Jon
There are 113 photos in Album (Note: Move mouse pointer over larger pic and click on NEXT for better viewing)
What Members Are Saying About This Trip/Event
Members That Participated
sustaining member
Gandalf
Outdoor Fitness Level: Very Strenuous
Thornton, NH
United States
Online Status: OFFLINE
Last Login: 09/25/2023 02:37 PM
Member Since: 08/20/2001
sustaining member
JDNnh
Outdoor Fitness Level: Very Strenuous
Thornton, NH
United States
Online Status: OFFLINE
Last Login: 09/11/2023 11:12 AM
Member Since: 10/30/2001
Robert.L
Outdoor Fitness Level: Very Strenuous
Bowdoin, ME
United States
Online Status: OFFLINE
Last Login: 07/19/2021 06:34 PM
Member Since: 09/07/2014
HikerBlue
Outdoor Fitness Level: Strenuous
Braintree, MA
United States
Online Status: OFFLINE
Last Login: 08/19/2019 08:37 PM
Member Since: 04/03/2006
Scorpione
Outdoor Fitness Level: Moderate
Boston / Cape Ann, MA
United States
Online Status: OFFLINE
Last Login: 11/17/2020 04:17 AM
Member Since: 07/25/2013
Driving My Own Car


(Possibly willing to give guys a ride)

Comment: M&J: Pl. reserve a bunk for me Fri. & Sat. nights. Thanks and happy festivities to You and All.
guest member
jrenren
Outdoor Fitness Level: Moderate to Strenuous
amherst, MA
United States
Online Status: OFFLINE
Last Login: 03/24/2023 01:56 PM
Member Since: 11/25/2013
<