Mount Liberty Hike
Hiking/Walk DATE: 01/02/2016 - 01/02/2016
Trip/Event Location: Lincoln, NH
US
Trip Leader(s): Gandalf , JDNnh
Max # People: 15
Trip Guiding / Event Fee: No, I will not be asking participants for money
Difficulty Level: Strenuous
Start the New Year with a GO adventure! This rocky crest is second only to Mt. Lafayette as a Franconia Range viewpoint! This rocky, open summit offers excellent views!
ROUTE: We will start at
...
Driving directions to the location and spot to meet at:
Take Exit 34A off the Franconia Notch Parkway. We will meet at the hikers' parking lot off US 3 just north of the Flume Visitor Center. We'll be driving a blue Toyota FJ Cruiser.
Trip Report/Photos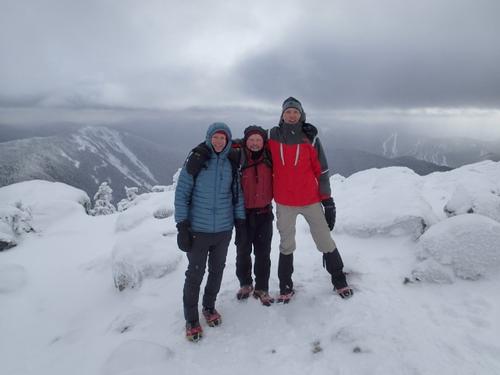 The whole world has gone crazy... we're going hiking! That's it. We're done. In a world where we've lost the complete ability to communicate and where violence seems to be the answer of choice, we're done. We're going hiking. At least there, we can get quality time with GO members who understand, in a place where it's so quiet you can hear your own heart beat... And thank God that it does. So to kick of the New Year, we're tuning out and going hiking.
We chose Mount Liberty on purpose. It's one of our favorite peaks, hands down! We put on our MicroSpikes and had them on the entire day. We started out on the Whitehouse Trail and then we trucked down the bike path. We arrived at the turn for the Liberty Springs trail and began walking up the trail. The snow on the trail was packed down and easy to walk on. We are so happy to be out in the snow that we don't care. Around the trail is beautiful and white... It's so quiet even for where it's located (once the sounds of I-93 subside).
After the junction for the Flume Slide Trail (and a quick water break), we ran into a friend of ours, OJ, whom we were just talking about since his family used to own a motel near the trailhead! We continue and hit the series of 5 crossings... One major and four minor. All easy with care. The major has icy rocks and water a bit high but MicroSpikes boost confidence. The rock stairs that follow the major crossing are covered in snow but, this too is an easy hike with careful steps. There was about 2 inches of stable snow but we are expecting it to increase with elevation. Liberty Springs has a series of steep gains made easier with all the rocks filled in with snow. We continue to navigate and break to catch well, our breath... This section, due to its steepness and length, seems to take forever but in reality, we have plenty of time. We met two guys and a woman…we all concurred that these two guys were gay but we had no GO business cards to give out…next time! We struggled a bit getting moving and the temps were dropping. When we got to the Liberty Springs tent site, it was time for a short break... Who cares what time it is (before noon)!
Once at the tent site, it's .3 mile up to the junction of the Franconia Ridge trail. It's a little deeper up here. Again, it's so quiet and the snow is so pretty. We don't forget to look up at this point and see that the clouds are still overhead. But at the same time, the tree frame makes it beautiful. We push and soon pop out at the junction. The graffiti on the sign makes us sad and further confirms that we've all completely lost it. And then again, we still love the art work of what we believe is an angry bear on the other sign. Again, we break so we can catch our breath and then we begin our final .2 to the summit proper of Mount Liberty.
After the last section of woods, we climb the rocks. We break tree line and with rocks filled in with snow, it's easy to the remainder of the ridge.
This is by far our favorite section of trail! It's open and exposed and sheltered at the same time. Easy to get up to the summit proper and with the views, we love this summit! The prominence of the rocks and the different moods it gives in different weather. If any peak had a personality, this one really does. We crested the rocks and looked out at the view. We smiled. We raised our arms in victory because once again, we made it to the top. We take pictures with a group shot of us. Really, GO members are one of the few we share a trail with these days. GO members are our best company, always at our side and fully bonded with us. We'd do anything for them and we're just happy that they can join us and still wants to join us at that. We begin our descent of the peak.
It's quick but slow down the Liberty Springs trail again. We can feel the temp rising as we head down. Once we were back at the lower trails, not much had changed so the temps had not risen that much. Another fantastic winter hike... Mt. Moosilauke loom for next weekend.
The whole world is going crazy and it makes us sad, angry, and so eternally frustrated on some days. I'm a quiet person. And now we're finding it harder and harder to stay quiet. What have we done to make violence the answer? What have we done to lose the ability to communicate effectively? What have we done? How do we stop this? I don't think anyone knows the answers or maybe we do and we're just afraid of making changes. The whole world's gone crazy... Wouldn't you want that to change for the better? It's the season of Peace.... we can only hope and hike. For in the hiking, I can spend time with myself and know that I am strong, I am smart, and I am determined. I'm proud that at my age I can still get up a mountain and know that I did it on my own. I'm proud of myself. I don't say that enough some days because the worlds gone insane and I'm just trying to find some peace.
Winter is back in the Whites! A very enjoyable day, as always! So great to connect with old buddies.
~ Mike
There are 152 photos in Album (Note: Move mouse pointer over larger pic and click on NEXT for better viewing)
What Members Are Saying About This Trip/Event
Members That Participated
sustaining member
Gandalf
Outdoor Fitness Level: Very Strenuous
Thornton, NH
United States
Online Status: OFFLINE
Last Login: 09/25/2023 02:37 PM
Member Since: 08/20/2001
sustaining member
JDNnh
Outdoor Fitness Level: Very Strenuous
Thornton, NH
United States
Online Status: OFFLINE
Last Login: 09/11/2023 11:12 AM
Member Since: 10/30/2001
guest member
HikerBiker
Outdoor Fitness Level: Moderate to Strenuous
Londonderry, NH
United States
Online Status: OFFLINE
Last Login: 09/17/2023 02:04 PM
Member Since: 02/23/2003
guest member
Robert.L
Outdoor Fitness Level: Very Strenuous
Bowdoin, ME
United States
Online Status: OFFLINE
Last Login: 07/19/2021 06:34 PM
Member Since: 09/07/2014
Robert.L
Jan 11, 2016 at 10:37 AM
Comment: The views on this hike were breath taking... simply the best...
JDNnh
Jan 4, 2016 at 9:34 AM
Comment: A great hike to begin 2016 with one of the most beautiful summit experiences. The morphing clouds and light were stellar!
<