Waternomee Airplane Crash Haunted Hike
Hiking/Walk DATE: 11/01/2014 - 11/01/2014
Trip/Event Location: Lincoln, NH
US
Trip Leader(s): Gandalf , JDNnh
Max # People: 15
Trip Guiding / Event Fee: No, I will not be asking participants for money
Difficulty Level: Moderate
Airplane crash site, Halloween costumes, BBQ, horror movie and exercise! Come celebrate Halloween!
It's that time of the year again! We have chosen the tragic tale of January 14th, 1942 ,
...
Driving directions to the location and spot to meet at:
I-93 to Rte 112 (Kancagamagus Highway). Go West 3 miles, then turn Left onto Rte. 118 South for about 8/10 mile to Walker Brook Road [old logging road], with small parking area located on Right. We'll be driving a blue FJ Cruiser.
Trip Report/Photos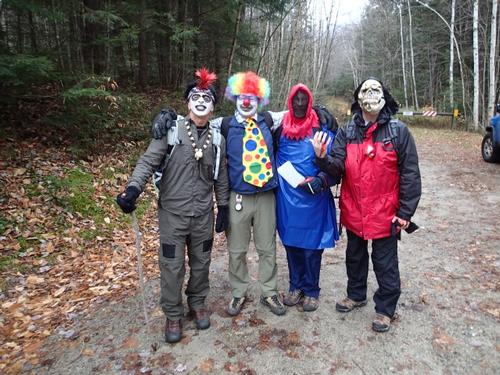 On Saturday, Jim, James, Robert, Jon and I hiked up Mt. Waternomee to check out a piece of history. In 1942, a B-18 Bomber crashed on the side of the mountain in a winter storm. The story can be found here. Two pilots died in the crash.
The hike was 4.6 miles round trip. We put on our Halloween costumes and off we went! There were intermittent showers during the day that turned into snow showers the higher we climbed.
The trail follows an old logging road for about 1 mile before ending into a field. The path from the field to the wreckage is pretty clearly marked with survey tape and orange arrows painted on trees. It was easy to follow.
Grades were gentle until we crossed the brook. Then it was steep the rest of the way. Not far upstream of the stream crossing was a really pretty waterfall. Eventually, we reached the crash site.
Photos of the wreckage just don't convey what it is like to see how catastrophic this crash must have been. But here are a few pictures anyways. This debris was scattered over a large area.
Wreckage included the engine, wings, and landing gear. A monument was erected in memory of the crew. After we did some exploring, we then hiked out the way we came. The whole trip was about 3 1/2 hours long.
All of us except for Robert returned back back at the house to warm up by the fireplace, enjoy another fabulous dinner cooked up by Jon including a delicious pumpkin cheesecake topped with yogurt & whipped cream, followed by watching the haunted house movie, The Conjuring.
There are 39 photos in Album (Note: Move mouse pointer over larger pic and click on NEXT for better viewing)
What Members Are Saying About This Trip/Event
Hail Fellow Spooks & Ghouls...A 'moving' hike on many levels...time well spent...and the company was the best. Thanks for a great hike!! James - freespirit
Gentlemen... Thanks for hosting this trip - it was a Brilliant day and I really enjoyed meeting everyone. The hint of snow was a nice treat!! Look forward to future trips. Cheers, Rob - Robert.L
Members That Participated
Gandalf
Outdoor Fitness Level: Very Strenuous
Thornton, NH
United States
Online Status: OFFLINE
Last Login: 09/27/2023 08:52 PM
Member Since: 08/20/2001
JDNnh
Outdoor Fitness Level: Very Strenuous
Thornton, NH
United States
Online Status: OFFLINE
Last Login: 09/11/2023 11:12 AM
Member Since: 10/30/2001
phoenix
Outdoor Fitness Level: Moderate to Strenuous
Somersworth, NH
United States
Online Status: OFFLINE
Last Login: 09/25/2023 07:47 AM
Member Since: 02/24/2013
freespirit
Outdoor Fitness Level: Moderate
Dover, NH
United States
Online Status: OFFLINE
Last Login: 09/26/2023 09:23 AM
Member Since: 04/22/2006
guest member
Robert.L
Outdoor Fitness Level: Very Strenuous
Bowdoin, ME
United States
Online Status: OFFLINE
Last Login: 07/19/2021 06:34 PM
Member Since: 09/07/2014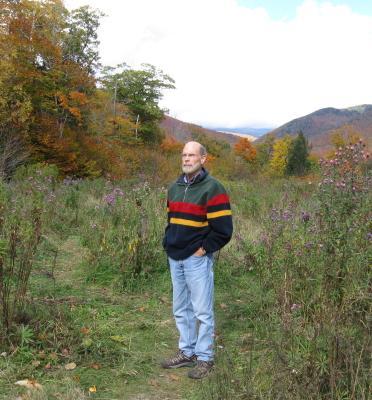 freespirit
Nov 4, 2014 at 2:36 PM
Comment: Hail Fellow Spooks & Ghouls...A 'moving' hike on many levels...time well spent...and the company was the best. Thanks for a great hike!! James
Robert.L
Nov 3, 2014 at 2:59 PM
Comment: Gentlemen... Thanks for hosting this trip - it was a Brilliant day and I really enjoyed meeting everyone. The hint of snow was a nice treat!! Look forward to future trips. Cheers, Rob
<