GO Gathering Zipline Tour
Other DATE: 08/23/2014 - 08/23/2014
Trip/Event Location: Lincoln, NH
US
Trip Leader(s): Gandalf , JDNnh
Max # People: 13
Trip Guiding / Event Fee: Yes, but only to cover shared expenses, and I too am paying
Difficulty Level: Moderate
Are you an adrenaline junkie or want to conquer a fear of heights? Come join us for Ziplining while attending the GO Gathering. We can combine this event with all the other events planned for the
...
Driving directions to the location and spot to meet at:
Click on on this link for directions.
Trip Report/Photos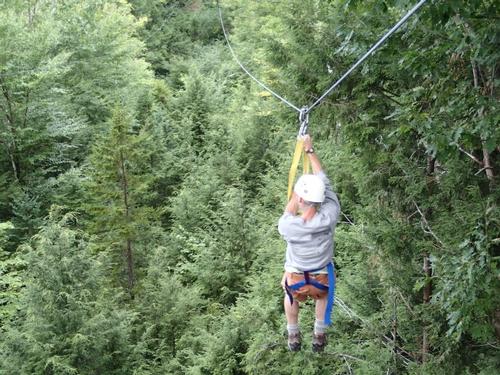 We booked the Super Sky Rider tour for GayOutdoors with Alpine Adventures in Lincoln, NH. The tour was absolutely incredible. Our guides were very cute, friendly, personable and helpful the entire time.
We had a very diverse group of people; ages, confidence, abilities and personalities. Everyone in our group had a phenomenal time. I was very happy to have picked the one that I did, I mean, longer...higher...faster...why wouldn't you want that!?! Our group consisted of Mike, Jon, David, Tim, Fred, Louis, Markus, Steve, Phil, and Gil.
We first picked up our harnesses, Zipline clip and helmet. The harnesses felt just like the black leather ones we have in our closet!
After gearing up, we took an 11 seat off-road vehicle (once used in the Swiss army) that takes you up the mountain. The ride is fun, but I don't suggest eating anything heavy before you go. :) Right from the beginning we felt comfortable with the expert staff and professional handling of all our group. Explanation of safety and gear was clear and from the first step onto the Zipline tour we were hooked in more ways than one.
We went high up on treetop platforms and across suspension bridges. The first zip was a dual zip so we could race each other down to the other end. This was a blast! Ziplining is crazy fun. Any "Holy Sh*ts" were well internalized by everyone. The ziplining was unbelievable. The harness catches you right away once you leave the platform. We never felt unsafe and this made it easier to enjoy the ride.
We then went on the longest, highest and fastest Zipline with some breathtaking views. The zip was 1500' long, took us 200' off the ground and we could reach speeds of near 60 mph! We had Mike as our main guide and he was hysterical while sharing a wealth of information! Too bad he was kidding about giving us a back massage after…or maybe he wasn't…hmmm.
The next zip was another dual racing one where I was able to take video of Jon zipping all the way down. The next one is what I call the MoheGOgay zip! It takes a bit of swagger, swish and yells to get across.
The final Zipline has the steepest drop and you swing back and forth a few times on the zip line before they help you down by a ladder. We reached speeds of up to 50mph.

An excellent trip overall! We had a lot of fun and it was great to do it with such a nice group of guys. A celebratory lunch in Lincoln was a perfect way to end this adventure.
- The Trip Has No Photos -
Members That Participated
Gandalf
Outdoor Fitness Level: Very Strenuous
Thornton, NH
United States
Online Status: OFFLINE
Last Login: 09/25/2023 02:37 PM
Member Since: 08/20/2001
JDNnh
Outdoor Fitness Level: Very Strenuous
Thornton, NH
United States
Online Status: OFFLINE
Last Login: 09/11/2023 11:12 AM
Member Since: 10/30/2001
sedonahikerman
Outdoor Fitness Level: Moderate to Strenuous
Plainville, MA
United States
Online Status: OFFLINE
Last Login: 09/22/2023 07:12 PM
Member Since: 07/23/2014
guest member
markmtn
Outdoor Fitness Level: Strenuous
Asheville, NC
United States
Online Status: OFFLINE
Last Login: 11/02/2022 01:54 PM
Member Since: 11/12/2007
<