Downeast Maine Coast Adventure
Hiking/Walk DATE: 07/20/2013 - 07/23/2013
Trip/Event Location: Machiasport, ME
US
Trip Leader(s): emsinjp
Max # People: 6
Trip Guiding / Event Fee: No, I will not be asking participants for money
Difficulty Level: Strenuous
This will be an exciting long weekend on the spectacular and untrammeled Downeast Coast of Maine. Our two full days, Sun. (7/21) and Mon. (7/22), will focus on two of the most scenic hikes on this ...
Driving directions to the location and spot to meet at:
We'll all meet at my house in Machiasport, which is located on Machias Bay. The goal is to meet there around 6:00 p.m. on Sat., July 20th. The house is located at 264 Port Road (Rt. 92), Machiasport, ME. Here are the directions: Take I-95 North through Maine to Bangor. In Bangor, take Exit 182A to merge into I-395E toward US 1A/Bangor/ME-9/Brewer. Take Exit 6A for Rt. 1A East, toward Route 1/Ellsworth/Bar Harbor. Take Route 1A for 25 miles to Ellsworth. In Ellsworth, take a left onto Rt. 1 North. Take Rt. 1 North for 58 miles to Machias. In Machias, take a right at the bottom of College Hill (before crossing the bridge over the Machias River) onto Rt. 92. Take Rt. 92 for 3.3 miles to my house, Heron View Cottage, on the left at #264 Port Road (Rt. 92) in Machiasport.
Trip Report/Photos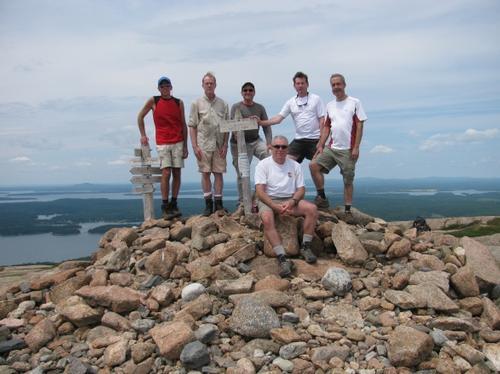 This was an action-packed weekend with spectacular hikes and wonderful camaraderie. We first rendezvoused on Sat. night at Ed's Machiasport cottage, gathering round for dinner, drinks and talking about the weekend plans. Saturday we drove down to Acadia National Park and did a stunning loop hike up Mts. Penobscot and Sargent along with the South Bubble. The weather was stellar this day wit sunny skies and warm weather. The exposed, pink granite slopes of the mountains were a pleasure to climb, most times with 360 degree views of the Atlantic, the islands, the bays, and the mainland. There were some short, incredibly steep stretches on the trail; on one hairy descent we all had to slither through a crevice while tossing down our daypacks to our fellow tripper below. At the end of the hike we all gathered at the historic Jordan Pond House for great conversation about our day over the famous popovers and tea. Stephen even had his a la mode! Next, we drove back to Machiasport for a delicious lobster dinner at the historic house of Ray, a friend of Ed's. Sunday began wit a sumptuous breakfast at the Capt. Cates B&B where Tim, Eric and Richard were staying. That fortified most of us for the spectacular hike around Western Head, along the Bold Coast in Cutler. Crashing waves and ocean vistas greeted us and every turn. The views were continually jaw-dropping and we were all taking pictures right and left! After that morning hike we drove up the coast to Lubec to have a delicious lunch at Cohill's, fortifying us for yet another hike in the afternoon. This was the extraordinary West Quoddy Head loop. At the very beginning of the hike we marveled at the red-and-white striped West Quoddy Head lighthouse, then off we marched viewing the awesome high and jagged cliffs covered with tenacious spruces trees, all being pounded by the crashing surf. Stopping at Green Point, we all were mesmerized by a couple pilot whales frolicking off the coast, the stunning Grand Manan Island providing an sublime backdrop. Again, the fantastic views just continued and the cameras keep clicking. Following this hike, we drove back to Machiasport, reconnoitered and then had a fabulous meal at Helen's, a famous eatery in Machias. The whole wonderful bunch of us just couldn't get enough of each other, so we gathered one last time at Ed's cottage for some blueberry pie and fun conversation. Sadly realizing that we were all very tired, we said our good-byes and there were hugs all round. It had been an extraordinary GO trip - and we promised each other to meet up again on the trails!!
There are 61 photos in Album (Note: Move mouse pointer over larger pic and click on NEXT for better viewing)
What Members Are Saying About This Trip/Event
Ed...Thanks for an amazing 3-day trip. The weather, group, scenery and especially your leadership and hospitality were superb. The trips you picked were spectacular and a great introduction to the area. It couldn't have been a more fabulous and relaxing long weekend! - shep5
Members That Participated
emsinjp
Outdoor Fitness Level: Moderate to Strenuous
Jamaica Plain, MA
United States
Online Status: OFFLINE
Last Login: 07/30/2021 03:10 AM
Member Since: 03/11/2010
JPHiker
Outdoor Fitness Level: Moderate to Strenuous
Lake Worth Beach, FL
United States
Online Status: OFFLINE
Last Login: 06/13/2021 03:32 PM
Member Since: 11/11/2002
guest member
shep5
Outdoor Fitness Level: Very Strenuous
Jaffrey, NH
United States
Online Status: OFFLINE
Last Login: 04/04/2020 12:45 PM
Member Since: 10/30/2001
richardc
Outdoor Fitness Level: Moderate to Strenuous
Danbury, CT
United States
Online Status: OFFLINE
Last Login: 07/28/2021 11:25 AM
Member Since: 08/14/2004
guest member
hauke
Outdoor Fitness Level: Moderate
Cheyenne, WY
United States
Online Status: OFFLINE
Last Login: 07/05/2021 09:52 PM
Member Since: 03/18/2011
<