Carter Dome/Mt. Hight Snowshoe
Hiking/Walk DATE: 02/25/2012 - 02/25/2012
Trip/Event Location: Gorham, NH
US
Trip Leader(s): Gandalf , JDNnh
Max # People: 15
Trip Guiding / Event Fee: No, I will not be asking participants for money
Difficulty Level: Strenuous
A loop over the dominant mountains of the Carter Range, with a very steep ascent from Carter Notch Hut.
Over three hours from Boston, we'll be climbing up 4,832 foot Carter Dome and
...
Driving directions to the location and spot to meet at:
From North Conway, drive north on NH 16 past Pinkham Notch. The Nineteen Mile Brook traihead is on the right, 3.5 miles north of Pinkham Notch. It's a decent size parking lot and usually has a few vehicles parked. We'll be driving a blue Toyota FJ Cruiser.
Trip Report/Photos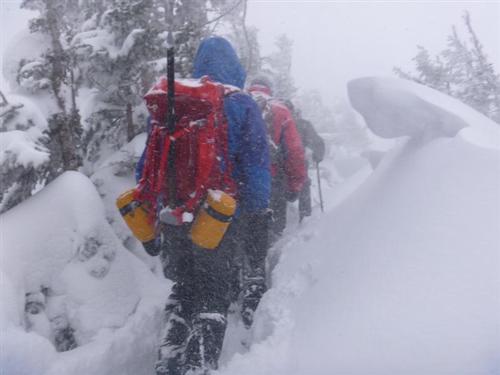 It has been far too long since Jon and I climbed Carter Dome and Mt. Hight in winter. It has been not much of a winter so far in New England but the snowstorm the day before really helped.
We saddled up with full winter gear and headed out. Weather reports called for mid 20's with mostly cloudy skies. The group started at the Nineteen-mile Brook trailhead at 9:15, and was greeted by fresh powder that only got deeper the higher we went up. We love breaking trail with snowshoes! Temperatures weren't too bad at the start; probably in the mid 20's however we could hear the wind howling above us.
The Nineteen-Mile Brook trail is a steady easy ascent that goes in 1.8 miles and then forks. There was lots of snow on the trees. Due to the fresh snow we changed our plans and went up the northern fork [Carter Dome Trail] up to Zeta Pass, over Carter Dome and back butt sliding down the southern fork to Carter Notch for a total of about 10 miles. Once we made the turn to Carter Dome we soon passed the group ahead of us that was breaking trail. Our group then ended up breaking most of the trail all the way up the summit. We each rotated breaking trail up front because it was hard work and this allowed us to always make forward progress. About 10 minutes after our group took the lead I realized we lost Jim and James. I waited for them. Once I saw them they explained to me that they were going to turn around. They thought the hike might be more than they could handle but wanted to try. We bid our good-byes and took their spirit with us to the summit.
By 11:30am we reached Zeta Pass and had lunch here. Here we decided that due to the expected high winds and lack of views we would bypass Mt. Hight. There was not much of a point to put us through a tough and agonizing situation since Mt. Hight is very exposed. We got our goggles and face protection ready for the assault by putting them in an easy place to get to in our packs.
We resumed the climb around noon. The group that was behind us took the lead very briefly. At the Mt. Hight split they were very slow breaking the trail and we asked if we could get ahead.
There was lots of snow on the ridge and we found ourselves breaking trail through 2 feet of snow. Sometimes snow drifts made the snow depth up to 3 feet. The wind was howling above us and there was swirling snow all around us. It was very difficult going. Large quantities of snow encased the trees already stunted by altitude and wind. We each could not stay in the lead for very long breaking trail due to exhaustion but we each took turns making good forward progress. We knew that no views would be had on this day and the highlight would be what we doing right now…breaking trail through large quantities of snow.
The Summit was achieved with lots of fanfare. We were surprised how sheltered we were from the wind! The group behind us caught up with us and lavished us with praises for all the hard work we did. Temperatures were probably around 20. Snow everywhere. Snow depth was just below the signs. We took a break here and then headed down.
We were all feeling pretty good. The grade to descend is easy at first but once we passed the ledge with the outlook a very steep descent began. We could make out blowing snow in Carter Notch and the icy cliffs of Wildcat Mountain. We were grateful for all of this snow to prevent us from butt sliding out of control. The two ponds in Carter Notch were frozen. We took a brief break at the Hut that was full of people. We then resumed our descent. On the descent I thought about my early hiking days. It all looks smaller now and diminished as such things usually do when revisited after much nostalgia.
We arrived at the junction of Carter Dome Trail that started our loop. The time was around 4pm and some of us were beginning to really feel it in our legs. Thankfully my left ankle did not bother me. It normally does on the descent. We took a final, 1.8-mile return along the snowy trail to the cars and a well-deserved dinner at the Red Fox pub.
There are 57 photos in Album (Note: Move mouse pointer over larger pic and click on NEXT for better viewing)
What Members Are Saying About This Trip/Event
What a great winter hike with wonderful comradery! Thanks for a very memorable day out, Mike and Jon! This is what we've been missing this year! - shep5
As a powder hound, I rejoiced in blasting thru those 5 foot snow drifts with a great group of GO friends. The Moat Mountain Porter sure tasted especially fine as we capped off this memorable hike. - JDNnh
Members That Participated
Gandalf
Outdoor Fitness Level: Very Strenuous
Thornton, NH
United States
Online Status: OFFLINE
Last Login: 09/25/2023 02:37 PM
Member Since: 08/20/2001
JDNnh
Outdoor Fitness Level: Very Strenuous
Thornton, NH
United States
Online Status: OFFLINE
Last Login: 09/11/2023 11:12 AM
Member Since: 10/30/2001
guest member
shep5
Outdoor Fitness Level: Very Strenuous
Jaffrey, NH
United States
Online Status: OFFLINE
Last Login: 04/04/2020 12:45 PM
Member Since: 10/30/2001
freespirit
Outdoor Fitness Level: Moderate
Dover, NH
United States
Online Status: OFFLINE
Last Login: 09/11/2023 12:54 PM
Member Since: 04/22/2006
guest member
AJDME
Outdoor Fitness Level: Moderate
ogunquit, ME
United States
Online Status: OFFLINE
Last Login: 03/05/2022 12:15 PM
Member Since: 02/20/2007
wildcat
Outdoor Fitness Level: Very Strenuous
Stowe, VT
United States
Online Status: OFFLINE
Last Login: 09/12/2023 12:52 PM
Member Since: 09/15/2006
<