Beginner Ice Climbing Day
Climbing DATE: 03/05/2011 - 03/05/2011
Trip/Event Location: Lincoln, NH
US
Trip Leader(s): Gandalf
Max # People: 12
Trip Guiding / Event Fee: Yes, but only to cover shared expenses, and I too am paying
Difficulty Level: Moderate
We will be going to an area in Kinsman Notch suitable for beginners in the White Mountains chosen by our instructors from Mooney Mountain Guides.
There are a number of ice
...
Driving directions to the location and spot to meet at:
We will now be meeting our guide at the Chamber of Commerce building off of Exit 28 near my house at 7:30am.
Trip Report/Photos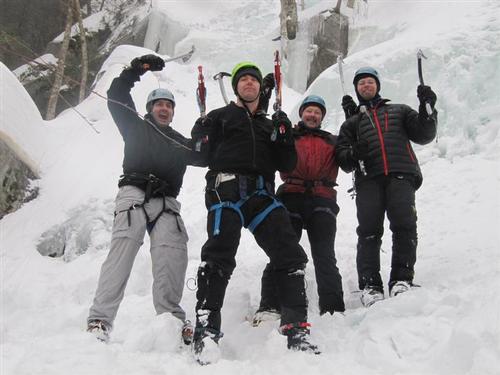 There were snow showers in the air and as the temperatures warmed up, an eerie fog began to surround us. But the most important news: the ice was still in! Despite the lack of sun and some moisture in the air, it was a perfect day to enjoy ice climbing, improve our skills and gain top-notch ice climbing instruction with Mooney Mountain Guide, Phil Thalheimer
We met Phil at the Waterville Valley Visitor's Center Parking lot. Unfortunately there was some miscommunication as to the meeting place so Ron was unable to join us. For our Beginner Ice Climbing Day, we carpooled to the Kinsman Notch 'pot of gold.' This session did not require any previous ice climbing knowledge and Mooney Mountain Guides provide boots, crampons, harnesses and ice tools to loan for those who do not have them. After a good cardio workout upward to the icy ledges, we were able to find plenty of routes that increased in difficulty as the day wore on. Because the session size was so small at 4:1, Phil took the time to explain how to tie into our harness, belay and climb. All of us had ice climbed before except for Dave; and Phil took the extra time to help Dave build up his confidence and technique.
The Kinsman Notch 'pot of gold' did live up to its name. Fat, dramatic looking ice that, thanks to the conditions, was easy to stick our tools in. There were various routes that gets steep enough in places to allow for some solid ice for extended periods of time.
Phil reviewed safety, good ice tool placement, and discussed evaluating waterfall ice for determining good and bad ice. Then it was time to climb some ice (which by now we were all biting at the bit to do). The plan was to set up a number of top-ropes so that we could climb and belay to our hearts content and not spend time standing around.
The first route of the day had enough steepness to challenge us without breaking our confidence. Andrew was first and quickly ascended, followed by Dave who did a great job reaching the top for his first time, then Jon and Mike.
Phil then laid out a longer route with a bit more steepness that each of us completed. Two more difficult routes were laid out ~ one was similar to the previous route except it involved climbing up a couple of short, steep ice bulges. Mike was the only one who tried this route and about 2/3 up his arms felt weak and he asked to be lowered.
The other route ended with a vertical ice wall of about 25 feet. Jon was first and he tackled the vertical ice wall like a pro. Andrew was next and his focused effort [along with a bit of grunting] led him to the top. Dave did an outstanding job giving it his all and was very close to the top when he decided he wanted to be lowered. Mike was last and was pleased to reach the top after not making the last one.
After a full day of swinging our tools into the ice, we were on cloud 9. We learned ice climbing techniques, became stronger ice climbers and most important, had a great day!
Whether you have never ice climbed before, or you have ice climbed and want to either fine tune your skills or learn specific things – a Beginner Ice Climbing day is for you. Maybe you'll join us next year!
There are 46 photos in Album (Note: Move mouse pointer over larger pic and click on NEXT for better viewing)
Members That Participated
sustaining member
Gandalf
Outdoor Fitness Level: Very Strenuous
Thornton, NH
United States
Online Status: ONLINE
Last Login: 09/25/2023 02:37 PM
Member Since: 08/20/2001
sustaining member
JDNnh
Outdoor Fitness Level: Very Strenuous
Thornton, NH
United States
Online Status: OFFLINE
Last Login: 09/11/2023 11:12 AM
Member Since: 10/30/2001
guest member
DaveSchumaker
Outdoor Fitness Level: Moderate to Strenuous
Manchester, NH
United States
Online Status: OFFLINE
Last Login: 09/28/2022 03:22 PM
Member Since: 12/31/2007
<