Bridal Veil Falls Hike
Hiking/Walk DATE: 11/27/2010 - 11/27/2010
Trip/Event Location: Franconia, NH
US
Trip Leader(s): Gandalf
Max # People: 15
Trip Guiding / Event Fee: No, I will not be asking participants for money
Difficulty Level: Moderate
This is a moderate hike along a brook to a beautiful waterfall. The trail is 2.5 miles in each direction, and it does not have any steep or rocky sections. Near the waterfall is a CCC [Civilian
...
Driving directions to the location and spot to meet at:
Take exit 38 off of I-93. Turn west towards Rtes. 18/116/117. Go straight through the flashing light [junction of 18 and 116] and follow for approx. 3.4 miles. Turn left onto Coppermine Road and you'll quickly see some parking spots on your left. We'll be driving a blue Toyota FJ Cruiser.
Trip Report/Photos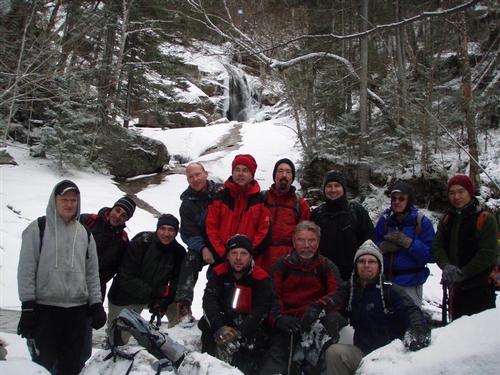 The story is well known. In 1939 the great film star Bette Davis, who enjoyed spending time in Sugar Hill, N.H., when she wasn't making movies, was out hiking by herself and managed to get lost on the way to Bridal Veil Falls. An employee of Peckett's, one of the local Sugar Hill inns, named Arthur Farnsworth found her and took her back to the trailhead. Thus began a romance - not the first love story that's begun this way, I'm sure. On New Year's Eve 1940 Farnsworth and Davis were married, but in the summer of 1943 he died unexpectedly two weeks following a fall that had cracked his skull. Rumors speculated that Davis had pushed her husband down a flight of stairs in a drunken rage, but nothing was ever proven and the death was ruled accidental.

After Farnsworth's burial, Davis had a plaque mounted on a boulder beside Coppermine Brook, near the spot where Farnsworth had found her, and the plaque remains there to this day. Its location isn't really a secret, but many people who hike the popular Coppermine Trail to Bridal Veil Falls miss it because the plaque isn't beside the trail (and it isn't visible at all in winter due to snow cover). Finding the plaque is a treat, though, and worth the short, easy off-trail wander.

Leaving our vehicles, we walked down Coppermine Road, which is lined with towering pines. After almost a half-mile, the "trail" leaves the road and enters the woods. There is a hiker logo sign here along with a few boulders preventing vehicular access to the trail.
The trail remains a wide path for most of the climb and is well marked, although there are other interesting, unmarked trails. One of these unmarked trails leads over to the Mt. Kinsman Trail at some point below Bald Peak.
A mile into the hike, Coppermine Brook can be seen to the right and below the trail, which appears to be an ideal spot to camp. To find the Davis plaque, we walked off-trail and down towards Coppermine Brook. With a bit of exploring we found the plaque that says: "In memoriam to Arthur Farnsworth, the keeper of stray ladies, Pecketts 1939, presented by a Grateful One."

It's intriguing that Miss Davis, one of Hollywood's great divas, did not have her name inscribed on the plaque, referring to herself only obliquely as "a Grateful One" among the "Stray Ladies" that Farnsworth seemed to have a knack for finding. The plaque's wording presents a touching bit of romantic humility from a woman who, in her career, bucked even the most powerful studio executives and who could be, by all accounts, be a terror on a film set.

Five minutes' hiking up the Coppermine Trail from here brought us to where the trail first nudges Coppermine Brook, the traditional half-way spot on the hike up to Bridal Veil Falls.

The trail was icy in spots so many of us put traction on our feet. Soon after, the wind really picked and it began to snow really hard. We found ourselves hiking into whiteout conditions making visibility poor. And we were only at 1,000 feet! After about ten minutes, the snow squall passed us by and the weather was good for the rest of the day. Soon after this we reached the falls, just above the Coppermine shelter.
There are two ways to climb up to the upper falls, a tricky climb up and over several big, boulders to the left or a very icy herd path to the right. We opted for the latter, which I thought would be easier but we found our MicroSpikes unable to safely purchase our feet onto the angling of the ice. It required focus and attention to negotiate successfully to as far as we did.

Not to be undone, Steve and JT subsequently went off to the left to reach the upper falls. The brook had not completely iced over so their feet briefly went into the water during the ascent.

The falls are beautiful and with temperatures getting below freezing at night, icicles were forming around its high rock walls.
After snacking a bit and taking a few more photos, we headed back the way we came. During the day we met very few people; one of the benefits of hiking this time of year. In summer this trail gets very crowded. The trip, which is about 5 miles going this way took us three hours.

This is a pretty great, pretty easy hike for stretching your legs and touching a bit of cool local history.
There are 40 photos in Album (Note: Move mouse pointer over larger pic and click on NEXT for better viewing)
What Members Are Saying About This Trip/Event
Thanks for a wonderful hike on Saturday, Mike and Jon! The snow was a nice touch...it's started to put me in the holiday spirit! - shep5
Members That Participated
sustaining member
Gandalf
Outdoor Fitness Level: Very Strenuous
Thornton, NH
United States
Online Status: OFFLINE
Last Login: 09/27/2023 08:52 PM
Member Since: 08/20/2001
sustaining member
JDNnh
Outdoor Fitness Level: Very Strenuous
Thornton, NH
United States
Online Status: OFFLINE
Last Login: 09/11/2023 11:12 AM
Member Since: 10/30/2001
DaveSchumaker
Outdoor Fitness Level: Moderate to Strenuous
Manchester, NH
United States
Online Status: OFFLINE
Last Login: 09/28/2022 03:22 PM
Member Since: 12/31/2007
shep5
Outdoor Fitness Level: Very Strenuous
Jaffrey, NH
United States
Online Status: OFFLINE
Last Login: 04/04/2020 12:45 PM
Member Since: 10/30/2001
HikerBiker
Outdoor Fitness Level: Moderate to Strenuous
Londonderry, NH
United States
Online Status: OFFLINE
Last Login: 09/17/2023 02:04 PM
Member Since: 02/23/2003
AJDME
Outdoor Fitness Level: Moderate
ogunquit, ME
United States
Online Status: OFFLINE
Last Login: 03/05/2022 12:15 PM
Member Since: 02/20/2007
guest member
mjm727
Outdoor Fitness Level: Moderate
Methuen, MA
United States
Online Status: OFFLINE
Last Login: 04/22/2021 02:24 PM
Member Since: 08/07/2009
markmtn
Outdoor Fitness Level: Strenuous
Asheville, NC
United States
Online Status: OFFLINE
Last Login: 11/02/2022 01:54 PM
Member Since: 11/12/2007
<