GetWinter Hike#5: Mt. Moosilauke
Hiking/Walk DATE: 03/06/2010 - 03/06/2010
Trip/Event Location: Glencliff, NH
US
Trip Leader(s): Gandalf
Max # People: 15
Trip Guiding / Event Fee: No, I'm not making any money running this trip
Difficulty Level: Strenuous
Join our GetWinter Hikes designed to get you into winter hiking. This is it! The 4,000 footer you've been waiting for.
Be prepared to hike with this group as our group motto is: We go in a group and
...
Driving directions to the location and spot to meet at:
From I-93 take the Tenney Mountain Highway Exit 26 [Plymouth, NH] and follow NH 25 to the tiny village of Glencliff, between Warren and Haverhill. Turn north onto High St. [formerly Sanatorium Rd.] and drive 1.2 miles to the parking area for Glencliff Trail on right in area of fields and pastures just below Glencliff Home for the Elderly.

Trip Report/Photos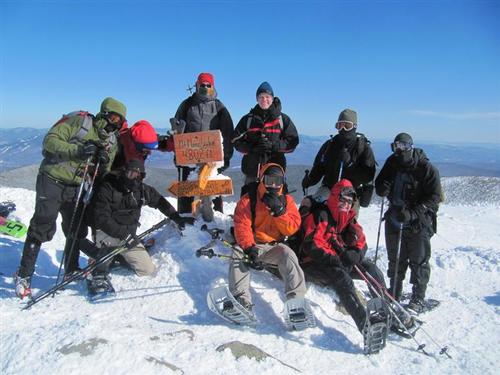 Ten GO members went up Mt. Moosilauke using the Glencliff trail. The forecast called for sunny skies, moderate winds and temps in the twenties. The sunny skies and temps were right on the money. The wind on the summit was pretty strong, but this Mountain is known for that.
I love the beginning of the trail where it goes into the fields with old apple trees. The trail had a few inches of snow and was broken out. Some of us were barebooting while others wore snowshoes.
As we climbed higher the snow got deeper. Nearing the top of the trail, the snowpack was staggering ~ the blazes on trees were only as high as our knees. We started to enjoy views when we reached the tallus slope. The remainder of the trail to the junction with the Carriage Road is very tight with snowladden, bent over, trees. We took a lunch break a bit further away from the junction and layered up. We saw college kids from Dartmouth traversing the trail with skis; some had snowboards attached to their backs for the descent.

As we worked our way up the Carriage Road the dome of Moosilauke appeared and was under cloudless skies. When breaking out of the trees the wind became pretty strong from the west. We had to cover our face and eyes. Reaching the summit the winds were strong, but bearable. The views were special. The views east towards Franconia Ridge and Washington beyond were great. Views stretched beyond Jay Peak to the northwest and the Uncanoonucs in the South. I'm quite sure we could see the Adirondacks behind the Green Mountains in striking clarity ~ amazing!

We retreated off the summit and back at the junction where some of us decided to do the short climb up the south peak of Moosilauke. Not only was this side trip memorable for the views but also how we had to bend forward for a short distance because the snowpack was so deep. The top of the trees were down to our knees! The rest of the group got a head start and descended the trail.

We enjoyed the spring-like temperatures during the descent into the woods. The trip down took no time at all. What a great day!

Special congratulations goes to Mark who attended all the GetWinter hikes and climbed his first 4,000 footer in winter!

~ Mike
There are 53 photos in Album (Note: Move mouse pointer over larger pic and click on NEXT for better viewing)
What Members Are Saying About This Trip/Event
As Mike reports, a great day-particularly enjoyed the frozen wind-blown landscape at the top, sort of a foreign place to visit at these special times of the year. Many thanks, J & M! Fred - vtfred
Members That Participated
sustaining member
Gandalf
Outdoor Fitness Level: Very Strenuous
Thornton, NH
United States
Online Status: OFFLINE
Last Login: 09/25/2023 02:37 PM
Member Since: 08/20/2001
sustaining member
vtfred
Outdoor Fitness Level: Moderate
Barre, VT
United States
Online Status: OFFLINE
Last Login: 09/16/2023 05:03 AM
Member Since: 03/27/2009
guest member
HikerBiker
Outdoor Fitness Level: Moderate to Strenuous
Londonderry, NH
United States
Online Status: OFFLINE
Last Login: 09/17/2023 02:04 PM
Member Since: 02/23/2003
<