Mount Flume and Mount Liberty Loop
4000 Footer
DATE: Sep 23, 2023

END DATE: Sep 23, 2023

Hike/Event Location: Lincoln NH
Trip Leader(s)
Carl_B
Leominster, MA United States
Meeting Time: 8:00 AM
Max # People: 12
Hike Guiding / Event Fee: No, I will not be asking participants for money
Hike Difficulty Level:
Strenuous
(Do you qualify to attend with this hike difficulty rating? Click Here.)
Sign Up To This Trip/Event
You must be a least a guest member to participate. Comments such as "+1" or "bringing a friend" are NOT permitted. All participants must sign-up for the event individually.
Select your mode of transportation, make any comments and then click on button.
You are not logged in.
Please, Log In
Disclaimer: The club and its members take no responsibility and will not be held responsible for any injuries or accidents that may occur during club events. Outdoor sports are inherently dangerous and accidents will happen. By joining the club or participating in any events posted on our website you are taking responsibility for your own safety and well-being. Anyone with an internet connection can post a trip on our web site. It is your responsibility to determine if this person has the experience and competence to lead the trip. We do not certify or confirm the qualifications of any of our members to lead or participate in trips.
Summary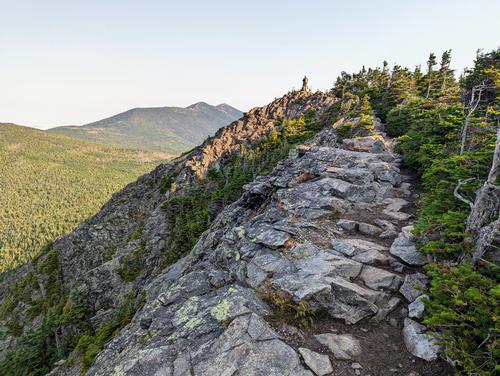 Celebrate the first day of fall 2023 with a hike of Mount Flume and Mount Liberty! This loop is 9.3 miles with 3,576' of elevation gain. Please note this is a strenuous hike. It includes two 4,000-foot mountains, climbing steep ledges that may be wet, and ascending the Flume Slide, one of the White Mountain's "Terrifying 25". Having said that, it is an unforgettable hike that should offer some beautiful panoramas of the early foliage season.
Please note: Bob has graciously offered his place in Sugar Hill for anyone that wants to stay on Friday and/or Saturday night. Please reach out to him directly to book a bed; you can message him through the GO site. We will do a potluck on Saturday night. Let him know what you are going to bring if you plan on attending. If you are not staying over but want to carpool to the trailhead, he can give you the address.
Route:
From The Basin parking area, we will head south on the Franconia Notch Bike Path for 0.8 miles before turning onto Liberty Spring Trail. From there we will connect with the Flume Slide Trail. It is 2.6 miles from here to the start of the Flume Slide, and we will cross a few streams on this trail. Once on the Slide, we will take our time navigating the wet slabs and loose rocks. Hikers have created side trails that run through the woods on either side of the Slide for those that prefer these routes. The summit of Mount Flume is about 500' beyond the Slide.
From here, we will follow the Franconia Ridge Trail 1.1 miles to Mount Liberty. Note, parts of this trail have precipitous drop-offs to the left of the trail, for those squeamish with heights. After this, we will continue to follow the Franconia Ridge Trail until it meets with the Liberty Spring Trail. We will pass Liberty Spring, a natural spring near a tentsite in the area. This is also part of the Appalachian Trail and we may run into some thru-hikers. It is 2.9 miles down Liberty Spring Trail until we reconnect with the Franconia Notch Bike Path.
Below is the AllTrails map of our hike as well as a list of the "10 Essentials" to pack for any hike. Please remember to bring extra water, proper footwear, and a great attitude. I hope you can join us!
AllTrails map of the hike: https://www.alltrails.com/trail/us/new-hampshire/flume-and-liberty-loop?p=62044812&sh=ex94e9
Appalachian Mountain Club (AMC)'s recommendation of the 10 Essentials for a backcountry hike: https://www.outdoors.org/resources/amc-outdoors/outdoor-resources/the-10-essentials-what-to-pack-for-a-backcountry-hike/
Directions To Trailhead Parking Lot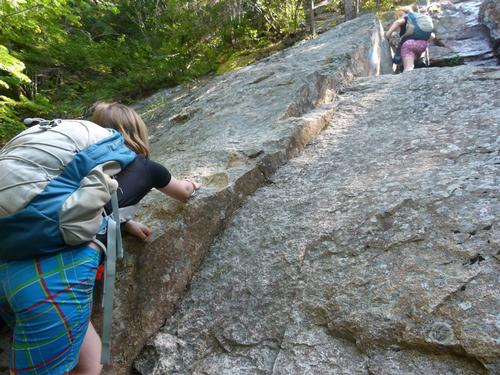 We will be leaving from The Basin parking lot. If coming north on I-93, there will be a turn-off for The Basin about two miles north of the Flume Gorge Visitor Center in Lincoln, NH. Please note there is additional parking if needed on the west side of I-93, if driving north to south. There are bathrooms at the parking lot for anyone that needs them.
Trip Leader
Carl_B
Outdoor Fitness Level: Strenuous
Leominster, MA
United States
Online Status: OFFLINE
Last Login: 12/05/2023 11:18 PM
Member Since: 06/21/2014
members signed up for this event
Bobcat
Outdoor Fitness Level: Strenuous
Upton, MA
United States
Online Status: OFFLINE
Last Login: 12/06/2023 11:38 AM
Member Since: 12/16/2008
Driving My Own Car


(Possibly willing to give guys a ride)
Bushwack
Outdoor Fitness Level: Strenuous
Hanover, NH
United States
Online Status: OFFLINE
Last Login: 12/05/2023 06:26 AM
Member Since: 05/27/2017
Driving My Own Car


(Willing to give guys a ride)
nhclimber03264
Outdoor Fitness Level: Moderate to Strenuous
Plymouth, NH
United States
Online Status: OFFLINE
Last Login: 12/06/2023 02:01 PM
Member Since: 10/09/2019
Driving My Own Car


(Possibly willing to give guys a ride)
MO
Outdoor Fitness Level: Moderate to Strenuous
Lancaster, NH
United States
Online Status: OFFLINE
Last Login: 12/04/2023 08:44 PM
Member Since: 12/06/2016
Driving My Own Car


(Willing to give guys a ride)
baezfred
Outdoor Fitness Level: Moderate to Strenuous
Lancaster, NH
United States
Online Status: OFFLINE
Last Login: 12/02/2023 07:04 PM
Member Since: 02/18/2018
Driving My Own Car


(Willing to give guys a ride)
Helvetic Hiker
Outdoor Fitness Level: Very Strenuous
Barre Town, VT
United States
Online Status: OFFLINE
Last Login: 12/06/2023 06:31 AM
Member Since: 07/08/2022
Driving My Own Car


(Possibly willing to give guys a ride)
HPC72
Outdoor Fitness Level: Moderate to Strenuous
Boston , MA
United States
Online Status: OFFLINE
Last Login: 11/15/2023 09:51 PM
Member Since: 09/26/2019
Driving My Own Car


(Willing to give guys a ride)
mecyclingrunner
Outdoor Fitness Level: Moderate to Strenuous
LEWISTON, ME
United States
Online Status: OFFLINE
Last Login: 12/03/2023 03:52 PM
Member Since: 07/22/2018
Driving My Own Car


(Possibly willing to give guys a ride)
guest member
Rolo
Outdoor Fitness Level: Strenuous
Buxton, ME
United States
Online Status: OFFLINE
Last Login: 11/28/2023 06:51 PM
Member Since: 07/05/2022
Driving My Own Car


(Willing to give guys a ride)
Discuss This Trip/Event