Purgatory Falls
Half Day Hike DATE: 07/03/2022 - 07/03/2022
Trip/Event Location: Wilton, NH

Trip Leader(s): GpD
Max # People: 10
Trip Guiding / Event Fee: No, I will not be asking participants for money
Difficulty Level: Easy to Moderate
Sunday looks to be beautiful with temperatures currently forecasted in the mid 80s. What a great opportunity for a hike! This is an easy to moderate hike. It should take about 2-3.5 hours. There ...
Driving directions to the location and spot to meet at:
There is a small parking area at the trail head and some along the street. Let's meet here. In your GPS, please put in: Purgatory Brook Trail, Milford, NH
Trip Report/Photos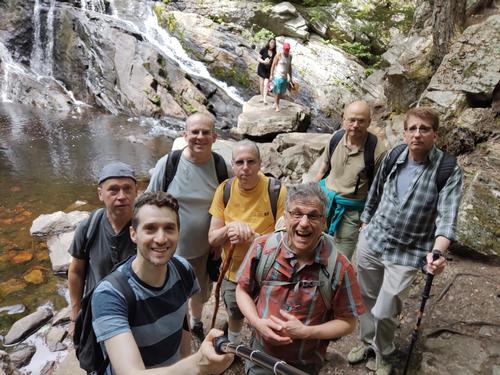 What a beautiful day for at Purgatory Falls! We started a bit late because there were a lot of shuffling with parking. The lot was full, so we had to find street parking, which took some work as there were a lot of no parking signs. We ended up parking above the signed off area. The trail was very nice. There are a lot of picturesque moments. We made sure to spray down with bug spray, so we didn't have much of an issue with bugs. We approached the first waterfall in about the first 10 minutes and took a great picture there. We proceeded to trek along, while doing our best trying to stay on the trail. Some of the markings are misleading or hard to find, but we managed to do just fine, even if we thought we lost our way a few times. Just before the second waterfall, the fellas got hungry, so we sat down right on the trail, on a nice open spot and had some lunch! Once we got to the second waterfall, most of us traversed down the ravine to view the more intimate waterfall, tucked away in a crack in the earth. We then moved along and began to experience some incline along the way. Finally, we arrived to the third waterfall, much to everyone's delight! We took a few more pictures and afterwards, began to head back. On the way back, we bumped into a group of young men who were desperate for bug spray. A couple of us happily obliged and sprayed down the group. :-D The hike back seemed to be easier, as it is on a slight decline. The weather was absolutely luscious! The sun was warm and the breeze was cool. We enjoyed the cover of the canopy for about 98% of the hike. We were lucky to have some lively conversation with each other, along with the lively songs of the birds in the canopy. When we finally got back to the trailhead, we found that all of our cars were ticketed, in spite of moving our cars to what we thought were legal spaces. Oh well, lol! While we were agitated at first, we all enjoyed the hike enough for it not to bother us... at least not too much! If you head out to Purgatory Falls, be sure to park in the lot, or you may end up owing the town of Lyndeborough $25! Despite that, it was a great hike with a great bunch of guys. Thanks for the memories! If anyone else has pictures they took, feel free to post them in the trip report!
There are 12 photos in Album (Note: Move mouse pointer over larger pic and click on NEXT for better viewing)
What Members Are Saying About This Trip/Event
Perfect destination for a hot summer day! Happy to read everyone had a great time! - Gandalf
Members That Participated
guest member
GpD
Outdoor Fitness Level: Moderate
Manchester, NH
United States
Online Status: OFFLINE
Last Login: 08/16/2022 08:28 AM
Member Since: 11/02/2008
guest member
Mark S
Outdoor Fitness Level: Moderate to Strenuous
Manchester, NH
United States
Online Status: OFFLINE
Last Login: 08/12/2022 08:41 AM
Member Since: 04/10/2017
sustaining member
benj58
Outdoor Fitness Level: Moderate
Waltham, MA
United States
Online Status: OFFLINE
Last Login: 08/16/2022 12:17 PM
Member Since: 10/30/2001
sustaining member
rolshausenii
Outdoor Fitness Level: Moderate to Strenuous
Cambridge, MA
United States
Online Status: OFFLINE
Last Login: 08/01/2022 05:18 PM
Member Since: 06/30/2019
sustaining member
Joel02139
Outdoor Fitness Level: Easy to Moderate
CAMBRIDGE, MA
United States
Online Status: OFFLINE
Last Login: 08/16/2022 12:13 PM
Member Since: 07/24/2014
sustaining member
jconroy
Outdoor Fitness Level: Moderate
Beverly, MA
United States
Online Status: OFFLINE
Last Login: 08/15/2022 03:56 PM
Member Since: 04/11/2009
<