Bradley Palmer State Park
Nature Walk DATE: 11/08/2020 - 11/08/2020
Trip/Event Location: Topsfield, MA

Trip Leader(s): elisegev
Max # People: 10
Trip Guiding / Event Fee: No, I will not be asking participants for money
Difficulty Level: Easy
A description of the park from Boston Globe: A stunning stone mansion, the Willowdale Estate, is a major attention-grabber here, but this 721-acre North Shore park has much to recommend it —
...
Driving directions to the location and spot to meet at:
The partk is at 40 Asbury St, Topsfield, MA 01983.
Daily parking fee charged Memorial Day weekend through November
MA resident $5
Non-MA resident $20
You can get an annual parking pass for Massachusetts state parks. For those over 62, you can get a Senior ParksPass
Trip Report/Photos
Bradley Palmer State Park's land was donated by Bradley Palmer, a Boston lawyer. The old mansion is still there and functions as an event hall. The land itself, 721 acres, has several low hills and is perfect for easy hiking, biking, mountain biking, horseback riding and cross-country skiing in the winter. During the summer the DCR charges for parking at the park. The park is flanked in the north by the Ipswich River, which can be used for kayaking in the summer. The park was written about in the Globe, but the description is lacking and does not mention the elaborate system of trails that can be found on the park's map. Due to its easy access to the North Shore the park is popular and the parking lot can fill up. There is additional parking available, though. The park has mostly Evergreens and Oaks, so during the Fall it does not have great color. It also has large fields maintained by the park. Unfortunately only 2 people showed up for the hike, but it was a very enjoyable experience.
There are 2 photos in Album (Note: Move mouse pointer over larger pic and click on NEXT for better viewing)
What Members Are Saying About This Trip/Event
Glad that you guys had a great time in the summer like weather! It's not about how many people attended, it's more about having a great time! Thanks for running the hike! - Gandalf
Members That Participated
sustaining member
elisegev
Outdoor Fitness Level: Moderate to Strenuous
Boston, MA
United States
Online Status: OFFLINE
Last Login: 08/03/2021 10:16 PM
Member Since: 03/30/2019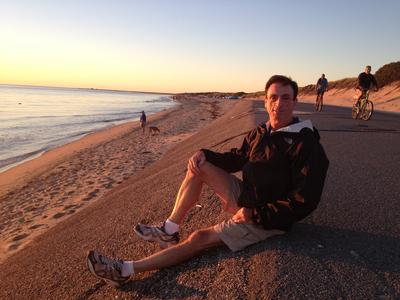 sustaining member
twalmsle
Outdoor Fitness Level: Easy to Moderate
Boston, MA
United States
Online Status: OFFLINE
Last Login: 08/02/2021 12:54 PM
Member Since: 10/02/2013
<