Greeley Ponds Hike
Hiking/Walk DATE: 05/24/2020 - 05/24/2020
Trip/Event Location: 03215, NH
US
Trip Leader(s): tdefauw
Max # People: 7
Trip Guiding / Event Fee: No, I will not be asking participants for money
Difficulty Level: Moderate
Join us on a fairly easy walking hike to lower Greeley Ponds from Waterville Valley. The hike is about 7.5 miles round trip, and about 700 feet of el... Driving directions to the location and spot to meet at:
Take I-93 North to exit 28, Rt 49. Take Rt 49 about 10 mile to Waterville Valley, take a left onto Tripoli Rd. After 1.2 miles, take a right at the fork to stay on Tripoli Rd (going left would take you to the Waterville Valley ski area). Cross a bridge, then turn left to park at the Depot Camp parking lot.
Trip Report/Photos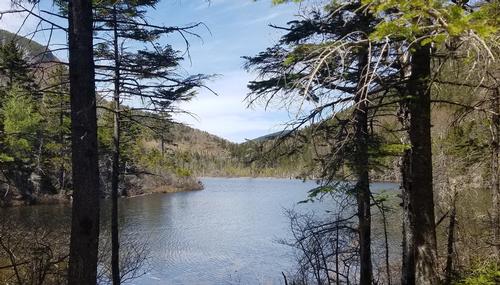 Thanks to Mike and Ron for joining our hike to Greeley Ponds today. Joe and I have tried to lead this trip to Greeley Ponds the last couple months, but each time we would do it by ourselves first a few days before and each time we found an annoying amount of snow near the ponds, so we canceled and rescheduled several times. We didn't have time to do the ponds by ourselves first this time, but we figured that it's Memorial Day weekend, so there shouldn't be any snow. Fortunately, we're very happy to report that there was no snow at all on the trail! Greeley Ponds is one of our favorite hikes as it's an easy 3.5 mile walk from Waterville Valley to the lower Greeley Pond, with an additional mile or so to the second pond. The trail used to be easier than it is now, but in in 2011 the trail was damaged and closed for two years due to Hurricane Irene. When the forest service opened the trail again, they rerouted the trail up higher and then down (undulation), so you don't go along the stream the whole way, but you do get more exercise.
We started at 10:30 and had nice easy walking and great conversation. We started along Livermore Road and then got on the Greeley Ponds trail. Thankfully the sign by the Greeley Ponds trailhead asking hikers "not to walk in the ski tracks" did not apply today, lol. The stream was raging pretty well and was beautiful to look at. The stream crossing that can be difficult at high water was indeed high water and difficult, but we all got across. Yours truly was the only one that had a slight problem with crossing the stream, but it was a beautiful day and sunny so I just decided to put my feet right in the water and get my boots wet (note to self, having a pair of flip flops packed in my backpack might come in useful in the future!). Since we were having so much fun and the weather was so beautiful, we decided to go on to the second pond to have lunch. We encountered a fair amount of water and mud on the trail going to the second pond, which I enjoyed tromping right through as my boots were already wet, while the others were carefully trying to go along the edge of the trail to prevent getting their boots wet. We enjoyed a nice lunch and conversation by the upper pond, and then retraced our route back to the parking lot. Overall it ended up being 9 miles of walking instead of 7, but there couldn't have been a better way to spend a beautiful day on Memorial Day weekend!
There are 7 photos in Album (Note: Move mouse pointer over larger pic and click on NEXT for better viewing)
What Members Are Saying About This Trip/Event
Thank you, Thad and Joe, for leading the hike at Greeley Ponds, an easy hike to the wild and scenic ponds! Enjoyed the wildflowers and lunch beside the upper Pond. Thank you for making the day so much fun! ~ Mike - Gandalf
Members That Participated
tdefauw
Outdoor Fitness Level: Moderate to Strenuous
Plymouth, NH
United States
Online Status: OFFLINE
Last Login: 07/10/2020 03:48 PM
Member Since: 10/30/2001
jkelaghan
Outdoor Fitness Level: Moderate
Plymouth, NH
United States
Online Status: OFFLINE
Last Login: 07/10/2020 08:05 AM
Member Since: 10/02/2002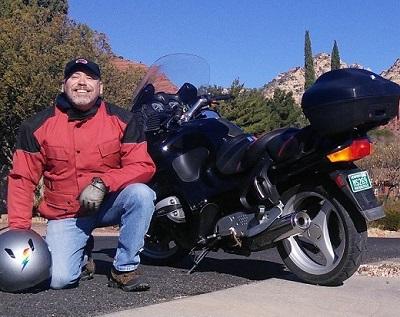 guest member
naked_climber
Outdoor Fitness Level: Moderate to Strenuous
Wells River, VT
United States
Online Status: OFFLINE
Last Login: 07/05/2020 10:18 AM
Member Since: 04/23/2020
Gandalf
Outdoor Fitness Level: Very Strenuous
Thornton, NH
United States
Online Status: OFFLINE
Last Login: 07/09/2020 06:46 PM
Member Since: 08/20/2001
Gandalf
May 24, 2020 at 5:25 PM
Comment: Thank you, Thad and Joe, for leading the hike at Greeley Ponds, an easy hike to the wild and scenic ponds! Enjoyed the wildflowers and lunch beside the upper Pond. Thank you for making the day so much fun! ~ Mike
<