Tumbledown Mountain Hike
07/10/2021
Trip Report/Photos from Gandalf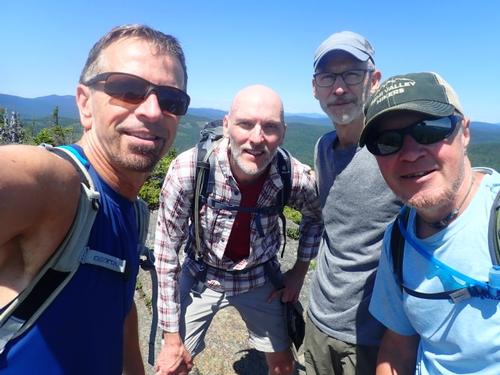 First time here and now I understand why this place in Maine is always packed--Big Big Bang for your buck this peak! Today was mostly sunny, low humidity and temperatures in the high 70's…perfect. We made a six mile loop starting with a mile road walk from our cars, going up Loop Trail, across to the Tumbledown Pond and down Brook Trail.
The Loop Trail is not recommended for children and dogs due to the presence of iron rungs and technical [hiking over large rocks and climbing up through cavernous boulders]. Yup Tumbledown Boulder on the Loop Trail is huge. After some steep hiking up a gully we arrived at "Fat Man's Misery", a climb up through a cave requiring the removal of our packs using iron bars…what fun!
We then reached Tumbledown Ridge and hiked up to West Peak [3068 feet] and we had it all to ourselves. We enjoyed the views to the Whites and pointing out the ski areas… geez all those wind turbines out there! We then followed the ridge to Tumbledown Pond where we took a long break, ate lunch and two of us jumped in for a swim. Lots of people out, everyone respectful. The Brook Trail had a rocky, steep descent at first but then leveled out at the end.
After the hike we visited Coos Canyon that is utterly beautiful! We enjoyed a delicious dinner together and finished off the day with a campfire. Thanks Rob and Dave for hosting us at your new home for the weekend!
There are 77 photos in Album (Note: Move mouse pointer over larger pic and click on NEXT for better viewing)