Mt. Jackson [4052'] via Webster Jackson
12/20/2014
Trip Report/Photos from Gandalf
You won't believe how much snow there is from Cannon Mountain north! There are decent size snowbanks on both sides of the road, the trees are covered with thick snow, Cannon Mountain front four looked beautiful and I saw lots of cross-country skiers on the Nordic trails at Bretton Woods!
Mileage: 5.2 miles RT
Elevation gain: 2,150'
Trailhead: Trail starts across from Crawford Depot on Route 302, about 8.5 miles east of the junction of Rt. 3 and Rt. 302 (Twin Mountain), 0.1 mile after the Highland Center.
A pleasant solo hike up Mt. Jackson! So far this season the winter-like 4,000 footers just keep on coming. Temps were in the 20s and the sky bright blue.
I started up the trail around 10:10am. Trail-bed was solidly packed out with no risk of post-holing; smooth going with all of the rocks covered & filled in so I wore my MicroSpikes.
The hike was awesome with the snow clinging to the trees and it was sunny! Three small steep areas before the Webster trail junction were worn icy by the many hikers taking advantage of the weather on this glorious day. These were the only trouble spots.
Hiking at treeline can be surreal. Today I walked in sunshine on a carpet of solid snow enjoying views to the Sugarloafs and other peaks below.
At the slabs I made the final push to the summit just ahead. My MicroSpikes grabbed and shot up to the top. I found myself on a sunny summit with no wind after climbing for two hours.
Mt. Washington glistened. A group of hikers were resting in the warm sun; several feet of packed snow raised them above the spruce. I got to the summit around 12:15 and I was able to watch the clouds form as they started to overtake the summits. I spent about 30 minutes up top
I took photos…see below. The gray jays flew by and landed on my fingers. I rested and had lunch. This is what winter hiking is all about!
Hopefully I'll have more days like these for the upcoming winter 4,000 footer hikes that Jon and I posted. It was a little hairy going down the steep summit cone. Eventually I manned up, stood up and got down the steep stuff.
Going down went fast; I stopped once to enjoy my surroundings. When I returned back to my car and looked at the summits at 2:15 they were hidden by clouds.
I'm glad to have good weather once again hiking up this peak. It offers minimal distance and elevation gain for maximum views!
There are 43 photos in Album (Note: Move mouse pointer over larger pic and click on NEXT for better viewing)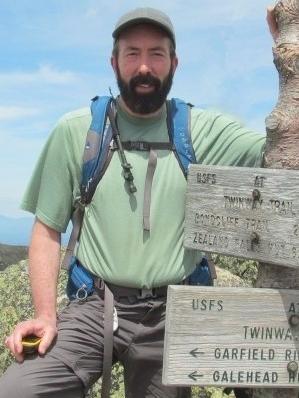 shep5
Posted Dec 22, 2014 at 7:55 PM
Hey, Mike...Figured you'd be on one of the summits too on such an amazing day out! Looks like you had a beautiful day on Jackson, especially with your feathered friends! Hope you and Jon have a very special Christmas and New Years! Stephen