Crosby Farm Regional Park
02/23/2021
Trip Report/Photos from Sluggoaafa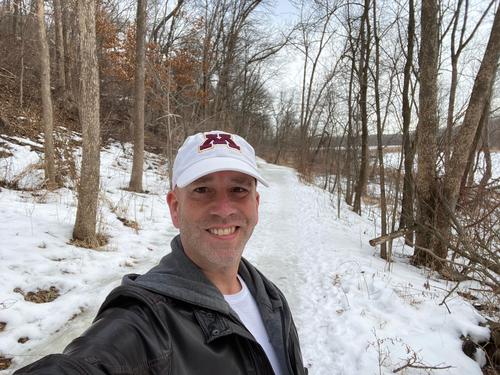 Zug-zug kind of told me in which direction his wife ran off, so I went searching for her and see what the matter was.
Living in the Minneapolis/St. Paul area for nearly 25 years, this was my first time walking in this area, and it did not disappoint. It was such a great walk around several lakes and ponds along the Mississippi River, and it was pretty close to the Fort Snelling State Park I have visited a few other times.
It did take me a while to figure out where the parking lot was, but once I found it, some guy came up to my vehicle (guess it was a hook-up??) but once he realized I wasn't interested, or was who he was waiting on, he quickly moved away.
I followed the trail along the bluff and even though I didn't know where I was going, I was glad that I kind of back-tracked and followed this less worn path as I came across a 'hidden waterfall' full of ice, a cave, a Bald Eagle nesting, several trees that beavers were gnawing at, a cool look into tree roots that get washed out from rising waters, and finally running into Zarah with a make-shift TP.
It's no wonder Zug-zug had her leave because she kept nagging the whole time, and even she gave me the cold shoulder after a while, so I continued my 4 mile hike and gave directions to an older couple who were looking for Zarah with their grandchild. I would love to come back down to this area during the summer and enjoy what the summer has to offer to this beautiful, quiet area.
There are 13 photos in Album (Note: Move mouse pointer over larger pic and click on NEXT for better viewing)