Mts. Pierce & Eisenhower
03/16/2019
Trip Report/Photos from Robert.L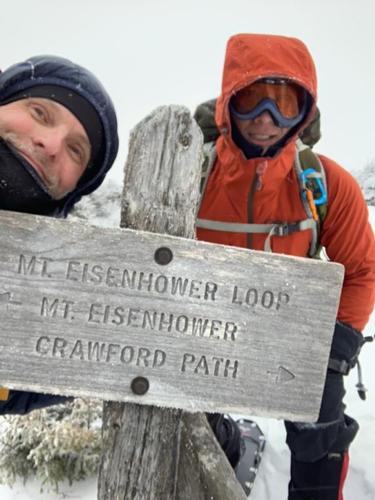 Ahhhhhh, one last technical "winter" hike. On Saturday I serendipitously connected with Long who joined me for a hike in the Whites! This is the last weekend of winter and I thought it best to put another hike under my belt. Despite the forecast – I was determined to enjoy the outdoors. Strong winds and low visibility can knock a hike (and the hikers) to the ground in a heartbeat. The forecast called for moderate to high winds with snow showers. In that mix I found a romantic notion of nature. Sometimes – and it's rare – the right amount of wind and invisibility mixed with snow – can be pure joy – and that is what today was all about.
We left the parking lot at 9:45am (admittedly a little later than I might have like) and we scooted up the Crawford Path. The lower part of the path was pock marked by post-holers from what I guess was earlier in the week. Warming temps create softening conditions – those snow shoes are a must! Higher up the trail was the classic delineated path made by snow shoes with moderate banks of snow on either side. There is ALOT of snow at the higher elevations. On our way up we passed hikers who departed ahead of us, met a large group of 25 to 30 something's who had camped TWO NIGHTS on the ridge – they were brilliant and amazing and so full of energy. We soon arrived at the junction for Mizpah Hut where we took a quick break. We carried on up the Crawford path and passed a large AMC group and a few other hikers. Just before tree line we suited up – the winds were whipping! We tagged Mt. Pierce and hung out for a few minutes taking in the conditions and feeling ALIVE!!
A quick check in and we decided Eisenhower was a must. Long sported his goggles, windbreaker and was prepared for the conditions. I sported my face mask, windbreaker and was equally suited up for the task. There was not much of a discernible trail to start with – amazing how quickly the wind can fade the most distinct snow shoe paths. That ridge was also more exposed than I remember. The path that so frequently dipped into tree line was now atop the trees, lol. There remains lots of snow, yet, a lot of bare rock as well. Ice dominated the trajectory. Winds were strong but tolerable with an occasional burst that spun us around a bit. We soon found ourselves at the base of Mt. Eisenhower. We took a short break and headed straight up – amazing. I love this summit – flat and expansive at the very top. We had no views – but the moment was really about being exposed to the elements – it was awesome. We didn't linger, took a few photos and made our way back to the base where we had lunch in a nice pocket protected from the wind.
I thought the traverse back might be hard to follow – but it wasn't. There were a few tricky spots but otherwise we followed the visible rock cairns and what seemed to be the normal path. Visibility was improving as time progressed. Back at the base of Pierce we connected with two hiker buds that were traversing over to Lakes of The Clouds where they would camp overnight – two awesome dudes doing the winter camping stuff – rock on! We scooted back up to Pierce where I was hoping to loop back via Mizpah Hut. We found what seemed to be a path and proceeded to descend. I have never hiked this stretch so it was all new for me. We carried on a bit but the snow pack was deep and we were wrestling with the tree tops. Long and I decided that was too much work, lol. We retraced our steps – we'd gone further than I realized – but were once again atop Pierce. By this point the cloud ceiling lifted and afforded us a view across the ridge – AMAZING!
And so we began our descent. Such an amazing day. As we descended occasional bursts of sun splashed the landscape but it remained mostly cloudy. We pit stopped at Gibbs Falls which were completely frozen and we were back at the cars by 2:45pm. Gulp – a bit quick once again. We hiked approximately 9.5 miles over 5 hours. That said – we were both home at a reasonable hour.
A massive shout out to Long – he digs into every hike with enthusiasm and just rocks the trail dominating what it delivers. He also took the pictures!! Pure joy mate – thank you!! To many more hikes!!
There are 10 photos in Album (Note: Move mouse pointer over larger pic and click on NEXT for better viewing)
phoenix
Posted Mar 17, 2019 at 7:37 PM
Great report – and delighted to see your "romantic notion" of nature actually contains a huge dose of a "realistic notion"! While reading the report and viewing the photos in my living room, I vicariously enjoyed the "romantic" by traveling these familiar trails with you, but still felt the "realistic" winter conditions you so accurately describe and the gear needed to be prepared for such conditions.
Gandalf
Posted Mar 17, 2019 at 11:51 AM
You guys rock. You're fantastic. Keep kicking ass and posting about it. And ignore any ego that can't handle the fact that you did it faster.