Pemigewasset River Kayak Trip
07/29/2018
Trip Report/Photos from Gandalf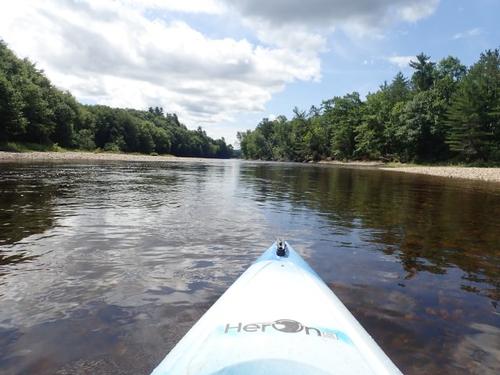 I "Paddled the Pemi" with Ski Fanatics on July 29, 2018. It was partly cloudy with low humidity It was fantastic!
The staff at Ski Fanatics was professional and very friendly. I launched from Robbins Nest Road. The Pemi is a very nice river, and the water level was high which made the paddling easier and the trip down river faster.
Today it was fast moving with some small rapids. The river itself is shallow and flows over a wide gravel bed. It has sandy beaches for many stop offs for swimming and picnicking. I saw some bank swallows flying overhead and could see their nests [holes in the riverbank] as I was paddling.
There were gigantic boulders to avoid, eddies to escape, trees to dart around and under. I started on the first run and got ahead of the crowd. I saw only four other paddlers, which provided lots of solitude. Perfect!
About a half hour into the trip, after I passed the Big Boulder, where normally lots of people would be hanging out, I found a nice sloping rock ledge to land my kayak. The water was a little chilly, but that did not stop me for a swim!
I went back on the water and after paddling for about 15 minutes, I saw a couple of deer! Interstate 93, route 3, and 175 cross over the river several times. Most of the river is very close to one of these roads but mostly out of site. I saw an occasional house or condo and two campgrounds along the way.
I continued paddling a saw a flock of Canadian Geese! Afterwards I paddled to the RR trestle bridge popular for jumping off but it was too early in the morning so there was not much action.
At mile 4 there is a nice swimming hole in a deep pool at a sharp river bend near a large boulder popular for jumping off. I had my lunch here as well as take a swim. There were some kids making their way over a tree above the river to jump off from that provided some entertainment.
I continued to paddle toward the narrowest section of the river and always one of my favorite sections! I reached the campsite where we've hosted many GO Gatherings in the past and saw a bunch of campers having a good time.
Soon after, I landed at the spot where Ski Fanatics would pick me up. I was on the water for about 3 hours. Very pretty and scenery is great!
There are 29 photos in Album (Note: Move mouse pointer over larger pic and click on NEXT for better viewing)