Piscataquag River Park
04/21/2018
Trip Report/Photos from Gandalf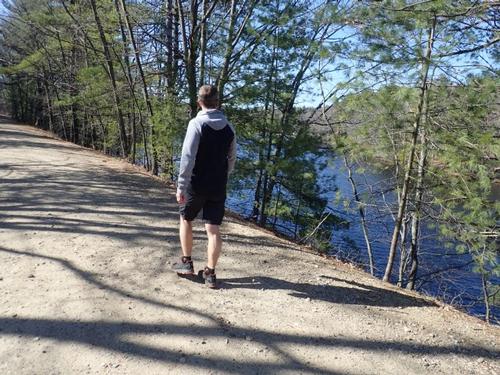 On Saturday after the Mt. Watatic Hike, Jon and I were not finished hiking for the day.
So, we headed to Piscataquag River Park in Manchester (my home town) for an hour of urban exploration. Piscataquag is Abnaki for "place where the river divides."
There are two sides to this little used West Side get-away that abuts Goffstown. Our interest was in the darker, deeper side of the park, the side with crisscrossing trails near the rushing river. That's where we'd find adventure.
And the hike did not disappoint. After parking near the West Side Ice Arena we set out. We headed towards the river and followed an unmarked trail south.
We started seeing some abandoned tents from homeless people who live along the river. We never felt threatened by seeing the tents. It's quite possible these tents are used at night, but during the day there were not any signs of people.
There are nice spots along the trail to view the river that was flowing well due to snow melt further north. We continued and found a pedestrian bridge that crossed the river so we took it. How sweet! We then followed the river north.
We crossed beneath the Biron Bridge. On one of the concrete pillars I enjoyed the first of many graffiti drawings of local artists.
We then got near the dam. We got a nice view of it as we approached. Past the dam, we saw another pedestrian bridge that crossed the river but first we wanted to explore the paved Goffstown Rail Trail.
We encountered many people of all ages walking the paved trail. It's multi use so we also saw some folks on bikes as well. I can understand the popularity since it's a nice easy stroll with views of the river along the way.
About 5 minutes past the Goffstown Rail Trail sign, we reached an opening with an expansive view of the river. This is where we decided to head back towards the truck. We crossed the pedestrian bridge I mentioned earlier with our final views of the river.
If one were to do the loop we did, it took about an hour. The trails by the river have no names but the paved rail trails do. The Piscataquag River Trail on the Manchester side that leads into the Goffstown Rail Trail. There is a trailhead kiosk near the end of the drive to the West Side ice arena.
For a city park, this is real gem!
There are 34 photos in Album (Note: Move mouse pointer over larger pic and click on NEXT for better viewing)