Mt. Tecumseh [Waterville Valley, NH]
12/09/2017
Trip Report/Photos from Gandalf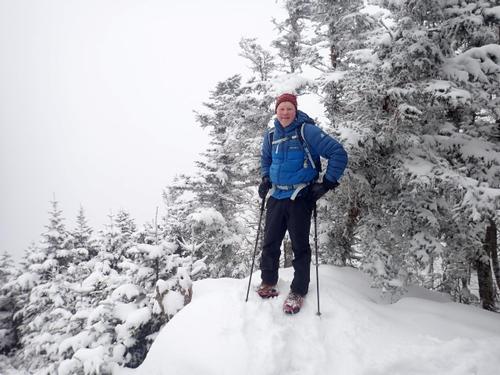 In the quest to hike the 48 4,000-footers of New Hampshire, Mt. Tecumseh is generally considered one of the easiest on the list. Standing at 4,003 ft., Tecumseh basically had to stand on its tippy toes to even be considered one of the big boys. With the first major snowfall this season, it seemed like a good opportunity to hike it. People tend to thumb their nose at Tecumseh, but it is a great trail with fine views to the east!
I started the hike from the parking lot of a Waterville Valley ski resort. Parking here is free and the trailhead is adjacent to parking lot number 1. The hike is 5 miles round trip.
It was sunny with the temperature around 27 degrees. The first section of the trail runs alongside a stream, but before long I had to cross to the other side. The rocks that I used as stepping stones was a bit icy but manageable.
We had 4-5 inches of snow yesterday providing a nice coating over the trail. And the snow caked over the trees was magical! The trail was well packed and was easily passable with MicroSpikes; however, there was ice underneath the snow so I had to be careful with my footing.
After 1.1 miles, there was a good view from the edge of the ski slope. I could see the Tripyramids and surrounding peaks. As I climbed higher, the more snow I saw on the trees. It was breezy once I reached the ridge so I put on my down jacket. The sun had disappeared and I found myself in the clouds.
Once I reached the summit, it was obvious there would not be any views today. There were 3 folks whom I passed on the way up that arrived and I asked them to take my picture. As I got further down I could hear the snow guns working from the ski area and skiers shouting with glee. Obviously Mt. Tecumseh doesn't compare with what you'll get from some of the taller summits in the Whites. With the hike only 5 miles round trip along with the views, I never find Mt Tecumseh disappointing!
There are 22 photos in Album (Note: Move mouse pointer over larger pic and click on NEXT for better viewing)