Smarts Brook Trail, Waterville Valley NH
09/23/2017
Trip Report/Photos from Gandalf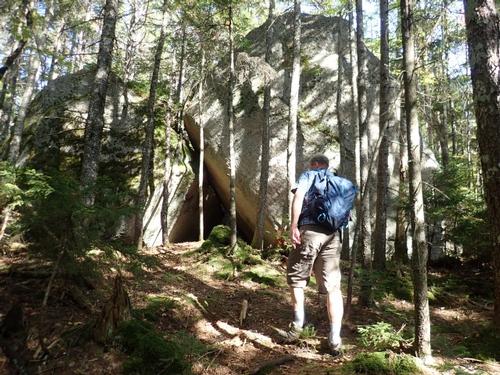 An afternoon hike partway up the Smarts Brook Trail (a long route up Sandwich Dome off Rt. 49) to check on our former adopted trail. After an initial short climb, the trail follows a partially grass-grown gravel logging road for more than a mile. Easy walking, if not particularly interesting.
At 1.1 mi. there's a nice cascade and pool on Smarts Brook, right next to the trail. This is a popular destination for a short, easy hike. In another 0.4 mi. the trail/road passes by a beaver pond on the R. Next, it crosses along the edge of a logging yard from a timber harvest done a few years ago. What surprised us is how many young saplings have grown into this logging yard since we visited a few years ago…who would hardly know a logging yard was there!
In the next mile the trail passes a number of small regenerating logging cuts. Again, the young saplings have grown in hiding most of the prior evidence of the logging cuts. Mother nature has a great way of healing itself!
The character of Smarts Brook Trail changes markedly once across the Wilderness boundary, 2.5 mi. from the road. The narrow trail, with mostly good footing, leads through a deep mixed forest in the beautiful upper valley of Smarts Brook. Although the trail generally stays above the brook, there are a few places where you can have a look.
Jon took some fine pictures of mushrooms, fall berries and fallen maple leaves. About 3 1/4 mi. in, a hole in the trees offers a peek up at the cliffs of Sachem Peak, a prominent feature of Acteon Ridge, the spur ridge that descends off Jennings Peak. Sachem Peak is our list as fine bushwhack destination, and its ledges have commanding views over the Smarts Brook valley.
We continued hiking in some nice woods along the trail. We got off the trail a couple of times to enjoy the cascades. At 4.1 miles we reached several very large boulders which was our turnaround point. On the return we stopped for a few minutes at the beaver pond and sat on an old log in the hot sun. It was in the mid-80's on September 23rd!
On the lower part of the return trip, there is option to take the Tri-Town Trail, one of three X-C trails in this area that are popular with walkers and hikers. It is so named because it passes into the towns of Waterville, Sandwich and Thornton. It was getting late so we decided to save it for next time.
This turned out to be a delightful woods hike, with good footing and some nice hardwood forest.
For a shorter loop hike, we highly recommend the Yellow Jacket and Pine Flat Trails, which leads past a scenic gorge on the brook. You can then loop back using the Tri-Town Trail. It's a better alternative to the dull logging road walk on Smarts Brook Trail.
There are 19 photos in Album (Note: Move mouse pointer over larger pic and click on NEXT for better viewing)