Mt. Roberts and Mt.Faraway Hike
04/16/2016
Trip Report/Photos from Gandalf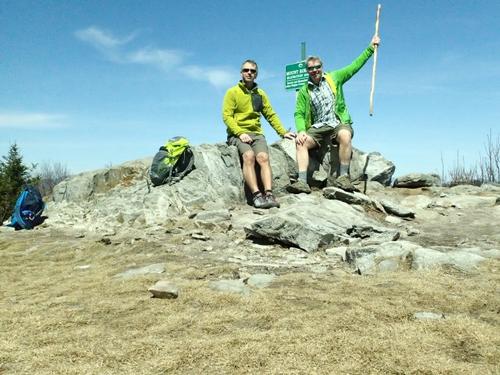 With the ice and snow on the trails, the last 4 weeks Jon and I have hiked further south in the Ossipee Range. The hikes are shorter and we're enjoying different places. There are two "52 With A View" peaks in the Ossipee's, Mt. Shaw (the highest and a longer hike) and Mt. Roberts. We hiked up Mt. Shaw three weeks ago so this time we chose Mt. Roberts. It's pretty straightforward as one trail, but it also brings us fairly close to Mt Faraway, and it seems that if you're close to a place called Faraway, one ought to make that a priority as well, so we hoped that we could hit both.
We parked at the "back" gate of Castle in the Clouds, which features a hikers only parking area with a posted map, kiosk, etc. If you're coming to do the hike, you'll just take Ossipee Park Road and come to this area which will be obvious, no problems. The map at this parking area is excellent and gives you detailed directions to the trailhead, and Mt. Roberts is just one trail the whole way, well-marked and very easy to follow.

The trailhead starts out just past a stable where horse rides depart from, and actually follows the fence (electric with signs that say "Hot") for the first little bit. The trail itself is probably one of the tougher ones in the range or at least on Castle grounds; its little guide calls it "strenuous" although we would call it moderate. It's moderately uphill and rocky in many sections, but never really steep, very easy to follow, and nothing approaching a scramble of any kind. After a bit there's a marked spur trail to a great ledge with very nice views of Winnipesaukee and the Belknaps. Nice! Further up there are more rocky spots with similar views, and as the ascent continues. For a portion the trees almost become scrub-like and it kind of feels like you're approaching treeline in the higher peaks of the White Mountains, only you're at probably 2200 feet. Strange, but nice! There are also many spots with excellent clear views east toward the rest of the Ossipee "high" peaks, Shaw and Black Snout and Turtleback. It's nice to have some views, particularly Mt. Shaw that we hiked up three weeks ago. Shortly before the summit, the forest changes from the scrub to larger conifers (really seemed strange to us) and at 2.5 miles popped out on a rocky summit with interesting, clear views to the Sandwich range and even Washington to the north. Very cool!

There was no wind and it was nice spot. Between the ledge views to the lake and Belknaps, the open views to the rest of the Ossipee's, and the summit views to the Whites, this was really a nice trip. We found it altogether worthwhile and would recommend it.

That said, we weren't ready to be done, either. A sign said we were 1.1 mi from Faraway Lookout, and I had made a note on my map of the herd path to the summit of Faraway (this path is not marked on the map), so that made it even more enticing to us. So we hit the High Ridge Trail. The High Ridge Trail is like most of the Castle in the Clouds trails, a "carriage road". It kind of stretches our definition of "hiking trail" at about 10 feet wide. About 10 minutes into the High Ridge Trail, Jon mentions that he is hearing ducks. That's strange because there are not any ponds this high up. As we got nearer to sounds, we found the ducks were in a vernal pool! OK…they were not ducks…but spring peepers! We have a good laugh.
We continued on our hike and saw the side road/trail with a chain across it that is unmarked. We hopped the chain and saw these old, rusted wheels, that looked like sort of roller used back in the day. We are still not sure what this is. Within about a half mile we were on the summit of Faraway with tremendous views of a communications tower and solar panels and that's it. So good, we were there, but it wasn't really worth anything. Oh well.
We returned back to the High Ridge Trail and eventually came to the Faraway Lookout. It did probably have the best views of Lake Winnipesaukee and the Belknaps that we've seen, very nice!

To descend, we continued on the High Ridge and took the Faraway Mountain and Cold Spring trails. We got back to our car around 3:30.

Summary – Mt. Roberts is a nice hike with varied views from different spots to different directions. After leaving Mt. Roberts we did not see anyone the rest of the day except for two backpackers down below on our descent. Mt. Faraway is worthless unless you're peak-bagging and the Faraway Outlook was very nice. We did like being away from the crowds on the High Ridge Trail. Six miles roughly round trip, 1300-1400 feet gain.
Trip Report by Mike
Pictures Taken by Jon
There are 52 photos in Album (Note: Move mouse pointer over larger pic and click on NEXT for better viewing)