North Kinsman/Bald Peak on a Perfect Day
03/19/2016
Trip Report/Photos from Gandalf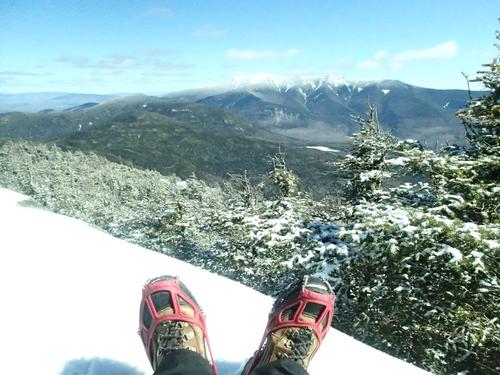 When you are saying "What a week!" since like... Tuesday, it's time to shake things off and hike. So, I headed for North Kinsman [4293 ft.], knowing also that I would have some ice to deal with. I didn't get up super early since the days are getting longer. I got underway from the trailhead for the Mount Kinsman Trail on 116 just before 9am. Trail conditions started out with bare ground. The lower Mount Kinsman Trail [MKT] is in fine shape and easy to travel. It's cold today and I was preparing for the wind and the eventual ice I would find but also traveling quickly this morning.
Just after the shack on the lower trail, things start to get icy. I encounter more ice and some elevation gain along with a few water crossings. These crossings were not snow bridged and there was black ice on the rocks to step on so I had to be very careful. Mossy Falls and Flume brooks had some beautiful frozen cascades! I begin to climb at this point and there are a few ice flows but with the snow cover, I can manage. I reach the junction of Bald Peak [2470 ft.] and decide that I might as well add it to the day. It's an easy .2 to the summit and there's only two spots that climb. But the summit is open and fantastic. There are good views west over Easton Valley, Southwest to Mt. Moosilauke, Benton Range and mountains in Vermont [I think I could see Killington], and I saw my goal for the day, North Kinsman!
The skies are so blue today and even though the temps are cold, I am warm from walking. The MKT at this point has snow building up but still solid and easy to travel however I began to encounter ice flows so I put on my MicroSpikes. They were tricky so I had to make sure I had a good grip with my feet first. There are trees to help though. Winter is all around me and I am in love. I'm getting ready to break tree line.
Once on the Kinsman Ridge Trail, I climbed up to North Summit and in the process run into many hikers just out enjoying the day. I made my way to flat ledge offering 180 degree views and a stunning panorama of Franconia Ridge! There was not much wind even though it was cold, it was not freezing. The blue skies, the sun, views forever... This is what winter should be! I have waited all season for a winter day like today. I am incredibly lucky and I'm aware of that with every hike I do. I make sure to send a quick thank you to the Mountain Gods because I think they are always responsible for the gift.
Because it was so icy on the way up, I switched to crampons to make sure I don't slide down. Heading back down, I know it will take no time to get back to the truck. It's truly all downhill from here. I switched to MicroSpikes further down and then bare boot back to truck. Today has not been anything but a perfect day! I reach the truck in great time and soon on my way to coffee.
Today and this week I have been reflecting on my hiking. I started in my college years and fell in love with the mountains. It's been a pretty amazing ride through the various peak bagging lists, hiking the entire length of the Appalachian Trail, and hiking the entire length of the Long Trail twice. I've enjoyed hiking with my GO buddies and especially with Jon. I like hiking solo now and then to experience the solitude. Now that I have no more lists to do, there's more of a casualness to my trips into the woods but all have a basic premise of "This is how I take care of myself". My work is pretty intense a lot of times which is another reason why I hike and maybe it's why I hike so much. I look forward to the escape and just being on the trail. As much as I look forward to the summits, a summit is no longer necessary to my day. Days like today sustain me until I can get back out there again. Mostly, my hiking as evolved into a pretty important part of my life and my continued management of my health. I'm living proof that good diet and exercise is beneficial to both body and soul. That has to say something about being outside and hiking as well as eating right. I could not be happier and I could not be in a better place in my life.
There are 37 photos in Album (Note: Move mouse pointer over larger pic and click on NEXT for better viewing)