Mt. Shaw and Black Snout Hike
04/25/2015
Trip Report/Photos from Gandalf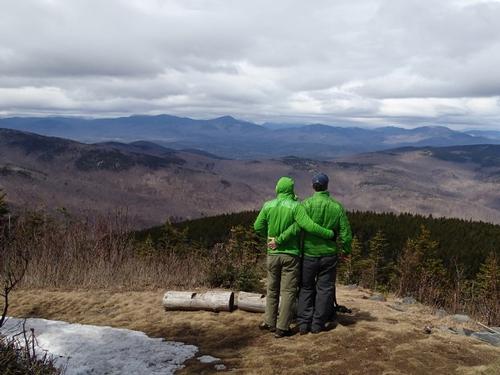 This was a peaceful trail with Fields Brook running along the lower section. It is mostly easy grades however as we made our final ascent up the ridge the trail became rocky and we had to skirt around many blowdowns. Its 7.6 miles up and back with 2,300 feet of elevation gain. The trail feels abandoned and has a neglected feel. There is not any sign from the road about the Mt. Shaw trail and you don't see a red blaze until about .3 miles in. I'm not sure if this trail is even maintained anymore. There was not even a sign to the Mt. Shaw Trail from the ridge/carriage road/Black Snout Trail junction. It's more a locals hike for people who live nearby.
The pleasant babbling brook was alongside for two miles and required a couple of stream crossings that were doable. There were many small, pretty cascades and pools. There were a few that would be great for a dip in summer! We also found a couple of great camping spaces alongside the brook near swimming holes and cascades.
After leaving the brook, the trail narrows and climbs steeply for about 0.7 mile with rocky footing and many blowdowns to skirt around. It ends at an old horse carriage road which is the Black Snout Trail. Taking a left would "eventually" lead to Castle in the Clouds but that was not our objective today.
We went right and began to encounter snow. The trails on the horse carriage road still has a good bit of snow on it. Bare booted but hiking sticks helped immensely. Shortly after that, we took a spur trail right that leads to a great outlook from Black Snout [2803'] which is a knob on the southern flank of Mt. Shaw. The views opened up as we approached the summit since there were not any leaves on the trees. There were excellent views south, east and west including Lake Winnipesaukee. Black Snout had a few trees to block the wind, south facing to enjoy the sun and views of Lake Winnipesauke so it was a great spot for lunch.
After eating lunch at this outlook, we continued along the trail that leads to the summit of Mt. Shaw [2990']. It's a bit soft in some sections so we post holed a bit. The trees alongside form a light canopy overhead…it really gives a neat feel to the trail. At both the outlook and the Mt. Shaw summit, the trail went around a circle – as if to make it easier for the horse carriages to turn around. Walking along the trail, glimpses of the expansive view can be caught with the leaves off the trees. The summit was like the Black Snout outlook, except even more open north facing views toward the Presidentials– we had a great view of Ossipee Lake from here. Mt. Shaw was windy and cold so we did not stay for long.
The peacefulness and beauty of the trail was further enhanced by the good company of Jon. Not many people out today, so enjoyed both summits to ourselves! We retraced our steps for the descent. Great, clear day to be up on Black Snout and Mt. Shaw! It took us a little over 5 hours to do the hike. This is a keeper and we'll do it again.
There are 61 photos in Album (Note: Move mouse pointer over larger pic and click on NEXT for better viewing)