Mt. Hedgehog Hike
03/28/2014
Trip Report/Photos from Gandalf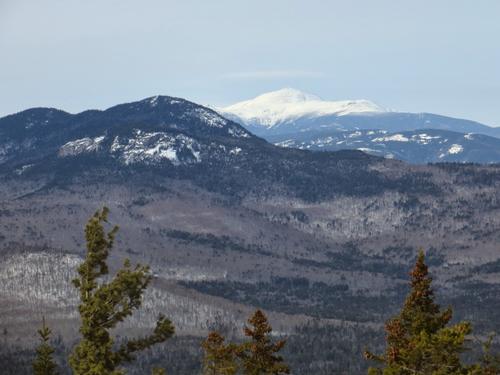 Drove to the parking area for the UNH Trail. It was a gorgeous sunny day with temps rising into the 20s, and Hedgehog is one of the great moderate hikes in the Whites. There was a pretty good snowshoe trench - often knee-deep along the trail. The strong spring sun shone down into the open hardwoods.
There was quite a bit of drifting along sections of the trail. Barebooters beware! Some undrifted parts of the track had been chewed up by barebooters before the winds came from the recent off-coast Nor'easter. Nice open spruce woods approaching the East Ledges. From the first outlook, Carter Dome seen through Bear Notch.
The East Ledges are an area of fragile subalpine vegetation. Heading up the east end of the East Ledges. Looking back at the Moats across the Albany Intervale.
Mt. Paugus seen across the Oliverian Brook valley. Beaver bog down in the valley. The eastern spurs of Passconaway: Square Ledge, Wonalancet Hedgehog and Nanamocomuck Peak (with the slide).
The East Ledges offer a classic view of the mighty Mt. Passaconaway. A mini-alpine zone on the east shoulder of Passaconaway. The summit of Hedgehog seen from the second, more expansive set of ledges.
Hangin' on the East Ledges, my favorite spot on the mountain. I spent nearly an hour here lounging in the warm sun. Towards the end of my stay a lone hiker came by and took a seat farther west along the ledges. I always enjoy the wild, twisting stretch of trail between the East Ledges and the main summit.
Zig-zagging upward. View out towards Paugus Pass from a turn in the trail. Fun section up a spine of ledge.
Just below the summit, I made my way down to a secluded ledge that is my second-favorite spot on Hedgehog. Spent an hour here as well. I love the jumble of peaks seen here to the west. The Tripyramids, with South and Middle Peaks rising at the steep head of Sabbaday Brook.
Mt. Carrigain and Green's Cliff. The mass of the Hancocks, with two partial glacial cirques displayed on the south side. From the summit ledge, Mt. Chocorua to the east.
Looking out over the Oliverian Brook valley. Serious snow depth in the woods behind the summit ledge. Trail heading north across the summit.
Weather-beaten white pine on west side of the trail. A different angle on Passaconaway, showing its spurs descending into the Downes Brook valley. Northern view to Mt. Tremont and Mt. Washington.
The UNH Trail is pretty steep as it drops north off the summit. Last look at Tripyramid and West Sleeper, wrapping up a leisurely sunny day on Hedgehog.
- The Trip Has No Photos -