Powdah Day on Welsh Mtn. Ledges
01/27/2015
Trip Report/Photos from Gandalf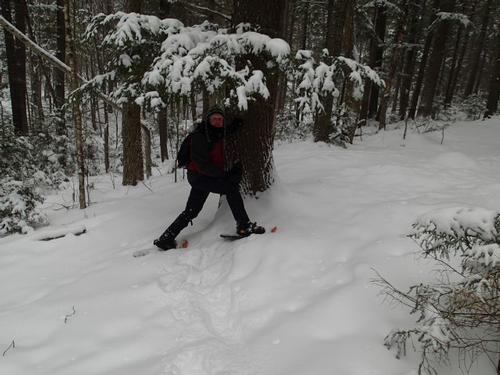 Work was cancelled today due to the Northeast blizzard! I'm not complaining mind you. :-) I was in the mood to put on my snowshoes for the first time this winter and make fresh tracks. I wasn't in the mood to drive anywhere so I decided to walk...or should I say snowshoe...to the Welsh Mountain Ledges from my house.
I snowshoed up my driveway and took a right on the plowed Upper Mad River Road. I kept my snowshoes on the road even though it wasn't really needed. I walked by a cozy house and a Sugar Shack. It's about a 30 minute trek from my house to the Welsh-Dickey Trailhead.
There were not any cars in the lot. I began to break trail and make fresh tracks. The snow was fluffy powder. Lovin' this!
I decided to document the excursion by periodically setting up the camera, put it on time delay, and capture myself trekking in the snow. I think it helped capture the solitude and mood of the day.
The snow fell throughout the hike and the trees were so beautiful being draped in snow. I caught a picture of myself beneath this snow covered branch. The snow was so fluffy I found myself slipping a few times from the ice underneath.
I began the final descent to the ledge. When I got out in the open, there was not much wind and I enjoyed the snow pelting my face. Winter is BACK! I could barely make the summit of Welsh Mountain.
About 5 minutes after I made my way back I saw a woman bareboot toward the ledge and 15 minutes later three men also barebooting toward the ledge. The snowshoe tracks I laid out were gone; only to be replaced by these dents in the snow. Somehow the trail just did not seem as beautiful anymore.
When I returned home, I took some shots of my Christmas Tree on the deck and the surrounding view. Let's hope for more work cancellations due to blizzards. Great day!
There are 25 photos in Album (Note: Move mouse pointer over larger pic and click on NEXT for better viewing)