Mt. Tecumseh Hike
01/10/2015
Trip Report/Photos from Gandalf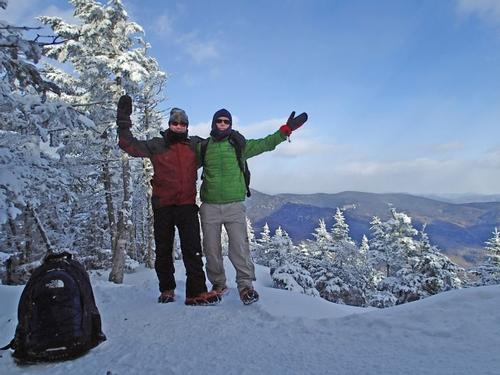 Mileage: 5 miles (RT)
Elevation gain: 2,200'
Trailhead: Trail starts at Waterville Valley Ski Area. I-93, exit 28 and follow signs for the ski area. The trailhead is located near the top of parking lot #1.
Tips: 1. Hand warmers work best when stuffed in your mittens 15 minutes before the hike 2. Glove liners can help protect hands when mittens are off 3. No such thing as Lunch on a cold winter's day…just short snack breaks and 4. Put hot water in your water bottle, have your water bottle wrapped in a sock or placed in a water bottle parka to keep water from freezing.
Jon and I cancelled the Mt. Lafayette and Lincoln hike due to the cold and forecasted wind chills of 20 below zero. So instead we decided to hike up Mt. Tecumseh near our house in Waterville Valley.

At 4,003' Mt. Tecumseh ranks 48th in height, the smallest mountain on the list of NH 4ks. It may be the easiest of 4000 footers in winter which is why I hike this peak often in winter to prepare for harder winter climbs.
Hiking it today was like unwrapping a Christmas present the further we went up!
I love hiking with Jon; we've been doing together for 13 years. We trust each other and we are very skilled winter hikers. Plus, Jon has a cheery personality with lots of enthusiasm.
Today was still going to be very cold, even for Mt. Tecumseh, so we wore medium weight synthetic underwear. Synthetic underwear keeps you warm even when wet…believe it or not, you can still sweat on a very cold winter's day. I brought a neck gaiter to keep my neck and face warm while Jon brought his balaclava.
We wear a combination of layers. Over my underwear, I had a pair of ski pants for my legs. For my core I had a synthetic shirt, fleece vest, Dri Clime shirt, and a wind shell. In my pack I had a down sweater which I never took out because we never stopped for very long. After about 15 minutes, I took off my Dri Clime shirt.
Because this is a short hike our start time was later than usual; later in the day meant warmer air temperature. The ski area was full of cars but we found a space alongside the road near the junction where it becomes one-way traffic. We arrived at the trailhead and started around 11:45.
For this hike, we only took a small daypack. We put on MicroSpikes and kept them on the entire day. The trail was packed powder providing easy travel.
The first water crossing was no problem and the two larger ones were snow bridged.
We adopted a slow pace up the trail, tramping on the white snowscape. At the viewpoint (one of Waterville Valley's ski runs) we stopped and took a water break.
We walked out and Jon took some photos.
At the viewpoint we turned right and up a noticeably steeper trail.
We continued our comfortable pace with our MicroSpikes still holding on the steeper sections. When it's this cold out it's hard to take off clothing but knowing that we would be working harder on the upcoming steep section, we removed another layer…Jon took off his shell and I took off my fleece sweater vest.
We reached the junction of the Sosman trail where the trail plateaued, which renewed our excitement - we were almost there!

A narrower path brought us to the summit. We were amazed at the view and did not linger for very long. On a clear day you can see Mt. Washington but on this day there were clouds and snow showers further north. We could still make out Mt. Carrigain, the Hancocks, Tripyramids, Whiteface, Passaconaway, Sandwich Dome and the Osceola's.
We headed back down with the rest of the hike uneventful.
We headed out of the ski area, warmed up by the fireplace in our house, enjoyed a delicious grilled steak dinner and watched the Patriots barely defeat the Ravens.
There are 52 photos in Album (Note: Move mouse pointer over larger pic and click on NEXT for better viewing)