ACADIA NATIONAL PARK LOOP ROAD
09/09/2021
Trip Report/Photos from Gandalf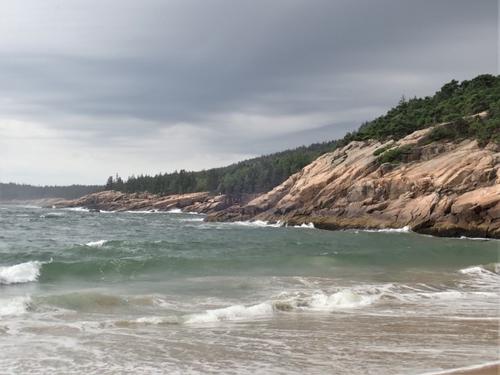 Showers and clouds were forecasted for today so Jon and I decided to stay low and explore the highlights of the ANP loop road! There must have been a storm off the coast as the surf was pounding the rugged ANP cliffs with a thunderous roar and soaring waves that shot up high into the air. We've been hear many times and this was by far the best show of by Mother Nature that we have seen!
Our first stop was at Sand Beach to hike across the Great Head Cliffs. It's a short 1.5 mile loop hike and one of our favorites in the park! We then visited the very popular Thunder Hole and as you can see from the video, the manner which the ocean channels into this chute creates a soaring and thunderous 50 foot geyser that spray onto the lucky spectators were there. We even had to back away on one of them! Our last stop was at Otter Point where we were once again awed by the power of the ocean slamming into the cliffs. It was one wave after another crashing into the rocky cliffs with drama.
Tomorrow we will be tackling the most exciting and challenging trail in ANP, the Precipice trail with iron rungs going straight up a cliff! Can't wait!!!
There are 66 photos in Album (Note: Move mouse pointer over larger pic and click on NEXT for better viewing)