SQUAM LAKE CAMPING TRIP REPORT
09/09/2021
Trip Report/Photos from Gandalf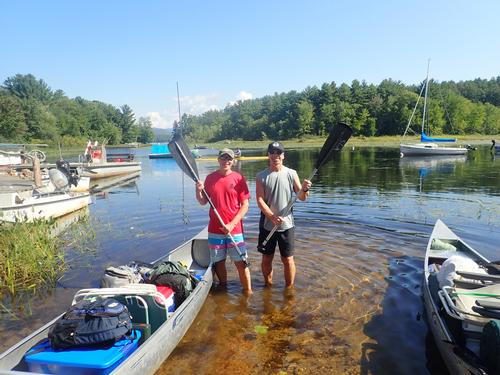 Jon and I enjoyed a couple days of paddling, hiking, dining, and camping on Bowman Island in Squam Lake! We launched under sunny skies from the Squam Lakes Association in Holderness, NH, and paddled to Bowman where we set up camp and swam off Sunset Ledge. We enjoyed a delicious dinner sitting on top of "Sunset Rock" near our campsite enjoying the sunset. We ended our first day around a roaring fire hearing the fluting calls of nearby loons!
The next day, we paddled north to visit the outdoor chapel at Church Island and paddled/swam to Five Finger Point and Yard Islands. We paddled back to camp, with more food and fire. Both nights we walked to the dock and gazed at the moonless starry sky where we could see the Milky Way dust. Incredible!
We woke the following day knowing we had a six hour drive to the next leg of our vacation to Acadia National Park so we paddled back to the cars after breakfast. The lake was calm for our paddle back and the loons said goodbye.
These canoe camping trips are absolutely our favorite way to kick off our vacation!
There are 125 photos in Album (Note: Move mouse pointer over larger pic and click on NEXT for better viewing)