Camino de Santiago: the Baztån Way
Hiking Vacation
DATE: Oct 05, 2023

END DATE: Oct 12, 2023

Hike/Event Location: Bayonne, France, to Pamplona, Spain MA
Trip Leader(s)
BordRXR
HOLYOKE, MA United States
Meeting Time: 6:00 PM
Max # People: 5
Hike Guiding / Event Fee: Yes, but only to cover shared expenses, and I too am paying
Hike Difficulty Level:
Moderate to Strenuous
(Do you qualify to attend with this hike difficulty rating? Click Here.)
Sign Up To This Trip/Event
You must be a least a guest member to participate. Comments such as "+1" or "bringing a friend" are NOT permitted. All participants must sign-up for the event individually.
Select your mode of transportation, make any comments and then click on button.
You are not logged in.
Please, Log In
Disclaimer: The club and its members take no responsibility and will not be held responsible for any injuries or accidents that may occur during club events. Outdoor sports are inherently dangerous and accidents will happen. By joining the club or participating in any events posted on our website you are taking responsibility for your own safety and well-being. Anyone with an internet connection can post a trip on our web site. It is your responsibility to determine if this person has the experience and competence to lead the trip. We do not certify or confirm the qualifications of any of our members to lead or participate in trips.
Summary
Many know the Camino de Santiago, the Way of St James, as a 1200 year old pilgrimage route from the Pyrenees to Santiago de Compostela in western Spain. Many don't know that there are many Caminos to Santiago besides the best-known, most heavily traveled path, the one featured, for example, in the Martin Sheen film "The Way". All are village-to-village long distance rotues traversing a wide variety of landscapes, mountain ranges, waterways and coasts, fascinating cities and ancient localities that have offered hospitality to walkers for a thousand years or more. This trip on the Camino Baztán takes about 5 days (plus a day at either end to enjoy the cities of Bayonne and Pamplona) and would be great for those who have walked the main route and would like to have a quieter and more physically challenging experience on a less frequented route. Those who have not previously done a Camino are welcome; I've done five previous trips (though not this one) and would be happy to share my expertise to help you prepare for and enjoy the trip. Participants should be in good physical condition; much of the route is mountainous, though not technically demanding, and we will be averaging around 12 miles a day. We will travel light: accommodations are in small local hotels and pilgrim hostels with spartan facilities. Adaptability and good humor in the face of of the unexpected are key. Spanish and French language skills would be helpful but not a must.
Several options are possible for extended trips. The Baztan Way joins the main Camino de Santiago at Pamplona, so one could continue westward toward the cathedral cities of Burgos, León and Santiago as desired. Another option is to take public transport to vibrant Bilbao, home of the famous Guggenheim Museum designed by Frank Gehry (photo). I myself will be heading to San Sebastián to pick up the Camino del Norte, which runs along the cliffs and beaches of the Atlantic coastline on its way to Santiago. Happy to have company on that section too.
Directions To Trailhead Parking Lot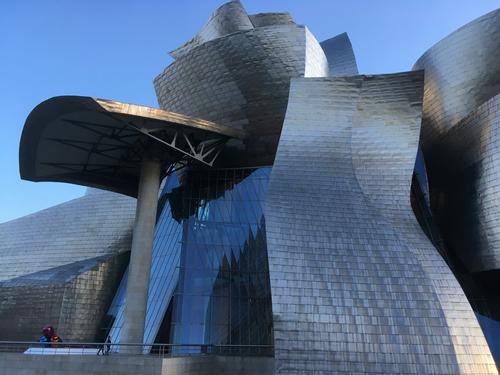 Trip begins at Bayonne, France on the evening of October 5, meeting point TBA. The local airport is Biarritz (BIQ); Bordeaux Airport (BOD) is 2.5 hrs by train from Bayonne. San Sebastian airport (EAS) is about 2hrs away. Return flights can be booked from Pamplona, Bilbao or San Sebastian. High speed trains connect all these Spanish cities with Madrid and Barcelona.

Trip Leader
sustaining member
BordRXR
Outdoor Fitness Level: Moderate to Strenuous
HOLYOKE, MA
United States
Online Status: OFFLINE
Last Login: 05/23/2023 10:48 PM
Member Since: 05/17/2006
members signed up for this event
guest member
Jparis21
Outdoor Fitness Level: Moderate to Strenuous
Nutley, NJ
United States
Online Status: OFFLINE
Last Login: 05/21/2023 03:38 PM
Member Since: 08/23/2021
Driving My Own Car


(Possibly willing to give guys a ride)
Comment: Hey there! I saw this hike you are organization and looks absolutely incredible. I've always wanted to do the Camino, which I've never had a chance to do it yet and this looks like it's a little sample… I've been a member for gay outdoors for think over a year and I've never participated in any activity so far. I'm not even sure if my profiles updated correctly as I don't have access to a computer and I'm using it from my iPhone. Would love to here more updates, etc.
Discuss This Trip/Event