Hike to Monadnock Summit by a path less traveled
Full Day Hike
DATE: Oct 01, 2022

END DATE: Oct 01, 2022

Hike/Event Location: Jaffrey NH
Trip Leader(s)
Relayer
Wayland, MA United States
Meeting Time: 9:30 AM
Max # People: 10
Hike Guiding / Event Fee: No, I will not be asking participants for money
Hike Difficulty Level:
Moderate
(Do you qualify to attend with this hike difficulty rating? Click Here.)
Sign Up To This Trip/Event
You must be a least a guest member to participate. Comments such as "+1" or "bringing a friend" are NOT permitted. All participants must sign-up for the event individually.
Select your mode of transportation, make any comments and then click on button.
You are not logged in.
Please, Log In
Disclaimer: The club and its members take no responsibility and will not be held responsible for any injuries or accidents that may occur during club events. Outdoor sports are inherently dangerous and accidents will happen. By joining the club or participating in any events posted on our website you are taking responsibility for your own safety and well-being. Anyone with an internet connection can post a trip on our web site. It is your responsibility to determine if this person has the experience and competence to lead the trip. We do not certify or confirm the qualifications of any of our members to lead or participate in trips.
Summary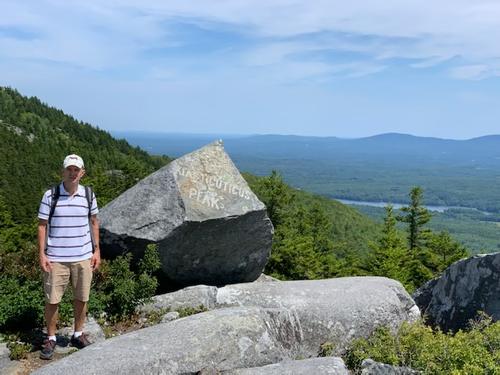 The mountain that Henry David Thoreau loved most was Monadnock.
During this Moderate looping hike we will travel about 5 miles and experience approx. 1750ft elevation gain, avoiding the popular White Cross/White Dot on the ascent.
Hike plan (generally following https://www.alltrails.com/explore/recording/mount-monadnock-via-parker-trail-and-cliff-walk-d5a28f8) Beginning at Monadnock Headquarters car park, we will begin ascent on the Parker trail then soon switch over to Lost Farm trail. Once at Cliff Walk trail, we will make a stop at Thoreau's Seat, then proceed to Bald Rock (aka Kiasticuticus Peak), from which we will view and continue to Monadnock summit, following Cliff walk to Amphitheatre and then to White Arrow. Descent will be via White Dot/White Cross (or convince me otherwise).
"Those who climb to the peak of Monadnock have seen but little of the mountain. I came not to look off from it, but to look at it. The view of the pinnacle itself from the plateau below surpasses any view which you get from the summit. It is indispensible to see the top itself and the sierra of its outline from one side.... It is remarkable what haste the visitors make to get to the top of the mountain and then look away from it." - Thoreau
Preparation/what to bring: lunch, plenty of water, snacks, and a good collegial attitude
Social mixer/overnight: following the hike, everyone is welcome back to my house in north Wayland MA to hang out and optionally pitch your tent in the back yard. Dinner logistics TBD, but BYOB. Address will be provided to those attending this portion of the event.
Directions To Trailhead Parking Lot
Location and logistics of the Monadnock HQ car park (carpooling strongly suggested owing to parking fee) https://www.nhstateparks.org/visit/state-parks/monadnock-state-park.aspx
Meet just outside of the Park Store (near the vending machines)
Note: I am able to take up to 4 other hikers + gear from the Boston area, contact me to arrange
Trip Leader
Relayer
Outdoor Fitness Level: Moderate
Wayland, MA
United States
Online Status: OFFLINE
Last Login: 09/29/2022 07:23 PM
Member Since: 07/15/2022
members signed up for this event
Twigs
Outdoor Fitness Level: Moderate
Townsend, MA
United States
Online Status: OFFLINE
Last Login: 09/29/2022 08:29 PM
Member Since: 08/18/2022
Driving My Own Car


(Willing to give guys a ride)
emsinjp
Outdoor Fitness Level: Moderate to Strenuous
Jamaica Plain, MA
United States
Online Status: OFFLINE
Last Login: 09/29/2022 07:14 PM
Member Since: 03/11/2010
Driving My Own Car


(Willing to give guys a ride)
dave0729
Outdoor Fitness Level: Moderate to Strenuous
Bolton, CT
United States
Online Status: OFFLINE
Last Login: 09/27/2022 02:07 PM
Member Since: 06/24/2007
Driving My Own Car


(Willing to give guys a ride)
dreamer
Outdoor Fitness Level: Easy to Moderate
Bolton, CT
United States
Online Status: OFFLINE
Last Login: 09/21/2022 09:59 AM
Member Since: 05/04/2014
Driving My Own Car


(Willing to give guys a ride)
LawrenceRB
Outdoor Fitness Level: Moderate to Strenuous
Tariffville, CT
United States
Online Status: OFFLINE
Last Login: 09/28/2022 08:13 PM
Member Since: 08/23/2022
Driving My Own Car


(Possibly willing to give guys a ride)
LewLasher
Outdoor Fitness Level: Moderate to Strenuous
Cambridge, MA
United States
Online Status: OFFLINE
Last Login: 09/27/2022 08:45 PM
Member Since: 10/30/2001
Driving My Own Car


(Willing to give guys a ride)
sustaining member
rolshausenii
Outdoor Fitness Level: Moderate to Strenuous
Cambridge, MA
United States
Online Status: OFFLINE
Last Login: 09/28/2022 06:02 PM
Member Since: 06/30/2019
Driving My Own Car


(Don't Own A Car)
dan410
Outdoor Fitness Level: Moderate to Strenuous
Leominster, MA
United States
Online Status: OFFLINE
Last Login: 09/29/2022 08:25 AM
Member Since: 01/19/2009
Driving My Own Car


(Willing to give guys a ride)
KeithES
Outdoor Fitness Level: Moderate
Jamaica Plain, MA
United States
Online Status: OFFLINE
Last Login: 09/27/2022 10:01 PM
Member Since: 07/16/2019
Driving My Own Car


(Willing to give guys a ride)
Discuss This Trip/Event