Jotunheimen National Park (Norway)
Hiking Vacation
DATE: Aug 13, 2023

END DATE: Aug 23, 2023

Hike/Event Location: Gjendesheim, Norway
Trip Leader(s)
Richardg
NYC/Hudson Valley, NY United States
Meeting Time: 7:00 AM
Max # People: 6
Hike Guiding / Event Fee: No, I will not be asking participants for money
Hike Difficulty Level:
Strenuous
(Do you qualify to attend with this hike difficulty rating? Click Here.)
Sign Up To This Trip/Event
You must be a least a guest member to participate. Comments such as "+1" or "bringing a friend" are NOT permitted. All participants must sign-up for the event individually.
Select your mode of transportation, make any comments and then click on button.
You are not logged in.
Please, Log In
Disclaimer: The club and its members take no responsibility and will not be held responsible for any injuries or accidents that may occur during club events. Outdoor sports are inherently dangerous and accidents will happen. By joining the club or participating in any events posted on our website you are taking responsibility for your own safety and well-being. Anyone with an internet connection can post a trip on our web site. It is your responsibility to determine if this person has the experience and competence to lead the trip. We do not certify or confirm the qualifications of any of our members to lead or participate in trips.
Summary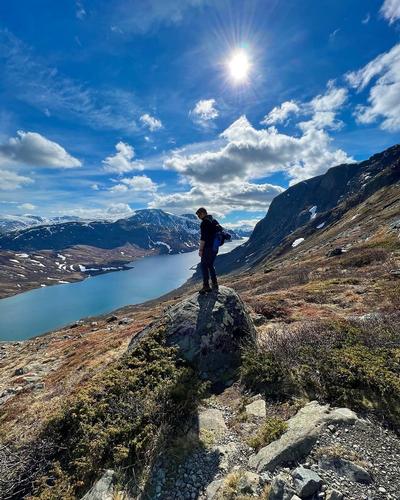 Join us for an 8-day (plus), 83-mile (133 km) trek through the dramatic landscape of high mountains, deep valleys, Nordic forests, rivers, lakes and glaciers in Jotenheimen National Park, Gjendesheim, Norway.
Trip summary from Alpine Exploratory:
This Tour (self-guided) is a wonderful circuit of the Jotunheimen National Park, visiting the main valleys of the National Park and experiencing the best of hiking available with optional rest day and/or trip extension. We link fantastic, catered huts with solid days of walking in the amazing Norwegian scenery. We also offer the option to climb Norway's highest mountain (Galdhopiggen).
The Terrain:
The terrain encountered varies greatly. Most days are generally a combination of good paths, and boulder fields. On these sections the path is less well defined, but cairns mark the way, generally visible on the horizon for navigation in poor visibility. Small streams are quite common and mostly easily crossed. Throughout summer there is a good chance of snow patches lying on the higher paths (and the snow slopes of Glittertind are guaranteed) but the lower paths are likely to be snow-free. There are also short sections of scrambling where hands will be needed for stability. These sections are within the realm of normal mountain walking and are not via ferrata.
Norway stands out as a country for hiking; the Jotunheimen is a gem among the nation's National Parks. It's the highest in its mountain, it contains Norway's highest mountain Galdhopiggen (2,469m) and it's the most popular for walkers. We cross high plateaus, walk under imposing peaks, and traverse deep valleys running with streams, rivers and waterfalls. In a single day, hikers see glaciers, sweeping valleys, flourishing meadows, and Nordic forests. Since 2018 it has become one of our most popular trips, and we hope you'll love it!
You'll find little sign of human life other than the huts and the paths. Our tour is a circular route through the park over 6 or 8 days. In 6 days, you cover most of the park's varied landscapes but if you have more time, the wilder and trickier Eastern side can be explored further. (This replaces the Leirvassbu-Gjendebu stage with a 3-day loop via Skogadalsboen and Fondsbu). The huts are comfortable and provide an amazing Norwegian hut experience which our hikers have really enjoyed.
Rest Day or climb Northern Europe's highest mountain:
We don't include a rest day as standard on our Jotunheimen Tour; however, if you'd like to add in a rest day, we'd recommend taking one at Spiterstulen as this gives you the option to have a rest (maybe taking the morning bus to Lom and afternoon bus back) or to climb Galdhopiggen. At 2,469m Galhopiggen is Norway's highest mountain and can be summitted on a day trip from the Spiterstulen hut. This day is graded at Black 4. Please let us know if you'd like to add an extra night here.

Make the trip longer:
A great way to extend your trip is to add 2 further stages, making 8 stages in total (9 if you also include the ascent of Galdhopiggen). This fantastic extended tour would see you hike to Leirvassbu as normal and then split off to walk to Skogadalsboen, Fondsbu and then Gjendebu before completing the final 2 stages as normal. It's worth noting that the stage from Skogadalsboen to Fondsbu is probably the toughest of the whole tour due to its length and its bouldery terrain, often with no visible path.
Accommodations:
The Norwegian hut system is possibly our favorite of any nation and typifies the Norwegian culture. For example, it is expected that you will be trekking with a thermos flask, as is the Norwegian way. Each evening guests line up their flasks on a trolley, labelled with their name and hot beverage of choice and miraculously come breakfast they are full. Food in the huts is chiefly Norwegian; it's hearty mountain food for dinner as you might expect! A packed lunch is also included at every hut. Guests make sandwiches from the breakfast buffet and wrap them in special DNT greaseproof paper. There is an art to the Norwegian hut sandwich!

The huts are comfortable, spacious and organized with most offering the option of private rooms. Meals are taken at communal tables and give an excellent opportunity to dine and chat with local hikers. Norwegians are proud of their excellent English. As standard we'll book your final night in a hotel in Otta. If you prefer to stay your last night in the Gjendesheim hut, this is an option and please ask us.
Directions To Trailhead Parking Lot
Meet in Oslo, Norway: Our group will rendezvous in Oslo and then travel together by bus to the first, roadside hut in the park (Gjendesheim). From there, we will hike from hut to hut, from 6 to 14 miles per day (see hike route in links below), with an extra two days at Spiterstulen to climb Northern Europe's highest mountain, Galdhopiggen (8100 feet / 8 miles) plus a day for R & R and sightseeing in a nearby village (Lom).
We also plan to do the optional trip extension (2 additional huts), totaling 9 days at the park. The final day will be a return to the first hut and then the bus to Otta for the last night at a hotel. We then return to Oslo by train the following morning.
Itinerary and Daily Mileage:
Day 0 (Sunday, August 13, 2023): Bus from Oslo to Gjendesheim
Day 1 (Monday, August 14, 2023): First hiking day to Glitterheim / 13 miles / 3117 feet ascent / 1854 feet descent
Day 2 (Tuesday, August 15, 2023): Hike to Spiterstulen / 9.5 miles / 4594 feet ascent / 3609 feet descent
Day 3 (Wednesday, August 16, 2023): Spiterstulen 2nd night*
Galdhopiggen ascent / 8 miles / summit is at 8100-feet (or optional R & R day)
Day 4 (Thursday, August 17, 2023): Spiterstulen 3rd night / sightseeing and R & R day
Day 5 (Friday, August 18, 2023): Hike to Leirvassbu / 9.5 miles / 1641 feet ascent / 328 feet descent
Day 6 (Saturday, August 19, 2023): Hike to Skogadalsboen (Dorm accommodation only)/ 11.5 miles / 985 ascent / 2297 feet descent
Day 7 (Sunday, August 20, 2023): Hike to Eidsbugarden / 14 miles / 2133 feet ascent / 2624 feet descent
Day 8 (Monday, August 21, 2023): Hike to Gjendebu / 10 miles / 1313 feet ascent / 1477 feet descent
Day 9 (Tuesday, August 22, 2023): Hike to Memurubu / 6 miles / 2297 feet ascent / 2133 feet descent
Day 10 (Wednesday, August 23, 2023): Hike to Gjendesheim / 8.5 miles / 3609 feet ascent / 3281 feet descentà Bus to Otta (Hotel)
Day 11 (Thursday, August 24, 2023): Train to Oslo
We can coordinate hotel accommodations in Oslo before and after the trek, by prior arrangement. More details to come in the future regarding scheduling, trip planning, preparation and logistics. .
Hiking is rated at moderate to strenuous (Black 3 to 4). See the fourth link below for a key to walking grades. We will be hiking approximately six to eight hours per day, up to 14 miles, with backpacks. All participants must be physically prepared for long, multiple, consecutive days of hiking. Preplanning, preparation, coordination, appropriate gear, and clothing for alpine and changeable weather, grippy hiking boots and camaraderie are required.
Gear: A detailed gear list will be provided by the outfitter.
Baggage: Extra luggage, not being carried on the hike, can left at the first hut, Gjendesheimm and be picked up at the end of the hike.
Booking: Arrangements will be booked through Alpine Exploratory in Edinburgh, UK for huts and one-night hotel reservations, meals at the huts and trip materials (see booking form and additional details in links below). Reservations are now open for 2023.
Costs: The current 2022 cost for the 8-day option is from GPB 1170 to GBP 1310 per person, depending on room selection (dorm room, private rooms for 2 or single), not including airfare, hotels in Oslo, additional meals and additional ground transportation. The extra days in Spiterstulen are not included in these costs.
A deposit of 20% will be due upon booking and the balance due 8 weeks before departure.
Reservations for the 2023 season are open. Early booking with Alpine Exploratory will confirm dates and reservations.
Please contact trip leader for any questions.
Booking Form:
https://www.alpineexploratory.com/booking/jotunheimen-tour.html
Logistics, route, costs, accommodations, etc.
https://www.alpineexploratory.com/walking-guides/walking-in-norway.html
https://www.alpineexploratory.com/holidays/jotunheimen-tour.html
https://www.alpineexploratory.com/holidays/walkinggrades.html
Trip Leader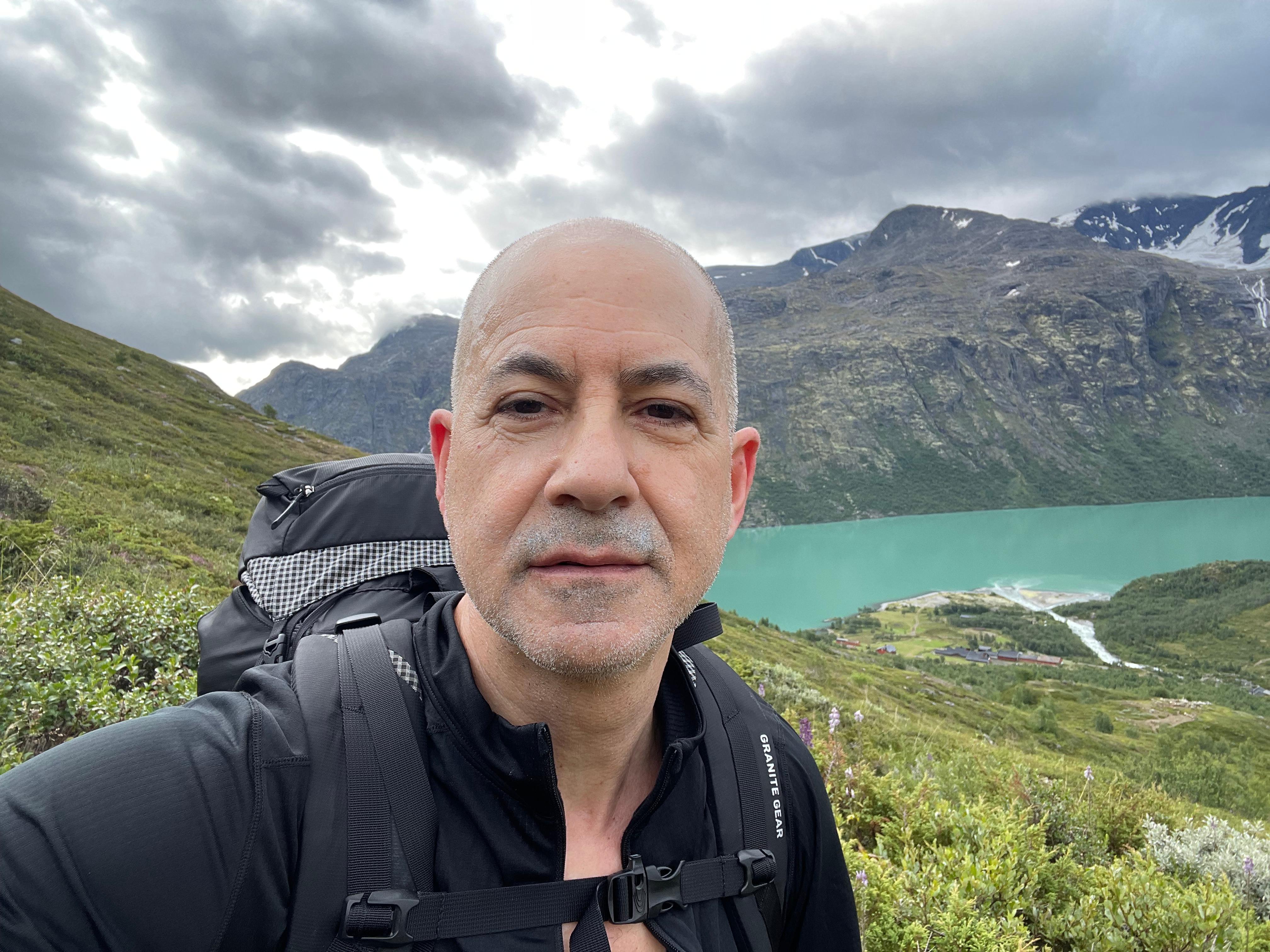 sustaining member
Richardg
Outdoor Fitness Level: Strenuous
NYC/Hudson Valley, NY
United States
Online Status: OFFLINE
Last Login: 09/22/2023 10:46 PM
Member Since: 09/23/2013
members signed up for this event
guest member
uttanu
Outdoor Fitness Level: Moderate to Strenuous
Palm Springs, CA
United States
Online Status: OFFLINE
Last Login: 07/06/2023 11:32 AM
Member Since: 06/03/2022
Driving My Own Car


(Willing to give guys a ride)
Comment: Hello, I am potentially interested. I have been to Norway many times (mostly for professional reasons, once for 3-day kayaking) but not to this location. I am very fit. I live in eastern Turkey. Please keep me posted. With thanks, Niko
Discuss This Trip/Event