Mt. Webster and Webster Cliffs
52 With A View
DATE: Jul 03, 2021

END DATE: Jul 03, 2021

Hike/Event Location: Crawford Notch NH
Trip Leader(s)
Gandalf
Thornton, NH United States,
JDNnh
Manchester, NH United States
Meeting Time: 9:00 AM
Max # People: 10
Hike Guiding / Event Fee: No, I will not be asking participants for money
Hike Difficulty Level:
Moderate to Strenuous
(Do you qualify to attend with this hike difficulty rating? Click Here.)
Sign Up To This Trip/Event
You must be a least a guest member to participate. Comments such as "+1" or "bringing a friend" are NOT permitted. All participants must sign-up for the event individually.
Select your mode of transportation, make any comments and then click on button.
You are not logged in.
Please, Log In
Disclaimer: The club and its members take no responsibility and will not be held responsible for any injuries or accidents that may occur during club events. Outdoor sports are inherently dangerous and accidents will happen. By joining the club or participating in any events posted on our website you are taking responsibility for your own safety and well-being. Anyone with an internet connection can post a trip on our web site. It is your responsibility to determine if this person has the experience and competence to lead the trip. We do not certify or confirm the qualifications of any of our members to lead or participate in trips.
Summary
Spectacular scenery and steep, rugged climbing with a few difficult scrambles! We will hike up and back on the Webster Cliff Trail [Appalachian Trail] to reach the summit of Mt. Webster [3,901']. Magnificent views from the Webster Cliff Trail and excellent views from the summit of Mt. Webster. It's 6.3 miles round trip, 2,700' elevation gain and AMC booktime is 5 hours ~ 7 hours estimated for our group.
Don't forget to bring wind/rain shell, water, lunch, snacks, bug repellent, suncreen, etc. along with whatever you typically have for a hiking excursion. We'll have lunch on at the summit. We will see wildflowers in bloom!
Being July 4th weekend, we'll hand out US flags to stick out of our packs to display our patriotic spirit!
After The Hike: Everyone is welcome back at our house in Waterville Valley for a swim in the Mad River, socialize around the deck and enjoy a BBQ! It's BYOB and it costs $10 per person.
Lodging Option: Bunk beds are available at our house near Waterville Valley, NH for Friday and Saturday night for $25 per night with proof of vaccination; plus $10 for Saturday BBQ. Coffee/bagels each morning and linen/blankets/towels are provided. Limited to four so email us ASAP to reserve a bunk!
Mike and Jon
Directions To Trailhead Parking Lot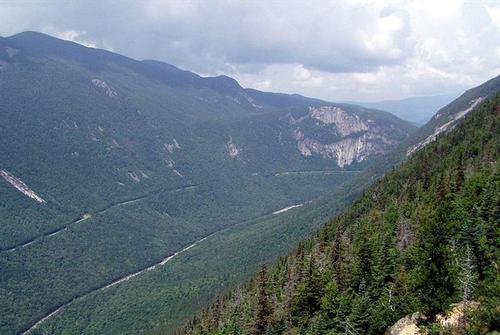 Take I-93 North to exit 35, take US 3 north, make a right onto US 302 [traffic light], drive past Mt. Washington Hotel and AMC Highland Center, and reach trailhead about 1 mile south of Willey House Recreation Area. We are driving a blue Toyota Tacoma.
Trip Leader(s)
Gandalf
Outdoor Fitness Level: Very Strenuous
Thornton, NH
United States
Online Status: OFFLINE
Last Login: 06/18/2021 10:07 PM
Member Since: 08/20/2001
JDNnh
Outdoor Fitness Level: Very Strenuous
Manchester, NH
United States
Online Status: OFFLINE
Last Login: 06/11/2021 05:49 AM
Member Since: 10/30/2001
members signed up for this event
Online Status: OFFLINE
Last Login: 06/15/2021 08:12 PM
Member Since: 08/10/2020
Driving My Own Car


(Possibly willing to give guys a ride)
mecyclingrunner
Outdoor Fitness Level: Moderate to Strenuous
LEWISTON, ME
United States
Online Status: OFFLINE
Last Login: 06/14/2021 04:14 PM
Member Since: 07/22/2018
Driving My Own Car


(Possibly willing to give guys a ride)
PRclimber
Outdoor Fitness Level: Strenuous
Ciudad de Mexico, OT
Mexico
Online Status: OFFLINE
Last Login: 06/14/2021 09:38 PM
Member Since: 01/13/2011
Driving My Own Car


(Willing to give guys a ride)
nhclimber03264
Outdoor Fitness Level: Moderate to Strenuous
Plymouth, NH
United States
Online Status: OFFLINE
Last Login: 06/18/2021 04:31 PM
Member Since: 10/09/2019
Driving My Own Car


(Possibly willing to give guys a ride)
dpbyrnes
Outdoor Fitness Level: Moderate to Strenuous
Ipswich, MA
United States
Online Status: OFFLINE
Last Login: 06/10/2021 01:43 PM
Member Since: 01/24/2009
Driving My Own Car


(Willing to give guys a ride)
EASTSIDE33
Outdoor Fitness Level: Moderate to Strenuous
Lincoln, RI
United States
Online Status: OFFLINE
Last Login: 06/16/2021 10:39 AM
Member Since: 08/03/2006
Driving My Own Car


(Willing to give guys a ride)
jmahoney
Outdoor Fitness Level: Moderate to Strenuous
Boston, MA
United States
Online Status: OFFLINE
Last Login: 05/27/2021 08:18 AM
Member Since: 07/19/2018
Driving My Own Car


(Willing to give guys a ride)
Bobcat
Outdoor Fitness Level: Strenuous
Upton, MA
United States
Online Status: OFFLINE
Last Login: 06/16/2021 07:22 AM
Member Since: 12/16/2008
Driving My Own Car


(Possibly willing to give guys a ride)
Waiting list
Napo
Outdoor Fitness Level: Moderate to Strenuous
Boston, MA
United States
Online Status: OFFLINE
Last Login: 06/02/2021 12:10 AM
Member Since: 05/24/2020
Driving My Own Car


(Possibly willing to give guys a ride)
Discuss This Trip/Event