Get Fit #1: Tower Hill Pond Loop Hike
Nature Walk
DATE: Apr 10, 2021

END DATE: Apr 10, 2021

Hike/Event Location: Auburn NH
Trip Leader(s)
Gandalf
Thornton, NH United States,
JDNnh
Manchester, NH United States
Meeting Time: 11:00 AM
Max # People: 10
Hike Guiding / Event Fee: No, I will not be asking participants for money
Hike Difficulty Level:
Easy
(Do you qualify to attend with this hike difficulty rating? Click Here.)
Sign Up To This Trip/Event
You must be a least a guest member to participate. Comments such as "+1" or "bringing a friend" are NOT permitted. All participants must sign-up for the event individually.
Select your mode of transportation, make any comments and then click on button.
You are not logged in.
Please, Log In
Disclaimer: The club and its members take no responsibility and will not be held responsible for any injuries or accidents that may occur during club events. Outdoor sports are inherently dangerous and accidents will happen. By joining the club or participating in any events posted on our website you are taking responsibility for your own safety and well-being. Anyone with an internet connection can post a trip on our web site. It is your responsibility to determine if this person has the experience and competence to lead the trip. We do not certify or confirm the qualifications of any of our members to lead or participate in trips.
Summary
Our first of four GetFit Hikes! Tower Hill Pond Loop Trail is a 3.8 mile loop trail that features a lake and is good for all skill levels! With COVID, it has become a crowded trail so please have face mask for the traihead and when we encounter people.
Dogs are also able to use this trail but must be kept on leash.
Although you are right outside of Manchester, NH you feel like you're in the middle of the White Mountains.
The beauty and quiet of the surroundings is unmatched. It's a great place to just get away. A fun loop, not very technical.
Bring lunch and a some water.
We are keeping the hike at 10 people to make it easier to practice the recommended social distancing of keeping about 6 feet of distance between everyone. Join us for a short hike in the great outdoors for some fresh air and some much needed camaraderie!
Directions To Trailhead Parking Lot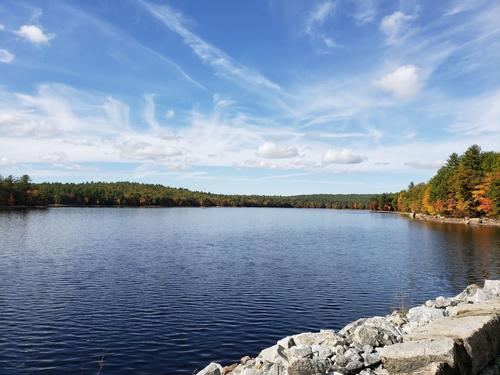 To get here, Get off at Exit 2 from Rte.101.
If driving down 101 East, take a right at the end of the ramp towards Auburn/Chester on Rte 121. [If driving down 101 West, then take a left at the end of the ramp.]
Then, take your first left (just after Bar & Grill) onto Rte 27/ Old Candia Rd.
About a half mile in, look for Tower Hill Road on the left.
Head 0.4 mi up this dirt road, you'll see gated trail accesses on the left; simply park alongside the road.
We are taking the trail from the second gate on the left. We'll be driving a blue Toyota Tacoma.
Trip Leader(s)
Gandalf
Outdoor Fitness Level: Very Strenuous
Thornton, NH
United States
Online Status: OFFLINE
Last Login: 04/18/2021 08:51 AM
Member Since: 08/20/2001
JDNnh
Outdoor Fitness Level: Very Strenuous
Manchester, NH
United States
Online Status: OFFLINE
Last Login: 03/04/2021 04:33 PM
Member Since: 10/30/2001
members signed up for this event
HikerBiker
Outdoor Fitness Level: Moderate to Strenuous
Londonderry, NH
United States
Online Status: OFFLINE
Last Login: 04/17/2021 06:17 PM
Member Since: 02/23/2003
Driving My Own Car


(Possibly willing to give guys a ride)
benj58
Outdoor Fitness Level: Easy to Moderate
Waltham, MA
United States
Online Status: OFFLINE
Last Login: 04/17/2021 02:23 PM
Member Since: 10/30/2001
Driving My Own Car


(Willing to give guys a ride)
Joel02139
Outdoor Fitness Level: Easy to Moderate
CAMBRIDGE, MA
United States
Online Status: OFFLINE
Last Login: 04/10/2021 03:27 PM
Member Since: 07/24/2014
Driving My Own Car


(Don't Own A Car)
sustaining member
JonnieOutdoors
Outdoor Fitness Level: Moderate
portsmouth , NH
United States
Online Status: OFFLINE
Last Login: 04/15/2021 05:33 PM
Member Since: 05/16/2020
Driving My Own Car


(Possibly willing to give guys a ride)
DaveSchumaker
Outdoor Fitness Level: Moderate to Strenuous
Manchester, NH
United States
Online Status: OFFLINE
Last Login: 04/14/2021 10:32 AM
Member Since: 12/31/2007
Driving My Own Car


(Willing to give guys a ride)
chris19111
Outdoor Fitness Level: Moderate to Strenuous
Lexington, MA
United States
Online Status: OFFLINE
Last Login: 04/14/2021 09:27 PM
Member Since: 05/11/2008
Driving My Own Car


(Willing to give guys a ride)
jstrbck
Outdoor Fitness Level: Moderate to Strenuous
Worcester, MA
United States
Online Status: OFFLINE
Last Login: 03/28/2021 02:59 PM
Member Since: 05/10/2018
Driving My Own Car


(Possibly willing to give guys a ride)
sustaining member
rolshausenii
Outdoor Fitness Level: Moderate to Strenuous
Cambridge, MA
United States
Online Status: OFFLINE
Last Login: 04/12/2021 05:35 PM
Member Since: 06/30/2019
Driving My Own Car


(Don't Own A Car)
Waiting list
sustaining member
woodsman
Outdoor Fitness Level: Easy to Moderate
Newburyport, MA
United States
Online Status: OFFLINE
Last Login: 04/05/2021 07:40 PM
Member Since: 09/20/2011
Driving My Own Car


(Possibly willing to give guys a ride)
guest member
Online Status: OFFLINE
Last Login: 04/09/2021 04:10 AM
Member Since: 08/25/2019
Driving My Own Car


(Willing to give guys a ride)
Discuss This Trip/Event