East Peak Osceola Trail Work Hike
Hiking/Walk
DATE: Jun 15, 2019

END DATE: Jun 15, 2019

Hike/Event Location: Lincoln NH
Trip Leader(s)
Gandalf
Thornton, NH United States,
JDNnh
Thornton, NH United States
Meeting Time: 9:30 AM
Max # People: 15
Hike Guiding / Event Fee: No, I will not be asking participants for money
Hike Difficulty Level:
Moderate
(Do you qualify to attend with this hike difficulty rating? Click Here.)
Sign Up To This Trip/Event
You must be a least a guest member to participate. Comments such as "+1" or "bringing a friend" are NOT permitted. All participants must sign-up for the event individually.
Select your mode of transportation, make any comments and then click on button.
You are not logged in.
Please, Log In
Disclaimer: The club and its members take no responsibility and will not be held responsible for any injuries or accidents that may occur during club events. Outdoor sports are inherently dangerous and accidents will happen. By joining the club or participating in any events posted on our website you are taking responsibility for your own safety and well-being. Anyone with an internet connection can post a trip on our web site. It is your responsibility to determine if this person has the experience and competence to lead the trip. We do not certify or confirm the qualifications of any of our members to lead or participate in trips.
Summary
FUN trail work hike as we finish part two of trail maintenance on this 4,000 footer followed by a BBQ at the Mad River Lodge! GayOutdoors Trail Maintenance Weekend is a weekend of camaraderie and fun mixed in with outdoor work as we get the East Peak of Mt. Osceola Trail ready for the Summer Season!
Flat topped East Osceola at 4,156 feet is one of the White Mountains' least distinguishable peaks but when adding trail maintenance work, it makes its more exciting! The hike includes a very steep half-mile climb. There are fine views on the ascent from the upper portion of the slide and from a side path once we reach the ridge. We will also perform trail maintenance on the ridge between East Osceola and Mount Osceola.
We are fortunate to be part of a club of gay men that has the opportunity to go hiking regularly to take in the beauty of the White Mountains. Now we have the opportunity to be a part of doing something to give back to the hiking community, while working on something we love...hiking trails...and helping make them a place where both ourselves and others can enjoy. We are looking forward to fun, hard work, comraderie, new skills and friendships!
At the end of the day we will return back to the Mad River Lodge to enjoy the comraderie, chatter and gossip! Showers our available with towels so everyone can clean up. Bring a change of clean clothing. We first start off on our outdoor deck with appetizers and cold drinks. Please bring your own beer/wine…we do not provide beverages. We'll then cook up Trail Crew BBQ feast worth working for! We ask $10 to our food costs.
You don't have to be an expert to help and we can easily train you. All tools are provided. The work itself, clipping brush, cleaning out waterbars, and clearing small to medium blowdowns, is fairly easy. But keep mind you will be hiking up a mountain and working at the same time. It involves hiking 5.6 miles, climbing 2,216 feet and lots of bending up/down to clip brush.
What to wear/bring: Wear clothing suitable for the hike in layers...no cotton or blue jeans. Bring work gloves. Have a rain jacket in the event of inclement weather. Bring along plenty of water (at least 2 liters), lunch, snacks and anything else you may require for a day hike. Contact us if you have any questions.
Lodging Option: Bunk beds are available at our house [with Wi Fi] near Waterville Valley, NH for Friday and/or Saturday nights. It's $25 for Friday night, $35 for Saturday that includes dinner or $60 for the weekend. Coffee/bagels each morning and linen/blankets/towels are provided. Space is limited so email ASAP to reserve a bunk!
Directions To Trailhead Parking Lot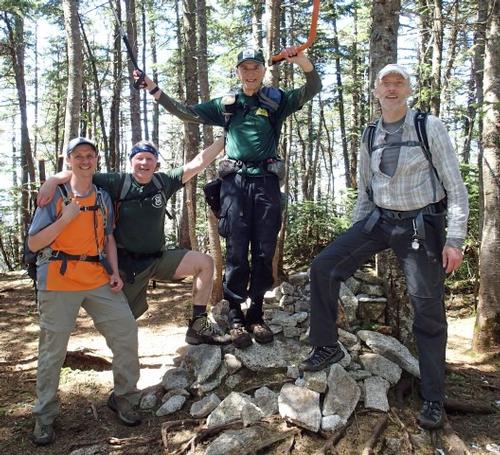 Take Exit 32 off I-93 and drive through Lincoln onto the Kancamagus Highway past Otter Rocks Rest Area and the forest service's trail sign for East Pond on your right. Don't turn off at the sign for the Greeley Ponds Cross-Country Ski Trail. Continue on to the next sign on your right, for the Greeley Ponds Trail parking. The distance from the exit to the parking area is 10.3 miles. We'll be driving a blue Toyota Tacoma truck.
Trip Leader(s)
Gandalf
Outdoor Fitness Level: Very Strenuous
Thornton, NH
United States
Online Status: OFFLINE
Last Login: 12/01/2023 10:11 PM
Member Since: 08/20/2001
JDNnh
Outdoor Fitness Level: Very Strenuous
Thornton, NH
United States
Online Status: OFFLINE
Last Login: 12/01/2023 11:06 AM
Member Since: 10/30/2001
members signed up for this event
dpbyrnes
Outdoor Fitness Level: Moderate to Strenuous
Ipswich, MA
United States
Online Status: OFFLINE
Last Login: 11/26/2023 09:29 AM
Member Since: 01/24/2009
Driving My Own Car


(Willing to give guys a ride)
Outsider87
Outdoor Fitness Level: Strenuous
Campton, NH
United States
Online Status: OFFLINE
Last Login: 11/28/2023 08:25 PM
Member Since: 02/12/2002
Driving My Own Car


(Willing to give guys a ride)
phoenix
Outdoor Fitness Level: Moderate to Strenuous
Somersworth, NH
United States
Online Status: OFFLINE
Last Login: 11/30/2023 10:42 PM
Member Since: 02/24/2013
Driving My Own Car


(Willing to give guys a ride)
Discuss This Trip/Event