The Lost Valley / Coast Ridge Loop
Backpacking
DATE: Apr 12, 2019

END DATE: Apr 15, 2019

Trip/Event Location: Big Sur CA
Trip Leader(s)
CJDGO
Phoenix, AZ United States
Meeting Time: 8:30 AM
Max # People: 8
Trip Guiding / Event Fee: Yes, but only to cover shared expenses, and I too am paying
Difficulty Level:
Strenuous
(Do you qualify to attend with this trip difficulty rating? Click Here.)
Region: California/Hawaii
Sign Up To This Trip/Event
You must be a least a guest member to participate. Comments such as "+1" or "bringing a friend" are NOT permitted. All participants must sign-up for the event individually.
Select your mode of transportation, make any comments and then click on button.
You are not logged in.
Please, Log In
Trip Leaders can click here to edit or delete this activity.
Disclaimer: The club and its members take no responsibility and will not be held responsible for any injuries or accidents that may occur during club events. Outdoor sports are inherently dangerous and accidents will happen. By joining the club or participating in any events posted on the GayOutdoors web page you are taking responsibility for your own safety and well-being. Anyone with an internet connection can post a trip on the GayOutdoors web site. It is your responsibility to determine if this person has the experience and competence to lead the trip. GayOutdoors does not certify or confirm the qualifications of any of its members to lead or participate in trips.
Summary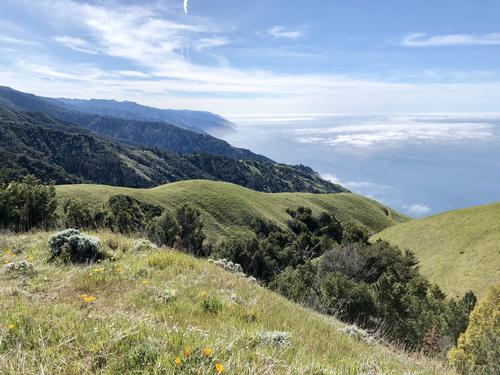 Few places in the world match Big Sur for scenic grandeur. Visitors flock here to relax under its redwoods, gaze at its spectacular coastline, or seek out the spiritual aura that has long lured writers and artists.
Climbing steeply into the Ventana Wilderness from Highway 1, we'll traverse some of Big Sur's secretive redwood canyons and high ridges, enjoying wildflowers, waterfalls, shady riverside camps and awesome coast views.
The wilderness has been badly burned in recent wildfires, but there's a silver lining to the devastation: rioting wildflowers and trails clear of brush.
This will be a strenuous backpack, covering nearly 35 miles over three nights and four days at a purposeful pace over very rugged terrain, so this trip is suitable only for experienced backpackers in very good condition. We'll cheerfully face the possibility of bushwhacking, ticks, rattlesnakes fresh from hibernation, and occasional poison oak. Because of the strenuous nature of this trip, the leader reserves the right to qualify participants. This is a consciously low-impact outing, so carpool participation is encouraged and participants are urged to contribute to their vehicle's shared mileage and gas costs.

This trip is strictly dependent upon a favorable weather forecast. A National Weather Service forecast of rain within 72 hours of our start will cancel or re-route this trip at the discretion of the leader, as will fewer than three confirmed signups as of 8:00pm, Wednesday, April 10. This trip will be by individual commissary, and we're not planning any shared meals, so please plan to provide your own supply of food.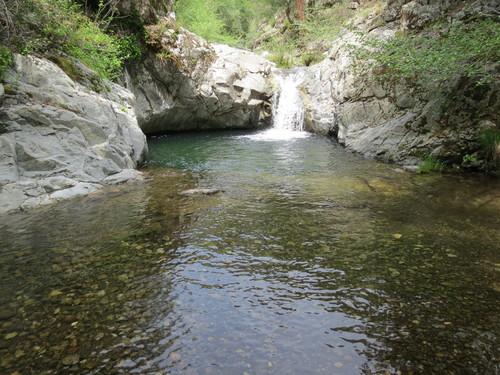 We'll meet up at the Orange Line Park and Ride (15330 W Erwin Street at Langdon) at 8:30am (SHARP!) on the morning of Friday, April 12 in preparation for our long (4.5-hour) drive to the trailhead.
Trip Leader
CJDGO
Outdoor Fitness Level: Strenuous
Phoenix, AZ
United States
Online Status: OFFLINE
Last Login: 05/26/2019 12:20 AM
Member Since: 03/04/2008
members signed up for this event
mbros4162
Outdoor Fitness Level: Very Strenuous
Los Angeles, CA
United States
Online Status: OFFLINE
Last Login: 05/11/2019 09:59 AM
Member Since: 10/19/2005
Driving My Own Car


(Possibly willing to give guys a ride)
lahike
Outdoor Fitness Level: Strenuous
Los Angeles, CA
United States
Online Status: OFFLINE
Last Login: 04/21/2019 02:57 PM
Member Since: 01/14/2007
Driving My Own Car


(Willing to give guys a ride)
erranthkr
Outdoor Fitness Level: Strenuous
Malibu, CA
United States
Online Status: OFFLINE
Last Login: 04/12/2019 10:04 AM
Member Since: 04/03/2011
Driving My Own Car


(Willing to give guys a ride)
Comment: Hi CJ - I'm looking forward to this event! Best! I hope to make some of your Arizona trips, too. - Alan.
Discuss This Trip/Event