President's day hike and food/drink in Barre afterwards
Nature Walk DATE: 02/20/2023 - 02/20/2023
Trip/Event Location: Barre, VT

Trip Leader(s): Helvetic Hiker
Max # People: 25
Trip Guiding / Event Fee: No, I will not be asking participants for money
Difficulty Level: Easy to Moderate
Spruce Mountain is a 4.3 out-and-back trail with a 1,200 foot gain. The hike narrative can be found here: https://www.alltrails.com/trail/us/vermont/spruce-mountain.

Dress appropirately, bring
...
Driving directions to the location and spot to meet at:
For the hike, we meet at the trail head: https://www.google.com/maps?q=44.2349, -72.3777
For the restaurant, the address is Mulligan's Irish Pub 9 Maple Ave, Barre, VT 05641
Trip Report/Photos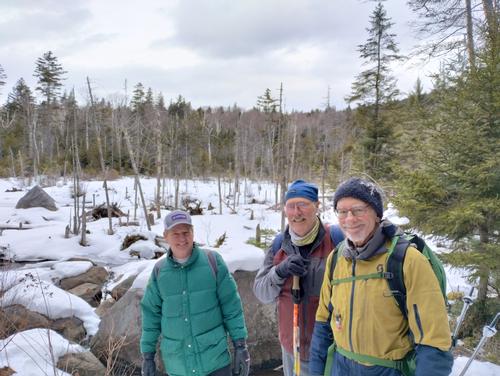 We were four on this 4.2 miles hike up Spruce Peak in Central Vermont. The trail condition were a bit icy but nothing microspikes couldn't handle. It was on the widy side at the top of the fire tower.
We trailed down in a little over an hour before heading to the local Irish pub and and made right one time before a band of showers popped in. It was a very pleasant day with great company.
There are 4 photos in Album (Note: Move mouse pointer over larger pic and click on NEXT for better viewing)
Members That Participated
sustaining member
Helvetic Hiker
Outdoor Fitness Level: Very Strenuous
Barre Town, VT
United States
Online Status: OFFLINE
Last Login: 09/22/2023 02:45 PM
Member Since: 07/08/2022
sustaining member
vtfred
Outdoor Fitness Level: Moderate
Barre, VT
United States
Online Status: OFFLINE
Last Login: 09/16/2023 05:03 AM
Member Since: 03/27/2009
<