East Pond Hike
Half Day Hike DATE: 06/20/2020 - 06/20/2020
Trip/Event Location: Thornton, NH

Trip Leader(s): tdefauw , jkelaghan
Max # People: 7
Trip Guiding / Event Fee: No, I will not be asking participants for money
Difficulty Level: Moderate
Join us for this beautiful loop hike to East Pond and Little East Pond. The hike is about 5 miles total and about 1000 feet of elevation gain. We will start by taking the East Pond
...
Driving directions to the location and spot to meet at:
You can put "East Pond Trailhead (Tripoli Rd), Tripoli Rd, Thornton, NH" into your GPS. You can either take exit 31 off of I-93 for Tripoli Rd, and go 5.1 miles on Tripoli Rd, where the trailhead will be on the left. Alternatively, from Rt 49 in Waterville Valley, you can turn on Tripoli Rd going north, after 1.2 miles stay right to stay on Tripoli Rd (to the left will be to the Waterville Valley ski area), and then go 4.8 miles further and the trailhead will be on the right.
Trip Report/Photos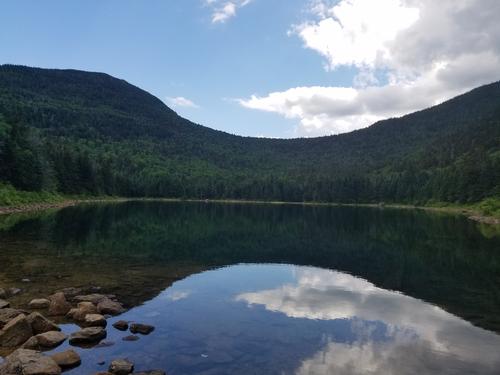 Thanks to James for joining us on our hike of East Pond. We didn't have many people in the parking lot, and didn't pass many people on the trail. Joe had slightly twisted his ankle the day before, but he made it through the hike OK. When we got to the first pond we heard some thunder, but we decided to continue through the rest of the hike. It did rain on us, but it was refreshing being that it was a hot day, and it made the forest seem even more enchanted. We ate lunch at Little East pond as it had stopped raining, and then enjoyed a rain-free walk for the rest of the loop back to the car, and then stopped at Mad River Coffee for coffee and baked goods on the way home.
There are 3 photos in Album (Note: Move mouse pointer over larger pic and click on NEXT for better viewing)

Members That Participated
tdefauw
Outdoor Fitness Level: Moderate to Strenuous
Plymouth, NH
United States
Online Status: OFFLINE
Last Login: 09/21/2021 07:06 AM
Member Since: 10/30/2001
jkelaghan
Outdoor Fitness Level: Moderate
Plymouth, NH
United States
Online Status: OFFLINE
Last Login: 09/18/2021 09:00 AM
Member Since: 10/02/2002
jmahoney
Outdoor Fitness Level: Moderate to Strenuous
Boston, MA
United States
Online Status: OFFLINE
Last Login: 09/21/2021 04:23 AM
Member Since: 07/19/2018
<