Waterville Valley Snows Mountain Hike
Hiking/Walk DATE: 04/18/2020 - 04/18/2020
Trip/Event Location: Waterville Valley, NH
US
Trip Leader(s): tdefauw
Max # People: 5
Trip Guiding / Event Fee: No, I will not be asking participants for money
Difficulty Level: Easy to Moderate
Join us for an easy loop walk on cross country ski trails at Waterville Valley, including beautiful views from Snow's Mountain looking over to Mount Tecumseh and Mount Osceola. This
...
Driving directions to the location and spot to meet at:
Take I-93 North to exit 28, Rt 49. Take Rt 49 about 10 mile to Waterville Valley, take a left onto Tripoli Rd. After 1.2 miles, take a right at the fork to stay on Tripoli Rd (going left would take you to the Waterville Valley ski area). Cross a bridge, then turn left to park at the Depot Camp parking lot.
Trip Report/Photos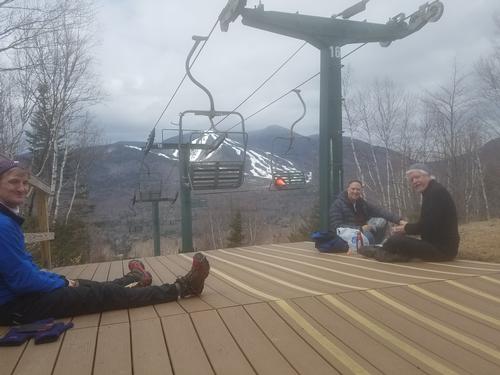 Thanks to everyone for a great day walking on Waterville Valley cross country ski trails for a loop hike up to the top of Snow's Mountain. We hiked up Livermore Road to Upper Snow's trail, with pretty much a continual 2-3 inches of hard pack snow and ice, so microspikes and yak traks came in handy. We stopped to admire the upper portion of the Waterville Valley cascades, which were raging due to the snow melt. At the top of Snow's Mountain we ate our lunches sitting by the chairlift. Snow's Mountain used to be the downhill ski area for Waterville Valley decades ago until the current downhill ski area on Mount Tecumseh replaced it. You can still ride the chairlift in the spring, summer, and fall, but it does not run in winter. There wasn't that much snow after we left the top to go down Beanbender and Swazeytown ski trails, and then we walked on roads, past the Waterville Valley Academy and the library, to the Connector trail. On the connector trail we admired the raging stream and some beautiful houses alongside the trail.
There are 13 photos in Album (Note: Move mouse pointer over larger pic and click on NEXT for better viewing)
Members That Participated
tdefauw
Outdoor Fitness Level: Moderate to Strenuous
Plymouth, NH
United States
Online Status: OFFLINE
Last Login: 09/21/2021 07:06 AM
Member Since: 10/30/2001
jkelaghan
Outdoor Fitness Level: Moderate
Plymouth, NH
United States
Online Status: OFFLINE
Last Login: 09/18/2021 09:00 AM
Member Since: 10/02/2002
TerryMcQ
Outdoor Fitness Level: Moderate
St. Johnsbury, VT
United States
Online Status: OFFLINE
Last Login: 10/24/2020 11:12 PM
Member Since: 08/31/2018
sustaining member
Lev
Outdoor Fitness Level: Easy to Moderate
Barnet, VT
United States
Online Status: OFFLINE
Last Login: 09/21/2021 10:56 PM
Member Since: 12/04/2018
jmahoney
Outdoor Fitness Level: Moderate to Strenuous
Boston, MA
United States
Online Status: OFFLINE
Last Login: 09/21/2021 04:23 AM
Member Since: 07/19/2018
<