Bluff Point Hike and Swim
Hiking/Walk DATE: 08/27/2016 - 08/27/2016
Trip/Event Location: Groton, CT
US
Trip Leader(s): dave0729
Max # People: 35
Trip Guiding / Event Fee: No, I will not be asking participants for money
Difficulty Level: Easy
Bluff Point is the last remaining significant piece of undeveloped land (over 800 acres) along the Connecticut coastline. Over 100 summer cottages wiped out in the Hurricane of 1938 were never ...
Driving directions to the location and spot to meet at:
Set GPS to 45 Depot Road, Groton. The park website tells you to take exit 88 off I-95, North or South, to get to CT-117. From intersection of CT-117 and US-1 in Groton drive 0.3 miles on CT-1 to Depot Road. Once on Depot Road drive 0.7 miles, following the road past an industrial park, bearing right under railroad bridge, until you reach parking lot. Parking is ample. We will meet at end of parking lot, at trailhead, near a sign with map of park, adjacent to some picnic tables.
Trip Report/Photos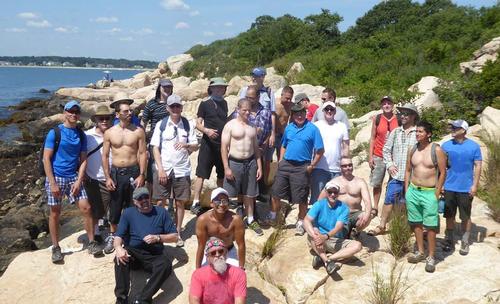 A diverse group of 35 hikers joined us for this event, hikers ranging in age from the 30's up to the 70's. It was a picture-perfect day for hike and swim. There was a great photo opportuny at the bluffs, and then 20 hikers took a dip in Long Island Sound. After the hike, 25 participants joined us for the after-hike social at a great local Groton restaurant 8 minute drive away on Route 12.
There are 21 photos in Album (Note: Move mouse pointer over larger pic and click on NEXT for better viewing)
What Members Are Saying About This Trip/Event
Very enjoyable event. Really enjoyed the swim in the sound. Would have liked to stay their longer. Mtg later at the Diner was a nice way to end it. Thanks again Dave. - joepny654
Members That Participated
dave0729
Outdoor Fitness Level: Moderate to Strenuous
Bolton, CT
United States
Online Status: OFFLINE
Last Login: 07/27/2021 08:41 PM
Member Since: 06/24/2007
dreamer
Outdoor Fitness Level: Easy to Moderate
Bolton, CT
United States
Online Status: OFFLINE
Last Login: 05/30/2021 03:43 PM
Member Since: 05/04/2014
joepny654
Outdoor Fitness Level: Moderate to Strenuous
Schenectady, NY
United States
Online Status: OFFLINE
Last Login: 07/29/2021 09:13 AM
Member Since: 04/27/2016
vwgreg
Outdoor Fitness Level: Moderate
Enfield, CT
United States
Online Status: OFFLINE
Last Login: 07/29/2021 12:38 PM
Member Since: 09/16/2002
LARGE
Outdoor Fitness Level: Easy to Moderate
North Grosvenordale, CT
United States
Online Status: OFFLINE
Last Login: 07/29/2020 01:18 AM
Member Since: 07/09/2004
jiminct
Outdoor Fitness Level: Easy to Moderate
Manchester, CT
United States
Online Status: OFFLINE
Last Login: 04/27/2021 12:35 PM
Member Since: 03/28/2016
richardc
Outdoor Fitness Level: Moderate to Strenuous
Danbury, CT
United States
Online Status: OFFLINE
Last Login: 07/28/2021 11:25 AM
Member Since: 08/14/2004
stevect
Outdoor Fitness Level: Moderate
New Haven, CT
United States
Online Status: OFFLINE
Last Login: 04/29/2021 09:31 PM
Member Since: 02/14/2015
Delfino
Outdoor Fitness Level: Moderate to Strenuous
West Haven, CT
United States
Online Status: OFFLINE
Last Login: 06/04/2021 06:50 PM
Member Since: 08/27/2007
Driving My Own Car


(Willing to give guys a ride)

Comment: would like to carpool from New Haven area
HtfdLooker
Outdoor Fitness Level: Moderate
Hartford, CT
United States
Online Status: OFFLINE
Last Login: 07/14/2021 01:09 PM
Member Since: 12/17/2014
<