A hike into the Sawmill Hills
Hiking/Walk DATE: 01/26/2014 - 01/26/2014
Trip/Event Location: Florence, MA
US
Trip Leader(s): johnwesternmass
Max # People: 15
Trip Guiding / Event Fee: No, I will not be asking participants for money
Difficulty Level: Moderate
We will be hiking into the Sawmill Hills. Depending on the ground cover (snow?), it is an easy to moderate hike of about 2 hours. The first part of the hike is up hill and then it
...
Driving directions to the location and spot to meet at:
We will meet in the rear parking lot of the Art's and Industries building in Florence. Take 91 North to Northampton Exit. Make a left onto Pleasant Street, towards Northampton. Make a left onto Rt. 9, Main Street, Northampton. Go up past Smith College, keep going past the Cooley Dickinson Hospital and into Florence Center. At Maple Street (Bird's Variety on left; Pizza Factory on Right) Make a left onto Maple and go to the bottom of the hill, making a right onto Nonotuck. Go to the end of Nonotuck, The Arts and Industries Building will be right in front of you. Make a left onto Pine Street, go over the bridge and make a right onto Spring Street. Make the first right into the Elks lodge parking lot and then make a right into the lower parking lot behind the Arts and Industries Building. We'll car pool up the street to Avis Circle since there isn't much parking at the trailhead on Avis Circle.
Trip Report/Photos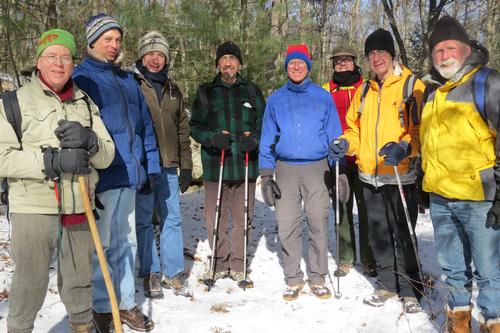 A group of hearty men showed up in 15 degree temperature to take a wonderful hike up into the Sawmill Hills of Florence. A couple of vernal pools and porcupine habitat were highlights of the hike. Chicken vegetable soup and delicious Hungry Ghost bread were rewards for a hike well done!
There are 3 photos in Album (Note: Move mouse pointer over larger pic and click on NEXT for better viewing)

Members That Participated
johnwesternmass
Outdoor Fitness Level: Moderate to Strenuous
Northampton, MA
United States
Online Status: OFFLINE
Last Login: 09/17/2019 08:21 PM
Member Since: 01/07/2014
swimfit
Outdoor Fitness Level: Moderate to Strenuous
Hartford, CT
United States
Online Status: OFFLINE
Last Login: 07/26/2021 02:06 PM
Member Since: 09/25/2013
silverbeard
Outdoor Fitness Level: Moderate to Strenuous
Jamaica, VT
United States
Online Status: OFFLINE
Last Login: 05/06/2019 06:27 AM
Member Since: 11/23/2007
jonathanclark
Outdoor Fitness Level: Moderate
Hartford, CT
United States
Online Status: OFFLINE
Last Login: 07/13/2021 10:21 PM
Member Since: 10/23/2008
Flycatcher
Outdoor Fitness Level: Moderate to Strenuous
Franklin, MA
United States
Online Status: OFFLINE
Last Login: 07/25/2021 09:06 PM
Member Since: 10/04/2011
richardc
Outdoor Fitness Level: Moderate to Strenuous
Danbury, CT
United States
Online Status: OFFLINE
Last Login: 07/28/2021 11:25 AM
Member Since: 08/14/2004
RTR-Rider
Outdoor Fitness Level: Easy to Moderate
Hartford, CT
United States
Online Status: OFFLINE
Last Login: 04/17/2021 08:26 AM
Member Since: 06/06/2012
PaceAlong
Outdoor Fitness Level: Moderate to Strenuous
Meredith , NH
United States
Online Status: OFFLINE
Last Login: 05/15/2021 07:05 AM
Member Since: 05/20/2006
<