learn
Costa Chica, Mexico

Surfers have long been the maverick travelers of the west coast of Mexico, and one of the outposts they favor is the area known as the Costa Chica ("Little Coast"), which straddles the 70 miles between the rustic beach town of Puerto Escondido and the burgeoning resort enclave of Huatulco. Unlike Puerto Vallarta and Zihuatanejo, it retains a roughness around the edges, offering spectacularly empty beaches and scruffy - or charmingly unmanicured, depending on your perspective - fishing villages. The waves, on the other hand, satisfy both visiting surf pros and the resident bohos who spend most of their time beachside.

How to Get There: You can fly from Houston direct to Huatulco on Continental for about $450 (2 hours and 45 minutes http://www.continental.com/), since other major airlines go via Mexico City and then you'll need to transfer to a Mexicana or Aero-Mexico flight (many of the connections mean an overnight in the capital). On arrival, rent a car at the airport (Hertz and Avis are your best bet) - preferably a four-wheel drive for the sandy tracks that get you to the hidden breaks. Avoid driving at night: The roads are not lit so the topes, or speed bumps, are even more difficult to spot.

What to Do: First stop is Puerto Escondido and the pipeline of Zicatela, one of the country's most famous breaks and the site of numerous international surf competitions. The pounding waves and riptide make this a spot for experts adn those who gather to watch them. Mere mortals should venture to La Punta, toward the end of town, or west to Playa Carrizalillo, with its pretty white sand bay and gentle surf.

Montauk, New York

Tagged the anti-Hamptons by its champions, this former fishing village retains a more down-to-earth atmosphere than its famous neighbors to the west. Here the draw is funky 1960s motels, laid-back restaurants, and windswept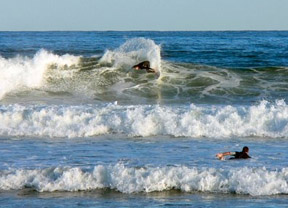 ocean bluffs and beaches, plus excellent surf breaks at Ditch Plains that attract enthusiastic amateurs from all over the East Coast.

How to Get There: From New York City's Penn Station, take the three-hour train ride on the Long Island Railroad t Montauk (with a change at Jamaica Station) for $21 during peak times and $15.25 off-peak (http://www.lirr.org/). Alternatively, the Hampton Jitney leaves from Manhattan and Brooklyn - the bus also has a JFK and LaGuardia connection. Go midweek for lighter traffic, fewer annoying fellow passengers, and the $47 round-trip special for travel Tuesday through Thursday (http://www.hamptonjitney.com/ roundtrip $51). If you want to explore farther afield, rent a car.

What to Do: Start your adventure at Ditch Plains which has left-and-right breaking waves (cute lifeguards are there to keep an eye on you from 10 A.M. until 5 P.M. during the summer). Advanced surfer looking for more of a challenge and less of a crowd head to Camp Hero or Turtle Cove, both just below Montauk's iconic lighthouse and arguably the area's best breaks.

North Shore, Hawaii

The surfers and hippies who have taken charge of this swath of coast on Oahu's north side have fought off the concrete high-rises and designer outposts that characterize Honolulu. Instead, you'll find sleepy towns, horse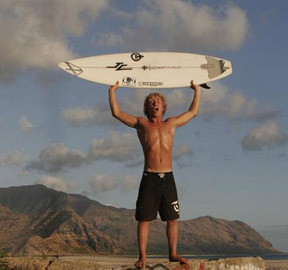 ranches, pineapple plantations - and of course miles of the long, rolling waves that make it one of the world's best surf spots. The state of Hawaii and North Shore Community Land Trust, a collective whose members include Kelly Slater, have already preserved a thousand acres of land - among the real estate section overlooking the Banzai pipeline - to keep it relatively undeveloped. Come summer, most of the tourists have departed and gentler breaks arrive.

How to Get There: Most major airlines fly to Oahu from hubs like LAX and San San Francisco (a 5.5-hour flight), and Seattle and Las Vegas (6 hours), for about $500 in summer. Rent a car at the airport it's about a 45 minute drive to the North&nbspShore.

What to Do: See out inspiration at the&nbspBanzai pipeline, where expert navigate the famously massive swells. The site of many of the island's surf championships (most of which take place in November and December), it is not for inexperienced - in fact, you'll notice that many of the competitions are named after&nbspthe poor souls who caught their last wave here. But sitting on the beach and watching local daredevils and visiting pros use their&nbspconsiderable skills is better than most IMAX screenings.&nbsp
Lake Michigan - Illinois, Indiana, Michigan

Unlikely as it sounds - you really can surf on the Great Lakes. Together, lakes Superior, Michigan, Huron, Erie and Ontario contain about a fifth of the world's freshwater, and winds ensure year-round waves. Add to that 10,210 miles of rugged, sandy shoreline and you'll understand why the Great Lakes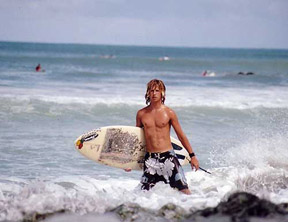 are North America's biggest surfing secret. Make Chicago (on Lake Michigan's south shore) your starting point for great, if erratic, breaks - plus they have a great gay scene around New Town, which is also known as Boys Town.

How to Get There: There are surfing spots all along Lake Michigan's shore. American Airlines has about six flights a day from Detroit Metropolitan Wayne County to Chicago O'Hare (the flight time is 75 minutes), seven from Indianapolis to Chicago (just over an hour), and eight from&nbspColumbus (85 minutes). It's a four-and-a-half-hour drive from Detroit to Chicago, about three from Indianapolis, and five hours and 40 minutes from Cleveland.

What to Do: Test the waters off the south jetty of New Buffalo City Beach and then head up the coast on Red Arrow Highway in search of our own deserted stretch of sand. With water as far as the eye can see to the north, south, and west, you'll have to keep reminding yourself that you're not on the edge of the ocean.