learn
Sweetest Swimming Holes
By Mike Boisvert.
Backpacker Magazine's readers voted for their favorite swimming holes. Is yours listed? Warning: This water is cold!
Sawtooth Lake
Sawtooth Wilderness, Idaho
Sawtooth Lake&nbspis a large lake high in the Sawtooth Wilderness. You'll get to see lots of wildlife and enjoy the magnificent lake with Regan Peak behind it.
Distance: 11 miles round trip
Elevation Gain: 1700 ft.
Hike Time: 5.5 hours
Difficulty: Moderate
Trailhead:&nbspDrive NW from Stanley on hwy 21 for 2.5 miles. Turn left onto Iron Creek campground road and follow for 3 miles To the Iron Creek trailhead. There is a large parking area with shade. SNRA trailhead pass is required. This can be obtained at the Stanley Ranger Station.

Thousand Island Lake
Ansel Adams Wilderness, CA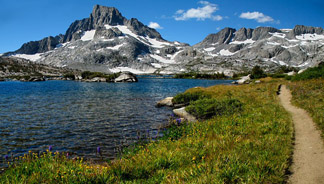 Thousand Island Lake is a large alpine lake in California's Sierra Nevada. It is within the boundaries of the Ansel Adams wilderness,&nbspand accessible by either the John Muir Trail, the High Trail, or the River Trail from Agnews Meadow on the road to Devil's Postpile at Mammoth&nbspLakes. The lake also lies along the Sierra High Route.
Thousand Island Lake sits at the base of Banner Peak in the&nbspRitter Range.&nbspIt is the source of the Middle Fork San Joaquin River, which flows west into the San Joaquin Valley. Ansel Adams&nbspmade this lake famous with his black and white photographs. The lake is named for the many islands that dot its surface.

Trip Report From FreeLibrary.com:
The arrival of the summer backpacking season in the Sierra Nevada mountain range is met by trekkers with a combined sense of glee and irony.

The cobwebs can finally be dusted off those trusty lug-sole boots, but as maps are unfolded and routes are sketched out a hurry-up-and-wait mentality soon sets in. For in years like this, when El Nino-fueled storms pummeled the High Sierra with impossibly deep banks of snow, backcountry passes remain glaciers well into July - or beyond.

Nothing like good ol' planning to help wait out the thaw. And here's an idea for an overnight outing that could be altered to serve as a day hike: a nearly 20-mile loop trip to Thousand Island Lake.

An overvisited Alpine gem, the Thousand Island area in Inyo National Forest's Ansel Adams Wilderness still offers abundant charms that make the journey worth the effort. If you plan to do this as an overnighter, though, be sure you are in better-than-average physical condition.

One of the most gratifying routes to the lake (there are several) originates northwest of Mammoth Lakes at Agnew Meadows, via the Pacific Crest Trail or, as this portion of the PCT is known locally, the High Trail.

Starting at a trailhead situated at nearly 8,400 feet - and equipped with a pit toilet and piped, potable water - between the Agnew Meadows campground and a nearby pack station, hikers begin, and soon complete, the sharpest ascent of the entire trip. An early start will ensure that most of the major climbing is done in the shade.

Eventually the route turns northwest and hikers are granted a panoramic view across the San Joaquin River valley to the imposing&nbspMinarets and Volcanic Ridge.

At an elevation of about 9,400 feet, walkers come to a splendid viewpoint that visually positions distant Shadow Lake in the center of an expansive series of serrated peaks and dramatic ridgelines. Reaching this spot early in the day is reward enough for making an early-morning start from the trailhead.

The course's&nbspundulations from this point are moderate and the views remain far-ranging and unimpeded for much of the 9-1/2-mile march to 9,833-foot Thousand Island Lake.

As beautiful as the lake is itself, probably the loveliest spot in its environs is its outlet, which northbound PCT hikers encounter about a quarter-mile before reaching its eastern shore.

Sections of the outlet are abundant with Indian paint brush and other wildflowers, which combine with rushing waters and the towering backdrop of massive Banner Peak to offer a picturesque setting.

Anglers may be tempted to test their skills. Careful where you tread this is fragile territory. It is a difficult place to leave, even after you spend a long time absorbing all the beauty.

The area around Thousand Island Lake is justifiably closed to camping. If you get a late start, you may have to find a campsite prior to reaching this spot several options appear once you pass marshy Badger Lakes. Other layover possibilities are found south of Thousand Island Lake at Emerald and Ruby lakes along the John Muir Trail.

In the morning, continue south on the John Muir Trail&nbspto stunning 9,678-foot Garnet Lake, found 2-1/2 miles from Thousand Island Lake. Camping is also prohibited here. The lake outlet, traversed by a rickety wooden bridge, is a popular subject among backcountry photographers - and brook trout anglers. The vantage here is nothing if not sterling.

Hikers who are tiring may opt for the trail that wanders northeast of Garnet's outlet to cut 1-1/2 miles off the trip's total distance . . . at the expense of much of the high-country scenery.

The best route, however, is to continue south from Garnet, where travelers will spot a T in the trail in 2-1/2 miles. To the west lies 9,265-foot Ediza Lake - definitely worth a visit if you have the energy, but add 6 miles round-trip to your journey.

Continuing east from the junction for 1 mile, hikers will reach 8,737-foot Shadow Lake in a large bowl formed where Shadow Creek empties. (Camping is forbidden around the entirety of the lake.)

From Shadow Lake's west end, trekkers drop 2 miles to Olaine Lake on the valley floor (8,000 feet) and walk 2 miles along the River Trail back to Agnew Meadows to complete the loop.

If You're Going . . .

Mammoth Lakes is the jumping-off point for Agnew Meadows and the trailhead to Thousand Island Lakes. From Los Angeles, drive north about five hours via Highways 14 and 395. At Highway 203, travel west to the famous ski-resort town. Turn right at Minaret Summit Road, following the signs to Mammoth Mountain. Here things get a little tricky.

The road to Agnew Meadows is closed and not expected to open until at least next week. But that's not the biggest dilemma. This is: The backcountry remains buried under snow - with drifts in some spots exceeding depths of six feet - and won't clear until mid-July or later. The good news? That just gives you more time to secure a wilderness permit, which is required for overnight trips originating in the Inyo National Forest from the last Friday in June through Sept. 15.

Permits are $3 per person and can be reserved by calling (888) 374-3773 at least two days in advance of a trip or up to six months beforehand. Be prepared to give dates and points of entry and exit, as well as up to four overnight destinations on your itinerary.

Agnew Meadows and Thousand Island Lakes is found on the Devil's Postpile 15-minute series topographic map and Tom Harrison's ``Trail Map of the Mammoth High Country.'

Road and trail information can be obtained by visiting or calling the Mammoth Ranger Station and Visitor Center in Mammoth Lakes, (760) 924-5500. It is open 8 a.m. to 5 p.m. daily.

Thousand Island Lake can also be accessed from Reds Meadow, farther south from Agnew Meadows on Minaret Summit Road, and from Silver Lake on the June Lake Loop (Highway 158).
Middle Fork Lake
Red River,&nbspNM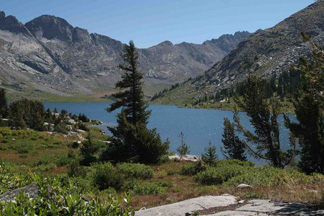 This is a really pretty spot. Pack a picnic, bring the camera, and plan on cooling your body&nbspin the lake for a little while. You may even want to attempt a short hike into the Wheeler Peak Wilderness from here. Enjoy!

Trail Beginning: 9,550 feet
Trail Ending: 10,840 feet
Access from Red River:
Travel south approximately 6 miles on State Highway 578 to the junction of Middle Fork and East Fork. The pavement ends here. Take the road to the right, Forest Road 58, for about 1.5 miles to a parking area. No turnaround or parking is available beyond this point. The road/trail begins here. Off Highway Vehicles (OHV) users can continue up the 4 wheel drive road for two miles to Middle Fork Lake.
Foot and horseback travelers
Begin at the parking area. follow the jeep road for about 1/4 mile until it forks at the creek crossing. The fork straight ahead is gated and there is NO PUBLIC ADMITTANCE as it is private land. Take the fork to the left and cross the creek at the foot bridge. The elevation at the crossing is around 9,550 feet. Continue up the jeep road for 2 miles on switchbacks to Middle Fork Lake or follow a small trail on the east side of the creek for one mile until it reaches the waterfall. For the remaining mile to Middle Fork Lake, follow the jeep road. Fishing is permitted in compliance with State Fishing Regulations.
Please do not cut the switchbacks
As you can see, erosion has taken a serious toll on the slopes and has exposed tree roots and bare soil.
4WD Jeeps and OHV's
Can drive to Middle Fork Lake but it is FOR EXPERTS ONLY. A short wheel base is a must because the switchback turns are short and there are no turn-outs to allow vehicles to pass. Vehicles must travel forward and then in reverse to negotiate the switchbacks.
In the winter months trail can be used for cross country skiing, snowshoeing, and snowmobiling.
Length: 2 miles
Use: Heavy - primarily 4x4 vehicles and ATV's
Recommended Season: Summer and early Fall
Difficulty: Intermediate through Expert
Elevation: Gains 1,500 feet
USGS QUADS: Wheeler Peak

The Loch
Rocky National Park,&nbspCO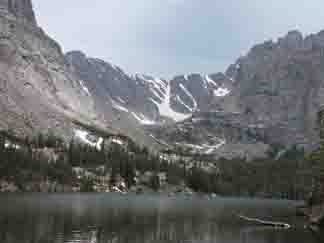 The Loch is one of the best hikes in the Park for its distance. The hike passes through lovely and varied terrain and leads to a beautiful alpine lake surrounded by high cliffs. It is a magical place.

The hike begins at Glacier Gorge trailhead, which has a tiny parking lot it isn't likely that you'll be able to find a space there. Instead, park in the lot halfway up Bear Lake Road (on the right) and catch the bus.

The hike begins with a bridge across a creek and heads gently upward through a lovely forest of mixed aspen and pine with a few small creeks. About .6 mile up the trail, it reaches Glacier Creek and soon comes to Alberta Falls.

Be careful at the edge of the drop-off, since many feet have polished the rocks until they are slick. Above Alberta Falls, the trail rises to a more arid area and passes a trail junction to Longs Peak via Boulder Brook.

Then the trail passes along a ridge covered by a barren rock slide, a good place to look and listen for pikas. There is a curve to the right and slightly downhill to another trail junction turn right on the trail to The Loch, heading up the valley just north of Thatchtop.

Half a mile up from the junction are a few switchbacks, and soon after the top of them you are at the Loch. The Loch sits in a dramatic alpine setting.

You can see Powell Peak on the left, Taylor Peak on the right, Taylor Glacier providing a climbing route to the Continental Divide. Timberline Falls can be seen&nbspand the top of Sharkstooth is visible above the ridge at right. Sometimes fog or low clouds add to the ambience.


Time going up: 1:45 to The Loch. Time to return: 1:00. Water consumed: 1/2 quart per adult. The Loch is often cool, especially in early season bring a jacket.
Jenny Lake
Grand Teton National Park,&nbspWY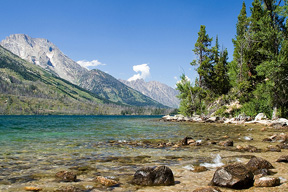 Hiking either all or part of the Jenny Lake Trail is a wonderful opportunity for hikers of all levels and ages. Visitors can see Teton mountain peaks, cascading falls, pristine lake shores, pine forests, wooden bridges connecting shady paths, and various wildlife. Whether making the entire loop around Jenny Lake or simply hiking a few miles, everyone will appreciate the fresh air and spectacular views that this popular trail offers.
Driving Directions to Jenny Lake Trail
Most roads in Grand Teton National Park are direct and offer stunning scenic views from all angles. It's possible to reach the circular Jenny Lake Trail from different parking lot entrances.
From the town of Jackson and the Jackson Hole Airport, take road 191/26/89 (Outer) north into Grand Teton National Park. Then, take a left onto Teton Park Road (Inner), crossing the Snake River. The first parking lot entrance is the Jenny Lake Visitor Center, located at the south end of the lake. Here visitors can find a ranger station, restrooms, gift shops, campgrounds, and food shops. Found at the north end of Jenny Lake is the String Lake parking lot trailhead. Hike 0.3 miles on the path along the river until you reach the Jenny Lake Trail. It's best to arrive early as the parking lots tend to become full.
From Teton Village, take a left onto Moose-Wilson Road, a road that turns narrow after entrance into Grand Teton National Park and provides prime wildlife viewing, particularly elk. From there, turn left onto Teton Park Road (Inner).
From Yellowstone National Park, take road 287/191/89 south along Jackson Lake. Turn right at the Jackson Lake Junction onto Teton Park Road.
Hiking Jenny Lake Trail
The entire loop around Jenny Lake is 6.5 miles and mostly flat. Hiking challenges include rocky trails and breathing difficulty due to elevation. It's important to take it easy, go at a comfortable pace, drink lots of water, and bring a hiking buddy. Go early to avoid crowds, the heat in summer, and to enjoy the peaceful silence of Jenny Lake in the morning. Land wildlife in the area includes elk, mule deer, marmot, coyote, moose, grizzly/black bear, and wolf. Take precaution with bear by making noise with a bear whistle, bringing bear spray, and making sure to store and dispose of all food carefully.
Jenny Lake Shuttle Boat
For tired legs, the Jenny Lake Shuttle Boat carries visitors, for a fee, from the East Shore Boat Dock near the Jenny Lake Visitor Center to the West Shore Boat Dock, where the trail breaks off the Jenny Lake Loop and ascends to Inspiration Point (elevation 7,200 feet) offering a magnificent view of Jenny Lake. On the way down, don't miss Hidden Falls, a poweful cascade of water tucked away behind the trees. Visitors can also rent canoes and kayaks at both hourly and daily rates from the East Shore Boat Dock.
The Jenny Lake Trail is a perfect hike for the morning and an ideal way to start a trip in the Grand Tetons. Stop at the ranger station at the Jenny Lake Visitor Center for any questions and for further information about the park. Go for a mile or six, but more importantly, enjoy the fresh air and the outdoors.


Cherry&nbspLake
Stanislaus National Forest, CA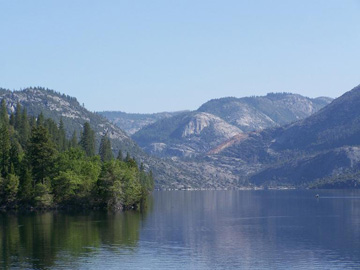 Cherry Lake enjoys a prime California location within the Stanislaus National Forest, a 898,099-acre forest snuggled into the Sierra Nevada mountain range. Cherry Lake has&nbspevolved into a recreational destination known for its blue skies, sparkling waters, and a wide variety of activities. In addition to fishing, other favorite lake activities include boating, swimming, and waterskiing.

Clean, refreshing waters tempt and entice on a warm summer day. Cherry Lake is also just a few miles from the famous Yosemite National Park, covering 761,266 acres and hosting an incredible 3.5 million visitors every year.
Cherry Lake is a true getaway from the hustle and bustle of everyday life, inviting you to enjoy the tranquility of a mountain lake (elevation 4700 feet above sea level), visit national forests, and catch your supper. The reservoir provides year-round fun for everyone.

Cherry Lake Trailhead, located along the southern edge of Cherry Lake in the Groveland Ranger District, is the access point to 185 miles of developed trails in the Emigrant Wilderness. Primary attractions are numerous subalpine meadows and glacial lakes. Many areas receive heavy use in the summer months.
Directions from Groveland: Head east on Highway 120. After traveling approximately 5 miles, turn left on Cherry Lake Road. Follow Cherry Lake Road 20 miles to Cherry Lake. Look for trailhead along the southern edge of the lake.
Chimney Pond
Baxter State Park, ME




Chimney Pond,&nbsphas some of the most spectacular mountain scenery in the east.

Chimney Pond Trail is 3.3 miles in length. The terminus is the Chimney Pond Campground where reservations are required. The trail begins from the Roaring Brook Campground and follows the southern shore of the brook for about .5 mile. From this point, the trail climbs steeply and continues almost due west. At about 2 miles, you will see views of Basin Ponds. A short distance down the path you will come to the junction of North Basin Cutoff Trail (a shortcut to North Basin). Bear left to stay on Chimney Pond Trail. About .5 mile farther up the trail on your right, you will reach what is known as Dry Pond. Traveling on you will once again come to a junction. This is the North Basin Trail which heads north to reach the Cutoff Trail and peaks of North Basin. Shortly you will arrive at Chimney Pond Campground, elevation 2,910.
Directions from Millinocket, ME: Travel approximately 15 miles north on SR 11 to reach the Togue Pond Gate. Bear right and travel about 8 miles to the Roaring Brook Campground. Trail begins in the campground at the ranger's cabin.
&copy 2008 Gay Outdoors All Rights Reserved.