learn
The Great Gay Greek Islands Finder
By Mike Boisvert.
Best Islands

The beaches is what will bring you to Skiathos. Find your way to the curving shore of Banana Beach, a favorite of gay nudists. This beach is next to Koukounaries Beach. From Skiathos town, a 30-minute bus ride will take you to Koukounaries Beach on the extreme southwestern tip of the island. Stay on the bus until the very last stop at the end of the road. Keep to the right at all turns as you climb a hill. At the top of the hill, keep walking until you reach the gate of private villa, then turn left and descend down the steep track. Take a right&nbsponce you reach the central beach (Big Banana),&nbspscramble over the rocky headland, and you'll reach the gay area (Little Banana).

Other pleasures on this island is hiking among the pines or visiting the eighteenth-century stonewalled Evangelistrias Monastery, which displays what is said to be the world's largest (and possibly most eclectic) private collection of musical instruments.

Which Greek island is the best?

Alonnisos&nbspis quiet. It is the largest island of its own little archipelago of two dozen otherwise uninhabited islets that make up a marine park established to protect endangered species like the Mediterranean monk seal. With no airport, no nightlife, and only a handful of small hotels, it is a place where if you want to do anything more exciting than walking, it would most likely have to be mountain biking.

Santorini&nbspis stunning. Don't pay any attention to the design, the service - anything except the view. The view is breathtaking: from atop volcanic cliffs, a nearly enclosed natural harbor is far below.&nbspOn Santorini, many hotels do everything in bright colors which turns some people off. &nbsp

Mykonos has a subtler, more refined fashion sense. Shades of pale do seem to dominate hotel decor there.

Choosing a favorite Greek island is impossible.

If you want sybaritic liveliness, Mykonos comes to mind&nbspwith its glamorous crowds that party till dawn. If you want to get away from it all, rocky Folegandros, which has a white-cube village&nbspChora, is as pretty as any in the Angean. The island is two hours from Santoroni, yet there are so few ferries that only the most determined travelers ever reach it.

The major groupings within the Greek Islands offer distinct qualities too. The postcard-blue water and white-cube architecture of the Cyclades or the feeling in the Dodecanese -with the Turkish coast often in sight, of being on the threshold of Asia.

Best Beaches

Banana Beach is pleasing. Little Banana beach is a bit difficult to access, so you'll need to be in shape to make the trek.&nbsp(Banana Beach Info)

Mykonos's pleasant&nbspsandy beaches are about sea and be seen, which is as good as any reason to go, although it has gotten extremely crowded there.&nbsp
You can happily bake on Mykonos's frenetic&nbspSuper Paradise, and those&nbspon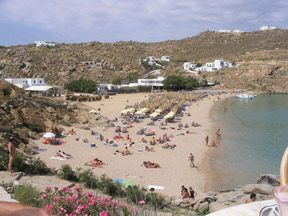 some of the Ionian Islands.&nbsp(Super Paradise Beach Info) To get to Super Paradise, take the bus from&nbspMykonos City to Plati Yiallos. From there boats to between 9am to 7:30pm to and from Super&nbspParadise. You can also take the direct bus to Paradise beach. You have to walk 15 minutes along the&nbspcliffs. The right side&nbspof Super&nbspParadise is virtually all gay men.&nbsp

The Ionians have some of the most dramatic&nbspbeaches, often set against high backdrops of surrounding rock.&nbspMyrtiotissa Beach is located on the central part Corfu's western coast,&nbspdirectly west of Corfu town. The beach is situated north of Pelekas and south of Vatos and is about one kilometer north of the large, popular village of Glyfada. An hourly&nbspbus from Corfu town makes a stop at Villa Myrto, which is next to the Myrtiotissa access road, or visitors can rent cars or mopeds in Corfu town.&nbsp&nbspStarting from Vatos, head south on the road toward Glyfada. Immediately past Villa Myrto, turn right onto beach access road for Myrtiotissa. (There is a sign for the beach, but it is easy to miss). The road down to the beach is paved for about a quarter of a mile, after which you'll find a big car park (charged) where you can safely leave the car and walk down to the beach.&nbsp From there down to the beach, the road is very steep and winding, with lots of unmade sections, and is very rough in places.&nbsp You're strongly advised not to attempt to drive down.&nbsp Remember too that hire cars are not insured on unmade roads.&nbsp In recent years, sudden downpours of rain have made the track impassable even for 4-wheel drives! The left hand side of the beach ix populated almost entirely by nudists. There are umbrella rentals available on the&nbspbeach (which has no shade), and there is a food and beverage vendor.&nbsp&nbsp

The Classics

Among the Greek Islands is a group called the classics -the classic period is dating back to the 1970s, when many of the airports were built. Because airports made them accessible, these are the islands that have become the most developed, the islands for&nbsppeople who know Greece only vaguely can name, and where first-time visitors are most likely to go.

Probably the best website for gay guys to learn more&nbspabout the Greek Islands is Gay Travel Greece.

There's beach-endowned Mykonos, whose reputation is for being gay-centric, but in reality is tolerant of just about everyone except cruise ship passengers who insist on eating every meal aboard. (Gay Mykonos Info 1&nbspand Gay Mykonos Info 2)

Corfu, Venetian in much of its architecture and British in many of its sensibilities. (Gay Corfu Info)
&nbsp
Rhodes (Gay Rhodes Info)&nbspand Crete (Gay Crete Info), with too many big hotels, to be sure, but worlds enough of their own that in some of the mountain areas of Crete, for instance, even Greeks from the mainland are considered foreigners.

On every trip to Greece, there is one island you have to visit: Santorini. (Gay Santorini Info)
&nbsp
Santorini-a volcano whose shattered cone, with a string of hotels and restaurants along its edge, it has created drink prices that get even the most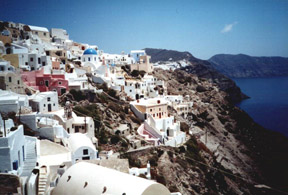 happy holidaymakers to think about slowing down.&nbsp&nbsp The most refined and popular location to unwind is the breezy Tropical (Fira +30-22860/22-881) with its gorgeous views of the sea. This is the place to watch the sunset nightly and linger for late drinks sometimes people just start dancing on the bar after midnight. This is, hands down, the only gay-friendly bar in all of Santorini. But a word of warning: This is not a gay bar, and even when the clientele seems mostly gay, refrain from offending the locals by displaying too much overt affection (you're not in Mykonos anymore, Dorothy).&nbsp

Santorini is an icon of travel, and one of the first&nbspGreek islands any&nbspvisitor should see. Whether you love it for its natural beauty or its liveliness, or hate it because everyone else is trying to find&nbspthe same dream has made it too commercial,&nbspyour experience will form a baseline by which to measure all the other islands.&nbsp&nbspThere are a handful of gay-friendly bars and clubs within walking distance of many hotels. The crowds are generally mixed and the attitude minimal. Although it's not a gay mecca like Mykonos, it is also less judgmental and conservative than some of the other larger Greek cities and islands. That said, couples (gay or straight) feel more at ease than single travelers who may wish to visit for a night or two, but make Mykonos their primary stop.

The Astra (Imerovigli +30-22860/23-641, fax +30-22860/24-765 http://www.astra.gr/ 175-285 EUR) is considered by many to be the crème de la crème of hotels, not just in Santorini but in all of Greece. Located in Imerovigli, it not only offers charming rooms decorated with soothing blue accents, but a pool that gives the illusion that you are suspended high above the Aegean without a foundation. It is one of the truly remarkable views on the entire island.&nbsp
To save a few bucks without sacrificing comfort, the Altana Traditional Houses (+30-22860/23-240, fax +30-22860/23-204 http://www.altana.gr/ 155-240 EUR) offer 10 rooms of varying sizes. If there's more than just a few of you, request room 8, which goes by the name Ermis - it's a 100-year-old cave dwelling with two bedrooms, two baths and a huge living room which can easily sleep a couple more people. Half the rooms at Altana have air conditioning but the cave dwellings don't usually need it. Reserve on the Internet and request a special discount - they sometimes run specials for up to 50% off the normal cost and they have also been known to upgrade at no additional charge if the nicer rooms are not reserved upon your arrival.
&copy 2008 Gay Outdoors All Rights Reserved.