learn
Coasting Florida's Gay Panhandle
Tampa to Cedar Key

Along cluttered Route 98, we test the brakes when Chef spots Jake's Boiled P-Nuts stand. As he samples local delicacies, several ramshackle vans and pickups gather to gawk. No doubt we stand out: two gay men driving a flashy car through backwater Florida. Wearing a novelty T-shirt emblazoned EVERYONE LOVES A LATIN BOY, Chef tells Jake that in his opinion the man's fried nuts need a little more spice. I hold my breath while the grizzled snack purveyor scowls, then breaks into a smile. "I like 'em hot, too."

I hustle Chef back to the car. The heat is oppressive, and Florida's legendary humidity breathtaking.


We turn onto the pastoral and cedar-lined Route 24, passing dozens of wooden clam shacks built on stilts over lazy water. We're on our way to Cedar Key, a town you've got to work to reach. It's three miles into the Gulf of Mexico, and inhabited by fewer than a thousand year-round residents. Unlike other historic fishing villages at the edge of America on a road to nowhere—Key West and Provincetown come to mind—Cedar Key isn't overrun by tourists and has nary a cruise ship in sight.

In the 1990s, Cedar Key reinvented itself as a capital of clam farms—now it's the nation's leading producer of littlenecks. Chef discovers Robinson Seafood, where for $9.95 we get the all-you-can-eat special, devouring mounds of plump, meaty clams along with hush puppies, fried mullet, and iced tea (sweet, of course).

Later, walking across the two-lane bridge connecting the modern shops and restaurants on Dock Street to the old town, we stop and watch a few souls fishing at sunset. The sky turns a brilliant purple as families splash in the calm waters around a half-moon beach.

Cedar Key to Apalachicola

Back on Route 98, which stretches across the Panhandle, we leave a bit of Old Florida behind, and Chef insists on stopping at another roadside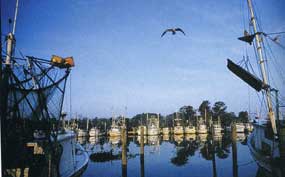 attraction, Dakotah Vineyards, mostly because he simply can't believe Florida has a winery. Given his sour face at the tasting, I'm glad I'm driving and not drinking, and Chef still can't believe Florida has a winery.

As we approach the long bridge across the bay to the town of Apalachicola, we see that this patch of Florida bustles more than Cedar Key. Oyster trawlers are scattered in the waters, and people saunter around the shops lining Market Street.

Today, Apalachicola is a delicately balanced blend of Old and New Florida—historic buildings and houses mixed with funky boutiques and numerous cafés. I'm completely charmed by the place, but Chef withholds judgment until he tastes the local fare.

Oysters have provided stability to this region for years. Ten percent of the country's supply comes from this bay, and they are some of the biggest, juiciest, meatiest, saltiest—and cheapest—oysters we've had the pleasure of tasting. At 25 cents each, compared to about four dollars a pop in New York City, Chef and I literally can't get enough—we eat them morning, noon, and night.

We head across a four-mile bridge to St. George Island, a skinny strip of land with a storied past. Here the peaceful life of the Creek Indians was interrupted by the Spanish, who landed in 1528.

After lolling awhile, we drive on to St. Joe Beach along a road that's among the prettiest on this trip—baby palm trees dwarfed by giant cedars. Out of the car, we trudge up stairs over mountains of sand, and at the summit, take pause at the view: miles and miles of nearly empty snowy beaches lapped by clear turquoise water. We head down to splash in the warm water, agreeing that we will come back and bring friends: Oysters and beaches this delicious deserve to be shared.

If you are looking for a place to stay, consider The Coombs Inn, a romantic Bed and Breakfast in an elegant Victorian mansion, welcomes guests to experience historic charm in an intimate setting.


Apalachicola to Pensacola Beach

Somewhere between Apalachicola and Pensacola, we lose track of time. Unbeknownst to us, we actually gain an hour by crossing time zones—an extra hour wasted on this stretch of tacky suburban sprawl with Las Vegas casino–style condo developments. Yet the beaches are pristine. We park near a gate barring cars from the protected park and hike down the beach to stake a claim with our beach umbrella. Other than the cute guys in Speedo swimsuits waving politely a few yards away, no one is in sight. I race into the sparkling surf and, floating in the shallow, warm, crystal-blue water.


Organized by New Orleans' veteran Oz bar, Memorial Day Weekend (May 22-26; http://www.memorialweekendpensacola.com/) draws tens of thousands of gays and lesbians to this sleepy community. From Friday afternoon through Sunday in the wee hours, partiers hop from venue to venue, dancing in the balmy gulf air.


Many of the events are hosted at the weekend's host hotels, the Hampton Inn on the Beach (2 Via de Luna Dr; 850/932-6800; http://www.hamptonbeachresort.com/; $89-189), the Hilton Garden Inn (12 Via de Luna Dr; 850/916-2999 or 800/774-1500, fax 850/934-0891; http://www.hiltongardeninn.com/; $150-300) and the Crown Plaza/Pensacola Grand (200 E. Gregory St; 850/433-3336 or 800/348-3336, fax 850/432-7572; http://www.pensacolagrandhotel.com/; $95-160, suites $250-408).For those seeking more, shall we say, natural surroundings, Spring Creek Campground and Resort (163 Campground Rd, Geneva, AL; 334/684-3891; http://www.springcreekcampground.net/; cabins $40-60, tent and RV sites $13/person/night plus $3-7 site fee) is a clothing-optional gay and lesbian campground, about an hour north of Panama City.


Fresh gulf seafood abounds in Pensacola. Bayside Grill (4 Via de Luna Dr; 850/932-9898; http://www.baysidegrill.com/; dinner entrées: $6-22) dishes up fishes with a Caribbean-Creole flair. On Lafitte Cove Marina, Peg Leg Pete's Oyster Bar (1010 Fort Pickens Rd; 850/932-4139; http://www.peglegpetes.com/; $6-18) serves up Cajun fare with a sparkling waterfront view. Dharma Blue (300 S. Alcaniz Dr; 850/433-1275; $15-24) is best known for its sushi bar. For fine dining, Jackson's (400 S. Palafox St; 850/469-9898, fax 850/469-8198; http://www.jacksonsrestaurant.com/, jacksons@networktel.net; $22-56) proffers seafood and steak with dramatic presentations. Reservations recommended.
The reigning club in Pensacola is Emerald City (406 E. Wright St; 850/433-9491; http://www.emeraldcitypensacola.com/), with dancing, drag and drink specials on several floors. The Roundup (706 E. Gregory St; 850/433-8482) is a popular neighborhood bar with a patio, pool tables and video games.

Of course, Pensacola's main attraction is its shoreline. Sun-worshippers should head to the gay beach, located on County Road 399, two miles past the Gulf Islands National Seashore sign. Look for parking lot #2.