learn
Gay Seaside Europe
By Mike Boisvert.
CROATIA
Dubrovnik
Croatia has the glorious Adriatic coast. Along the coast, you'll find Dubrovnik to be the most gay tolerant of Croatia's coastal towns. Dubrovnik is Croatia's top sight, and its most visited destination with a wide assortment of hotels from luxury to budget and plenty of private accommodation. The gleaming
marble streets of Dubrovnik are lined with baroque buildings punctuated by beautifully sculpted Renaissance fountains and facades. There are not any gay friendly accommodations to speak of but this travel agency would at least get you started:
http://www.gay-dubrovnik.com/
Although there is not an exclusively gay bar, guys meet up at
Troubadur
Cafe
which is reported to be gay.
Address
: Buniceva poljana 2. Troubadour Café is on the square on the eastern end of the Old Town. Open every day, gay, lesbian, straight mixed, no entrance fee.
The gay scene is reduced to the very popular and well-visited
Lokrum Beach
on the Lokrum island. The nudist rocky beach at Lokrum Island is outside of Dubrovnik. It is the most popular meeting place for gay guys in Dubrovnik. Take the boat from the harbor of Dubrovnik to Lokrum Island which is leaving every 10-20 minutes. The gay beach is on the end of nudist area.
ENGLAND
Blackpool

The weather in Blackpool can sometimes be good enough for swimming, but even if the weather isn't the best you will love the fish & chips, the drag shows and karaoke. The main landmark of Blackpool is the 158 meter high "Tower." At its feet you'll find the hustle and bustle of gambling halls on the piers, cinemas and fairs. Just let yourself go. The friendly guys of Blackpool will charm you too. This link will bring you to the Blackpool Gay Directory: http://www.astabgay.com/index.htm.
Check out the delightful
Kazy'k Cafe and Restaurant
offering a full menu with a twist of mediterranean fare (102 Lytham Rd.). Nestled in the heart of the gay quarter is the delightful
Northern Star
(9-11 Lord Street, Tel. 01253 628073,
http://www.northernstarhotel.co.uk/index.php
).
In South Blackpool (the
Pleasure Beach
end), the sand dunes near Starr Gate opposite Pontin's Holiday Camp is popular in the summer but nude sunbathing in this area is actively being discouraged after complaints from locals and tourists.
FRANCE
Nice
Already famous as a playground for socialites, and for a world-famous film festival, scenes immortalized in French Impressionist and modernist masterpieces, and a bounty of tony cafes, bars, and hotels, Southern France's Cote d'Azur has also developed increased recognition as a favorite gay vacation destination in recent years. Nice is at once an ancient Roman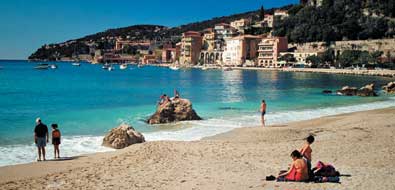 city and a thoroughly modern French hideaway, a favorite retreat of Elton John (who owns a stunning vacation pad here), and a former haunt of painter Henri Matisse, who hung out here in the 1940s. In fact, you can examine the latter's works at Musee Matisse in the attractive nearby suburb of Cimiez, also home to the acclaimed Musee d'Archeologie, which details the region's history over the past 3,000 years.
Nice, the area's largest city, contains the wealth of the area's gay bars and accommodations, and chichi Cannes attracts artsy types and bon vivants (especially during the world-famous Cannes Film Festival in May), but a welcoming, tolerant spirit pervades the entire coastline.
The main attraction over the past couple of years has been the opening of
Le Klub
, the biggest gay disco on the French Riviera. They get all the trendiest dj's from Paris and Ibiza and the place is just as good as the discos in Miami, London or New York.
Another recent opening is the restaurant
Café Borghese
(9 , Rue Fodéré - 06200 Nice /tel 04.92.04.83.83) on Rue Fodéré behind the port. Magnificent inside owned by the cheerful Jacques who will welcome you with open arms. He used to own the Rusca so he knows everything about the gay scene in Nice. More and more gays are frequenting the establishment. He has also taken over what used to be the Castro bar , that he has renamed The Eagle, a cruising bar with back room facilities. Whether you just want a drink or something else.... its the place to be.
There is still
Cote Marais
(4 Rue du pontin - 06300 Old Nice /tel 04.93.80.95.39) run by Laurent & Laurent and is to be found Rue Pontin. A good 3 course slap up meal for just 22 euros and they throw in the aperitif as well. A little bit further up on the port there is now
The Nautique
24, Quai Lunel Port de Nice - 06000 Nice /tel 04.93.55.14.42.) A lot of the waiters are gay and good looking too. Although not specifically gay it does attract a gay clientele as it is situated right on the port with great views and quite honestly good value for money.
A nice evening is to start off either at
Cote Marais
or the
Café Borghese
, go into the 6 for a drink and listen to the singers and finish off at
The Eagle
for a drink or a cruise. The naked parties at
The Castro
take place the first sunday of every month and the underwear parties are the third sunday of the month - and the leather evenings are the last sunday of the month.
The Block
to be found on Rue Jules Gilly, just off the Cours Saleya, the flower market is now open and a real sex bar. They have naked evenings (usually the last friday of the month) underwear parties, hard evenings , and free internet.
The
Hotel Meyerbeer
is what I call a gay hotel. This little one star hotel, but could easily be a 2 star, has everything you want. It's next to the sea (50m) in the center and near the gay-scene, all rooms have kitchenette, TV, telephone, WC, Shower or bath, double or twin beds. And at least it's gay-owned !! But more important the rooms are very clean and breakfast is served from 8am till 8pm (handy for the late queens).
You may just want to stroll along the beach and if you want to spend a day sunning yourself then there are a couple of gay beaches at
EZE
(a nudist beach) and in Nice itself you have the
Castel Beach
at the bottom of the Castle Hill which has the most guys. If you do not mind rocks there is also
Coco Beach
just past the port or in the city the Jetee du Port at one end gets quite a lot of gays who take everything off!!! This link had directions to all of these beaches:
http://www.geocities.com/peejeepee/TBMpage3.html
GERMANY
Sylt

American tourists are scarce in Sylt (pronounced "zoolt"), a thin island off the coast of Germany in the North Sea. That's one reason we love it so much.

Sylt's entire west coast consists of broad white-sand beaches, many dotted with the island's trademark shell-shaped beach chairs. For maximum solitude, flee the summer throngs at Westerland--Sylt's largest town, and home to a handful of lively gay bars--and head to the secluded beaches at the top of the island (the northernmost point in Germany). For maximum delight, spend the day at Buhne 16, a nude beach with a long tradition of tolerance. Rich and poor, young and old, gay and straight--all are accepted. And with so much of this island dedicated to beauty, rest, and rejuvenation, many are admired.

Located within walking distance of the beaches and gay nightlife of Westerland, Haus Hallig (Danziger Strasse 9, Westerland, 011-49-4651-24213) is a large gay-owned guesthouse with a relaxed atmosphere, large garden, and bike rental service. (Riding bikes on the flat island is easy--and one of the best ways to see the sights.) It offers rooms and apartments with shared or private bath. Breakfast is included.
Tempting taste buds with some of the best Greek food in Westerland, the menu at Achilleon (Elisabethstrasse 4, 011-49-6512-9511) offers everything from scorched pig shoulder with plum to cream yogurt with honey. Jörg Müller (Süderstrasse 8, 011-49-4651-27788) pairs its extraordinary wine list with innovative takes on lobster, spring chicken, and roasted goose liver. In Kampen, Zum Österreicher (Alte Dorfstrasse 2, Kampen, 011-49-4651-446160) is an affordable and authentic Austrian pub. Try chef Manni Schmidt's delicious goulash. Westerland is home to a handful of small gay bars, but the most established by far is KC Gay Disco (Elisabethstrasse 1a, 011-49-4651-24228), located in the heart of the village. Hosts George and Melli have entertained guests for over 30 years with a reliable combination of strong (and cheap) drinks and a lively dance floor.
GREECE
Mykonos

Mykonos -- a feast of parties, hot nights and steamy beach life is definitely the most appealing Island in Greece for the Gay guy. This is truly a unique resort, combining the warmth, beauty and hospitality for which Greece is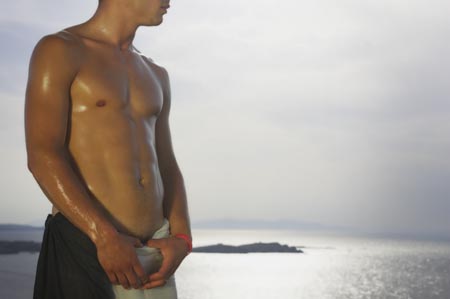 famous for with a whole host of gay venues to suit all tastes and ages. Mykonos is also one of the pricier Islands; nonetheless accommodations and dining ranges from the simple to the luxurious, so there are options to suit all budgets. If shopping is your thing it will be expensive. However do not feat -- it costs nothing to sit on the beach and admire the boys and the sunset!


Mykonos has some very nice beaches with blue, clear waters. You can reach them by 4x4 or scooter and walk along bumpy rocked roads. Or just get the bus from Mykonos town down to Plati Yalos and then jump on one of the little fishing boats that will drop you off at the individual beaches.
Among gay tourists, Super Paradise remains the most popular beach. The beach has a bar and a restaurant that serve food and drinks. The gay section of Super Paradise lies to the right (facing the sea). The single boys tend to stay more to a wind-sheltered area to the far left, where they can enjoy the sun in the nude. Lesbians, gay couples and straights tend to stay more to the right side of the beach. And where gay guys sun and swim, there's plenty of cruising and action further op the rocks.

Paradise (at the other side of the hill from Super Paradise) and Elia are other gay beaches but a bit more deserted. Both are reachable via ferry or taxi and there is a bus service to Elia from Mykonos harbour. Elia, the last stop on the boats from Platys Gialos, is a large (and partly nude) beach with a mixed crowd of straight and gay sun worshippers. While Elia has become increasingly gay, it has become as crowded as Paradise and Super Paradise.
The Elysium Hotel which is located in Mykonos town, is constructed with traditional Mykonian architecture. The hotel shares a spectacular panoramic view of the historic city of Mykonos and the sparkling waters of the Aegean Sea. There are 18 standard hotel rooms, 22 superior deluxe rooms and 2 2-bedroom suites. Mykonos is a very gay island now, so apart from this exclusively gay hotel nearly all hotels accommodate and are positively friendly to gay guys. So look on the web and select the one you like the look of without fear of homophobia.

Two excellent places for "sunset" drinks are Kastros (charming relaxed lounge and music in "Little Venice") and The Elyseum Hotel (high up, stunning views across the town and bay but more pricey drinks - 10/12 euros for a cocktail). Most people will be able to give directions if you ask them. Also before midnight is Portos near the Town Hall. After 2 am Ramrod, Icaros and other gay bars are to be found just off "Taxi Square". To find them, follow the others ! For DINING try Paraportiani (bussling friendly medium price near Niko's Taverna close to the Town Hall) or the smarter " Mamacas" restaurant near Taxi Square. All restaurants appear to be gay friendly.

ITALY
Viareggio

The Mediterranean seaside resorts of "Friendly Versilia" Viareggio and Torre del Lago have developed in the past few years into an important attraction for gay guys in summer.

Though the whole Versilia scene was created around the Lecciona, a very exquisite and infamous (however only in Italy at the moment) beach of fine
sand situated between Viareggio and Torre del Lago. It is surrounded by wonderful National Parks with a forest of pine trees and is always crowded with gay guys. On weekdays as well as weekends find scores of friendly gay men suntanning, swimming, and enjoying themselves here.


Very close to this beautiful beach, all along the seafront road, there you will find the heart of friendly Versilia: in its bars, restaurants, pizzerias, disco clubs, and villa shops. Two very crowded gay pubs, Bocachica and Mama Mia, also serve as fine restaurants. Bocachica serves delicious seafood, wine, and curry and also contains a music bar with many different styles of music including American. Mama Mia's offers typically Italian pizza as well as it's sister club, Momousa, another popular restaurant in town, serves up fine seafood and shellfish as well as coffee and sandwiches, i.e. regular cafe food as well for those who don't like the seafood. Frau Marleen, one of the historical gay disco clubs in Italy, is along the beach. It's mostly gay and lesbian on Friday nights, transgender on Saturdays, and mixed on Sundays. Not far from the beach you'll find a festive club called Barrumba, a very popular disco with a nice crowd and a huge dark room.

When it comes to accommodations, there are some great options. From Hotel Principe di Piemonte, the entire scene appears as if out of a 1960's movie. People of all ages walk or ride bicycles along the promenade, hold hands, and share kisses, oblivious to the many people observing their every move. It seems that people watching, as portrayed in so many Hollywood films about Italy, is a national pastime here. Meanwhile, out on the ocean, about 100 yards from shore, a small boat with a loudspeaker broadcasts a never-ending cacophony of announcements for local businesses, politicians, and probably a few after hours clubs. The overall effect is something Fellini might have appreciated and characterized in one of his films. The hotel itself features eighty-seven double rooms and nineteen deluxe suites, located on five floors and decorated in different styles. Many have private balconies overlooking the beach, as well as air conditioning, internet access, and minibars. Their onsite Wellness Center is a great place to relax, or pamper yourself with a variety of massages (honey, chocolate, 4-hands), facials, hydrotherapy, an "after sun" wrap, or a specialized workout with your own personal trainer.

PORTUGAL
Lisbon

Lisbon is one of Europe's grandest and most scenic capitals. It's metro region has 2 million people and spread through a wide area from Cascais to romantic Sintra and Setubal. Lisbon with wonderful museums, art galleries, and monuments is one of the trendiest cities with a vibrant gay night scene at Principe Real and Bairro Alto quarters, very modern design (bars, discos, shops and the unique Design Museum in Cultural Center of Belem or the Tiles/Azulejos Museum), and incredibly innovative architecture in some of Europe's best shopping malls and Parque des Nacoes, the former Expo 98.

Lisbon has a sparkling nightlife for gay guys. Great bars, clubs and typical fado-cafes are found in the oldest parts of Lisbon: Bairo Alto. Here you can find the most gay bars and restaurants. Lisbon downtown is the place to start your night out. Many restaurants are waiting for you with delicious food and the best wine. After midnight clubs start to live up and the night crowd find it's way to trendy bars and clubs like Portas Lagres and Lux.

For restaurants, try Pap Acorda, a trendy portugese restaurant. This is one of Portugal's trendiest (Rua da Atalaia 57; Tel: +351 (21) 346 4811).


The gay Hotel Anjo Azul (Rua Luz Soriano, 75 - Bairro Alto; +351 21 347 80 69) is located in the middle of the historical heart of the city of Lisbon, in one of its most typical neighborhoods, Bairro Alto, and in a pleasant street, famous for having been the great poet Fernando Pessoa's last home. Near the most famous monuments and Lisbon's favourite diversion places, that have converted the neighborhood in the centre of the Portuguese capital night-life, you can then find the Hotel Anjo Azul, easily recognizable by its XVIII century facade, covered with typical portuguese blue tiles.

Lisbon is surrounded by a fantastic coast north to south. Caparica Beach (also known as Lisbon's Beach 19) is one of the most beautiful gay beaches in Portugal (take the beach train and go to stop 17). It started as one of the first nudist beaches in Portugal, soon to be crowded with gay people. The first part of the beach still is for nudism, used by gay people as
well as hetero sunbathers. If you walk south along the beach about 200 meters further from the entrance you'll find the gay beach. It stretches about 500 meters, with the younger crowd at the end. There is a
popular bar at Beach19. They serve lunch and dinner in a sandy and trendy wooden beach bar. You will find many gay people there from different nationalities.

SPAIN
Sitges

Located 30 minutes by train from Barcelona on Spain's eastern coast, Sitges is an old seaside town on a hill, with loads of charm, respected art festivals and world-renowned nightlife. Laid back and old-world, yet high-energy, Sitges (rhymes with stitches) is popular with European families and gay visitors who harmoniously enjoy the resort's many charms.
Although all of Sitges is gay friendly and gay popular, the best beach action
lies a bit out of town. Playas del Muerto consists of two small nude beaches between Sitges and Vilanova la Geltru. The second of the two is gay, about a 45-minute walk in total from town, with beautiful clear water and an unspoiled, natural setting. Once you reach the gay beach, face the water, and go right. You will pass through a deserted rocky beach before reaching the first and then the second secluded cove. Be sure to wear your Teva's. If you have a car, you can drive to the disco Atlantida and park in their lot, although it is still about a 15- to 20-minute walk uphill from there to the beach. On the main beach, the gay section is in front of the Calipolis Hotel. To the north of town, Playa del Balmins is a less crowded gay-popular beach.
Most hotels in Sitges, and all of those we recommend are gay friendly. The Hotel Liberty (Calle Isla de Cuba, 45; +34-93/811-08-72, fax +34-93/894-16-62; http://www.hotel-liberty-sitges.com/; hotelliberty_sitges@hotmail.com; 62-110 EUR, 1-night and weekend supplements during high season) caters primarily to gay men during the high-season months of July and August. The Hotel Calipolis (Paseig Maritim; +34-93/894-1500, fax +34-93/894-0764; http://www.hoteles-hesperia.es/, hotel@hesperia-calipolis.com; 126-281 EUR), is a four-star property located just in front of the gay beach.

In an open courtyard with fabulous food and delightful service, Al Fresco (4 Calle Pau Barrabeig; +34-93/894-0600; 9-20 EUR), offers an extensive vegetarian menu (and meat dishes). Serving a blend of Pacific Rim/ Australian cuisine with Mediterranean flavors, Al Fresco rarely disappoints. Book in advance.
© 2008 Gay Outdoors ; All Rights Reserved.