learn
Out Of The Closet And Into The Outdoors
By Michael Dang.
Jonny Rosenfield was on top of the world. Literally.
After 17 days of sleeping in tents, enduring strenuous climbs and weathering high winds and a snowstorm, Rosenfield made it to the top of the 22,840-foot Aconcagua Mountain in Argentina, one of the world's Seven Summits and the highest peak outside of Asia.
"Never in a million years would I ever think that I'd ever end up on a summit like Aconcagua," said Rosenfield, a 45-year-old therapist in Boston. "I love to hike, but this was never expected. When the opportunity came up, I had to take it. I wanted to be a part of history."
History for Rosenfield was made on a sunny Monday on Jan. 27, 2005, when he, along with fellow climbers Mike Boisvert, Rob Jagnow and Bruce Gallipeau became the first openly gay team to conquer the mountain. The team was organized by Boisvert through his Web site, gayoutdoors.org, a gay-friendly adventure society specializing in helping outdoorzy guys meet one another, pursue outdoor activities and share their outdoor experiences/knowledge.
Adventure societies for gays are sprouting up across the United States and Canada. Whether it is climbing one of the world's tallest mountains, kayaking down a cascade or simply camping in the middle of the woods, these groups provide gays and lesbians with the opportunity to test their limits and reach personal goals in an environment where they feel free to be themselves.
"The reason many of us prefer to enjoy these outdoor activities with other gay people is the desire to share these experiences in an environment where we feel a sense of belonging," said Alan Shier, a member of the Wilderness Network of Georgia. "Many gay men, for example, avoided sports and outdoor activities as children due to fear of rejection or shame. With the support of my gay brethren, I find myself now stepping into new territory."
The trips can be life changing. "We flew the gay flag up on the summit and all the straight folks thought it was so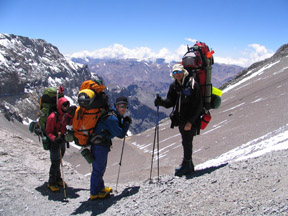 great," said Boisvert, a 52-year-old internal auditor who began Gay Outdoors in 1999. Boisvert added that one of the climbers was not completely out of the closet and would cover his face with goggles whenever the group took a photo.
"He also asked me not to include his last name on the Web site when I wrote about what we had accomplished," Boisvert said. "Later, he realized that if he could climb that mountain, he had nothing to hide and told me to include his last name. It was a good experience for him."
California Great Outdoors has more than 800 gay and lesbian members. Group activities have included backpacking in the High Sierra as well as visits to Hearst Castle, Hawaii and Yellowstone National Park. California Great Outdoors also sponsors a wilderness education program that covers outdoor survival, first aid and how to keep one's impact on the environment to a minimum while out in the wilderness.
"It's all about supporting the gay community," said Brian Miller, a 48-year-old architect who serves as board chairman. "It's about providing a safe place for people to come out in a nonthreatening, nonsexual atmosphere."
Miller recalled a trip to Santa Cruz Island where members took a tour with a ranger to learn about the history of the island. The ranger, a closeted gay man, felt so comfortable with the group that he spent time with the members after the tour was over.
Gay-friendly adventure societies have been around for at least three decades, and while membership has remained
steady, Miller says new members in their 20s and early 30s are becoming scarce. Miller joined California Great Outdoors in 1993, around the time he also came out as a gay man. Back then, Miller said, most members were in their late 20s. Now, most members are in their 40s.
Miller says the group is trying to reach out to the younger gay men and women but with limited success.
"The younger generation seems glued to the computer and hooked on social-networking sites such as MySpace," he said.
Still, for those who have had life-changing experiences in the adventure societies, in some cases relatively late in life, participation in the groups is much more than a pastime.
"The organization has allowed me to be who I am with other people," Miller said. "I know what it's like to feel like an outsider and to feel different. With the group, it feels like you always have your family with you."
As for Rosenfield, his history-making experience with Gay Outdoors will never be forgotten.
"Whenever obstacles come up, whenever I come across something and think I can't do it, I remind myself that I can," Rosenfield said. " I say to myself, 'You climbed that mountain. You can do it.'"
© 2007 Gay Outdoors ; All Rights Reserved.