learn
Inspiration, Hope and Strength from the Road
By Darin Barry.
The Cow Palace in San Francisco on the morning of the opening ceremonies of Aids Lifecycle 6 was alive with the sounds of 2,300 energized cyclists cheering triumphantly after it was announced we had raised over eleven million dollars to fight AIDS. We had trained for months, sometimes in severe weather, giving freely of our time. Some of us had gone into debt to the tune of several thousand dollars for gear, travel arrangements and those necessities that snuck up on us as we prepared for this journey. We had held fundraising events, hit up our co-workers and family members, knocked on doors and asked strangers to give what they could to help us raise the required $2500 in pledge money each cyclist has to raise in order to participate in 545 mile, seven day bike ride from San Francisco to Los Angeles. In doing all of this, each cyclist had learned a little more about the Aids pandemic and how it has touched the lives of so many. As we set out on the open road that morning, some of us would learn even more.
On the ride, there are a lot of internally produced pep rallies and entertainment designed to keep riders motivated throughout the duration of Aids Lifecycle. Frankly, if you aren't wired for that sort of thing, they are just irritating. The six and a half foot drag queens that ogled us from the side of the course making comments like "Your legs are like butter sweetie, keep on peddling and make Mama proud." were funny on day one, but not so much anymore by day five. One has to understand that cyclists on this ride are like salmon swimming upstream to spawn, we get more and more beat up and ugly as we near our destination. Some of us get outright bitchey. The efforts to motivate and elevate cyclist's spirits are important and appreciated, even though those efforts sometimes fell short on party poopers like me. By day seven, I would be pretty much scowling at drag queens, clowns and puppies if it weren't for those who inspired me along the way. This story is about them.
Of course the memory of those I have lost to AIDS was enough to encourage me to finish daily, but what really brought the impact of the devastation AIDS brings upon us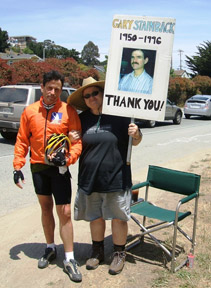 home for me was meeting those the disease left behind face to face who had been moved to come out to the road shoulders and sidewalks to encourage and thank us every day of our cycling journey.
As I road past the Santa Cruz city limit sign, I spotted a woman giving me the thumbs up from curbside. She had a poster size sign with a man's photograph attached; his name, the dates he lived in and the words "Thank You" were written below his picture. I acknowledged her with a smile but continued past her to a stop sign where, like any good cyclist does, I stopped. A wave of emotion struck me as I looked back to see her still looking my way: empathy, pity, profound sadness all at once. I wondered who the person on the sign was that had died and left her behind.
Those who I have lost can be so real and very much alive in my dreams. I recalled the random post dream epiphanies that make me sit up in my bed in the middle of the night from time to time with the stark realization that I will never again be able to laugh, talk with or hold the persons in my life who have died recently; my brother Donald from Hepatitis C, my dear friend Mary from Alcoholism and another close friend, Saint from HIV related illness, all in this past year. I had to peddle back and talk with the woman with the sign. "Who was he?" I asked. "He was my everything. He was my brother." She answered.
Her name was Stephanie and she would be the very first person I stop to thank for being there to support us. Her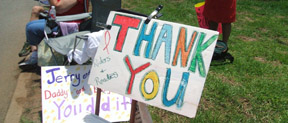 brother Gary Stainback succumbed to HIV related illness in 1996 after a lifetime of being a carrying older brother and a large part of Stephanie's life. She told me she shows up every year with a cooler full of refreshments to encourage and thank the cyclists of Aids Lifecyle for funding a huge part of the very services her brother Gary was able to benefit from. The ripple effect of our efforts was clear to me at that moment. I was very proud and honored to be riding for people like Stephanie too.
Each day of Aids Lifecyle, I kept seeing an older couple on the side of the course, usually at a half way point or at the top of the toughest hill of the day, very enthusiastically cheering us riders on. They would offer us water or Gatorade. Finally, on the last day somewhere between Ventura and Malibu I pulled over to talk with them: "So what's your Story?" I asked.
They are known to ALC Riders as Mom and Dad. Their real names are Tom and Nanette Benbrook and they hail from Ojai, California. Nanette explained that their son Rich rode in the early California Aids rides and that he was one of the men who participated in part of the closing ceremonies where a riderless bike is rolled out to symbolize the loss we all suffer from the disease. Nannette said she was very moved by the ceremony and after seeing the tears roll down her sons face as he moved the riderless bike through the crowd she knew she could not let another year go by without being a participant in the AIDS ride.
So at 57 Nannette had made up her mind that she was going to train all year so she join the ranks of super endurance athletes who are conditioned to ride 600 miles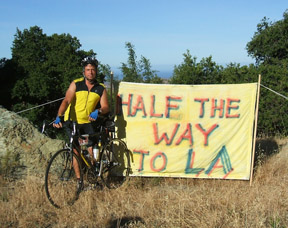 the following year.. Tom was 64 and didn't bat an eyelash, she said. "In fact, he agreed to ride too." Rich trained with them, and they became members of their local Aids Ride team called Team Ventura. Rich made the team ID tags and on his parent's tags, he simply put Mom and Dad. The nick names stuck and Tom and Nanette would become known as simply Mom and Dad to ALC participants from then on. The family rode together in a few California Aids Rides in the following years.
They don't ride their bicycles anymore, but the first year they couldn't ride, they found a place to cheer along the route every day of the event and discovered it was such a rewarding experience that they vowed to do it every year.
Mom said she made a journey to Washington DC one year to work on the AIDS quilt after she had lost several of her young friends to AIDS, some who were participants she met in past California Aids Rides.
People like Mom and Dad, and Stephanie and all the others, including the Cookie Lady of King City who showed up along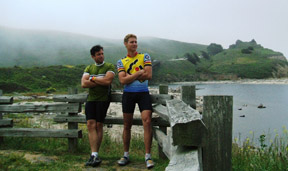 the way to give a little bit of themselves know the agonizing pain of loosing someone you love way too early and might have even wondered for a time what the point of the world still spinning around was. But what they also know is that by reaching out to help others, they are also helping themselves.
It would be selfish to go into that dark place of depression indefinitely after we have lost someone we love and become unavailable to those who are still with us and for those we are yet to meet. In Pismo Beach, I was reminded of that when I saw a group of really happy school children walking up the side walk in the summer sun. They were cheering, and waving holding up signs they had made to thank us Aids Lifecycle Riders. It was also a sight that filled me with great hope because I knew these kids represented a future generation that won't be intolerant, ignorant, unsympathetic or unkind to those who might be suffering with AIDS, if God forbid, AIDS is still around when they reach adulthood.
As I rode my bicycle on Highway One, past the cheering school children I thanked God for the people who share my life, for their health, and for all they are. I was grateful for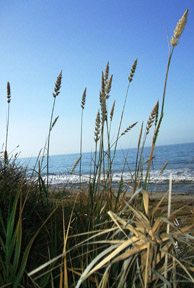 the new friends I had met on the road whose experience, strength and hope were an inspiration to me. I felt it was a great day to count my blessings and enjoy life while cycling to the Pacific Ocean and to feel the perfect combination of sun and breeze all around me. There is a time to remember and a time to let go, and for the rest of the journey, I chose to let go.
Everything you need to know about AIDS Life Cycle is on this website including fundraising ideas, training schedules, gear tips, endurance sports nutrition and HIV information. You may also want to view this professionally produced video about Life Cycle: Life Cycle You Tube Video
© 2007 Gay Outdoors ; All Rights Reserved.