learn
Find Paradise In Thailand Beaches
By Mike Boisvert.
In the past, guys usually explored either the west coast, which faces the Andaman Sea (including Krabi, Phuket, and the Similan Islands), or the east coast, which faces the Gulf of Thailand (including Ko Samui, Ko Phangan, and Ko Tao) separately.
But now you can visit both in one trip more easily because Bangkok Airways has daily flights that connect Ko Samui and Phuket (from $65; www.bangkokair.com). Note: Simple guesthouses or bungalows (think bed, mosquito net, toilet, shower) provide the only lodging at some remote beaches. Be sure to arrive at these places before noon so you can walk from bungalow to bungalow, bargaining along the way.
Andaman Coast

REFRESH: If you want a genuinely gay holiday there is only one place to stay: Patong Beach. Connect Guesthouse is located right in the heart of the Gay area of Patong Beach on Phuket Island (from $80; http://www.beachpatong.com/connect/index.htm). Over 20 Gay venues are just around the corner and a short 5 minutes walk takes you to the Beach. Connect is Gay owned and Gay managed. The owners are from Sweden. Connect restaurant and bar has been a hassle free zone since 1998 and is a popular hangout. Many returning and long stay guests all say "Connect is my second home".
CLIMB: A short boat ride from Ao Nang beach, near the town of Krabi, climbers search for cracks and holds on Railay Beach's sharply overhanging limestone spires. Local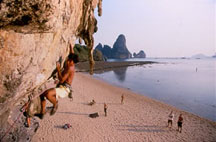 outfitter King Climbers (http://www.railay.com/railay/climbing/climbing_king_climbers.shtml) guides beginners and intermediates up over 600 routes, which also attract world class climbers. Stay on Railay at the funky Bridge House (from $250; http://www.railay.com/railay/accommodation/dennis_house.shtml) or on Ao Nang at the Cliff (from $250; http://www.k-bi.com/), a cluster of luxe bungalows with a pool built into a Lost World-like rockscape.
MULTISPORT: Further south, Ko Lanta retains a slow, blissful vibe. Kayakers can paddle into its sea caves and swimmers can snorkel in its clear waters. SriLanta (from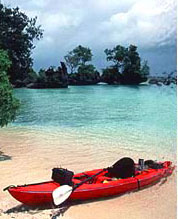 $170; http://www.srilanta.com/) and the upscale Pimalai Resort and Spa (from $375; http://www.pimalai.com/), both on the southern end of the island, use tropical gardens with banana, cashew, and mango trees to make their bungalows seem like hideouts.
EXPLORE: The Turutao National Park, near the Malaysian Border, is a string of islands so isolated they once served as an Elba-like penal colony. You'll find pristine reefs; untouched beaches thick with palms, waterfalls, and crab-eating monkeys; and basic lodging, such as Pooh's Bungalows (from $21; http://www.poohlipe.com/). Tarutao's numerous inlets, honeycombed with limestone sea caves, attract serious kayakers, and PaddleAsia runs four- to eight-day custom trips through the archipelago (from $610 departing from Phuket: http://paddleasia.com/destinations/tarutao.htm with lodging in bungalows.

Gulf of Thailand

RELAX: Koh Samui is one of the most attractive vacation resorts which is not over-crowded. A gay scene is slowly developing and in concentrated at the Chaweng Beach area. There's no 'Boyztown' here. Instead, many gay
visitors prefer a more laid-back approach rather than the jaded and seedy scene that can be found elsewhere in Thailand.
Chaweng Beach is the best known beach: Take the very short Sala Koy Rd left off Chaweng Beach Rd as you head south (close to the OTOP shop). The beach here is a popular place for local Thai out for an early evening swim, or relaxing beach dinner bought from vendors. Gay Thai go there about 5pm, often in groups, to right hand side as you reach the beach. Apparently the left hand side as you walk onto the beach 100m or so is quite a scene from 2-6am after all the bars have closed. Take care and remember that beaches are pitch black at night.

Visit the Wonderworld Samui B&B, a small, beautiful gay-owned and managed guesthouse with a private atmosphere (from $35; http://www.wonderworldsamui.com/index3.html.)
PARTY: Guys descend on The Male Box for its legendary resident dancers (http://www.maleboxsamui.com/events.htm). It's a A stylish dance club with great music and theme nights. You have to be at Chaweng Beach for their full moon parties on to the beach from about 9 at night until well after the sun rises in the morning with about 4,000 + people. Boats come up from Koh Samui, ferries, speed
boats, everything… the Asian teens and twentysomethings juggling fire dangerously close to tourists on woven rugs spread out on the beach; the full moon up in the sky; the whole spread of the beach with its Disneyland for Drunks colored lights and colored displays up and down the beach; the people painting day-glo tattoos on people for when they dance under the blacklights on many of the outdoor dance floors; the hot Asian boys dancing on stools outside one of the bars; the making of an impromptu gay section of the beach; etc. A good place to detox, whether you dance all night or not, is Fah Samui; where you can pamper yourself with a massage (http://www.fahsamui.net/massage.htm)
© 2007 Gay Outdoors ; All Rights Reserved.